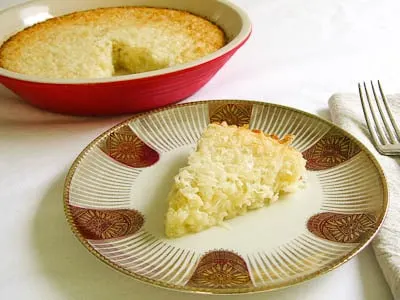 Do your kids help with cooking? Or your nieces and nephews? Kids in the kitchen is today's theme for Sunday Supper. It is a great theme. I was introduced to cooking at an early age. I have so many memories of being beside my mom or dad when they were preparing a meal. They always would have me help in any way, big or small. I was cooking and baking by the time I was a teenager. I made desserts (like cherry cream cheese pie) and simple meals for dinner.
The experience of cooking at a young age was priceless. The basics of cooking are important and should be learned by everyone. The earlier the better. What my parents taught me gave me the resources to prepare meals ranging from simple to complex. My skills have improved over the years. When I am in doubt, I always think back to the basics and relate the current challenge to one I learned a long time ago.
An easy task for kids is stirring. It is the reason I chose to share the recipe for self-crust coconut pie. The ingredients are stirred together and poured into a pie plate. Parents can handle the hot stuff; melting the butter, placing the pie in the hot oven, and removing the pie from the hot oven. The result? A pie that is like a giant, moist coconut macaroon. It is really sweet and rich. If your kids like coconut, they will love this pie – especially if they help make it.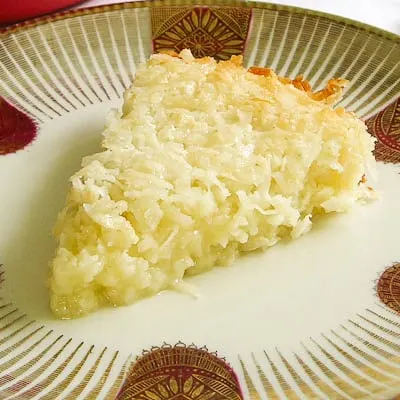 This is a family recipe. I got it from my mother-in-law. She made it as a dessert for a family dinner over 25 years ago (actually closer to 30 years ago). I have to admit I did not make it until recently. The original recipe called for a 3.5 ounce can of coconut which I cannot seem to find in the stores any longer. I adapted it to 4 ounces (by weight) because I figured the extra half ounce would not make a difference.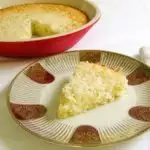 Self-Crust Coconut Pie
A recipe for an easy coconut pie that makes its own crust while it bakes.
Ingredients
1/4

cup

self-rising flour

1

cup

plus 2 tablespoons sugar

Pinch of salt

2

eggs

beaten and at room temperature

2

tablespoons

unsalted butter

melted

1/2

teaspoon

vanilla extract

4

ounces

sweetened coconut

by weight

1

cup

whole milk

at room temperature
Instructions
Preheat the oven to 325 degrees F.

In a medium bowl, whisk together flour, sugar, and salt. Add eggs to flour mixture and stir to combine. Add melted butter, vanilla, coconut, and milk. Stir to combine.

Pour mixture into an ungreased 9-inch pie plate. Bake for 30 to 35 minutes or until the top is lightly browned. Remove pie from the oven and cool completely on a wire rack. Refrigerate pie for at least 2 hours. Slice, serve, and enjoy!
Recipe Notes
A recipe for an easy coconut pie that makes its own crust while it bakes.
Want more recipes for kids in the kitchen? Check out these from the Sunday Supper bloggers:
Start your day:
Healthy Snackers:
Main Squeeze:
Sweet Treats:
What a great line-up of kid-friendly dishes! Join in the Sunday Supper conversation on twitter and share your recipes for kids. There will be a live twitter chat today (Sunday, July 8th) beginning at 3pm Eastern Time. Use the #SundaySupper hashtag and tweet your recipes and food photos. Follow the Sunday Supper Pinterest board for more inspiration.
At what age did you start cooking? Do you remember the first thing you ever made? Share your early kitchen memories. And create some for the kids in your life too. Happy cooking!