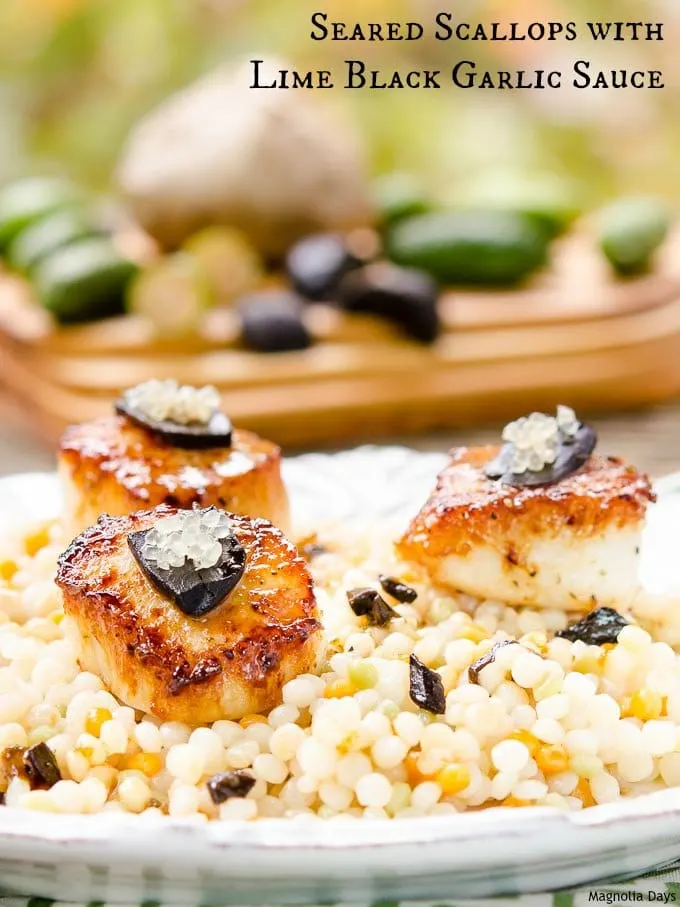 The convention was a total blast. There was me and 19,331 other people at the 2015 Produce Marketing Association Fresh Summit. Oh what gorgeousness and deliciousness was found from one end to the other of the exhibition floor with over 1,000 booths. I did my best to taste and sample everything. There was one booth in particular I had to visit. It's because of them I created Seared Scallops with Lime Black Garlic Sauce.
What company was at the top of my agenda to see? It is Frieda's and not only because they generously purchased my ticket to the event, but also for the past two years of sending fruit and vegetables from around the world for me to try. I am thrilled when they send a box of goodies. Most recently they sent a package with black garlic and organic finger limes. Oh my. Just look at them:
Which one do I start with? Both blew me away with their uniqueness. Black garlic is regular garlic that is heated over several weeks and caramelizing it in a way. It is simply divine. The process makes it soft like butter, gives it smooth earthy flavor (almost molasses-like), and still keeps the classic garlic flavor without being pungent.
Finger limes originate in Australia. They are now grown in California during summer and fall. What is unique about finger limes is the pulp. It is round-like pearls and often called "citrus caviar". You can cut a finger lime in half and squeeze out the pearls. The pulp pops when you chew it and releases the tart lime juice. It's eating lime like never before.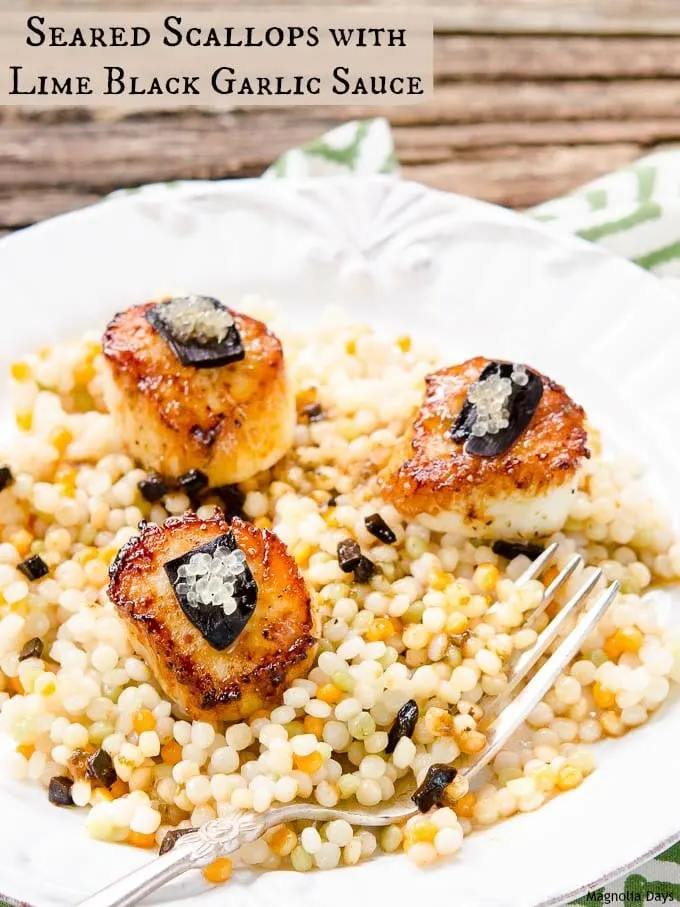 How does Seared Scallops with Lime Black Garlic Sauce taste? It is a delightful combination of earth, sea, and sky. Tender scallops are on top of pearled couscous, crowned with a thin slice of black garlic and citrus caviar, then drizzled with an earthy and tart lime sauce. It's bright, savory, citrus-y, and buttery.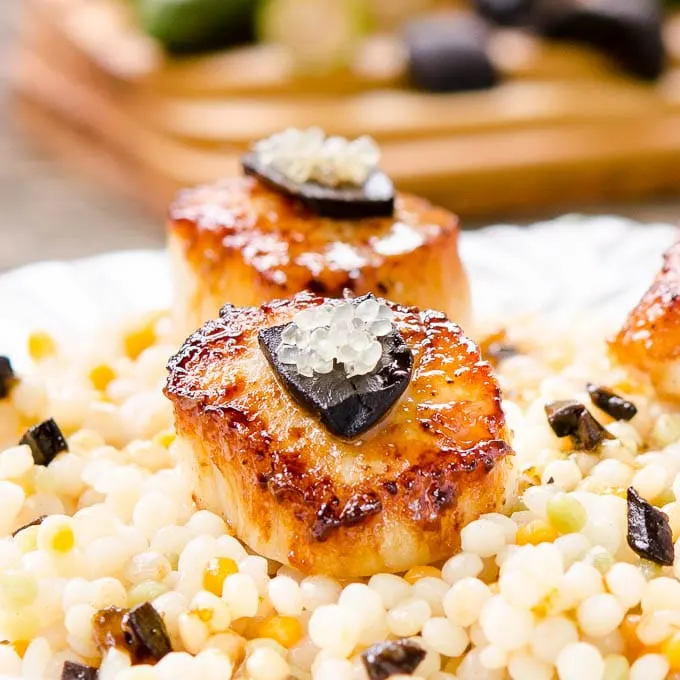 A few notes about Frieda's: Meeting the team in person was a sheer pleasure. I can tell they truly love produce along with working for the company and with each other. They unveiled a new look and their "Inspire. Taste. Love" philosophy at the convention. You can read about it here: Frieda's Brand Relaunch. They certainly have inspired me to taste and love the wonderful produce and products they provide. Take a look at Red Dragon Fruit Sherbet and Maple Baked Purple Sweet Potatoes for a couple of ones I've discovered thanks to them. I'm looking forward to all the discoveries to come and sharing them too.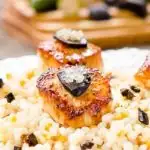 Seared Scallops with Lime Black Garlic Sauce
Seared Scallops with Lime Black Garlic Sauce combines flavors of the sea, earth, and sky together with buttery scallops, earthy black garlic, and tart lime.
Ingredients
1/2

cup

uncooked Israeli couscous

pearl

2

teaspoons

sesame oil

not toasted sesame oil

6

to 8 large or jumbo sea scallops

dry packed if possible

Salt and pepper

2

limes

2

teaspoons

dry sherry

4

black garlic cloves

divided

2

teaspoons

unsalted butter

2

finger limes
Instructions
Prepare couscous according to package instructions.

Grate the zest from one lime and squeeze the juice from both limes into a small bowl. Add sherry. Finely chop 2 black garlic cloves and add to lime-sherry mixture.

Prepare the scallops by removing the little "foot" (abductor muscle) if not already removed and pat dry.

In a large non-stick skillet, heat oil over medium-high heat until almost smoking. Add the scallops to the pan, flat side down, and let them cook undisturbed for about 2 minutes until the bottom has browned.

Turn scallops over and cook for 2 minutes on the other side. Remove scallops from the pan and place on a plate. The scallops will be translucent in the middle. Let scallops rest while preparing the sauce.

Pour lime-sherry-garlic mixture into the skillet. Bring to a boil and cook for 3 minutes to reduce and concentrate the sauce. Add butter and stir until melted and combined.

Thinly slice remaining 2 black garlic cloves. Cut finger limes in half vertically and squeeze out pulp pearls.

Divide couscous equally on two plates. Place scallops on top of couscous.

Place a slice of black garlic on each scallop. Top each scallop with finger lime pulp pearls.

Spoon sauce over scallops and couscous.
Recipe Notes
Seared Scallops with Lime Black Garlic Sauce combines flavors of the sea, earth, and sky together with buttery scallops, earthy black garlic, and tart lime.
Disclosure: I received an assorted box of produce and a ticket to the 2015 PMA Fresh Summit convention from Frieda's at no charge. I was under no obligation to post a review. All opinions are my own unless otherwise stated or contained within a guest post.