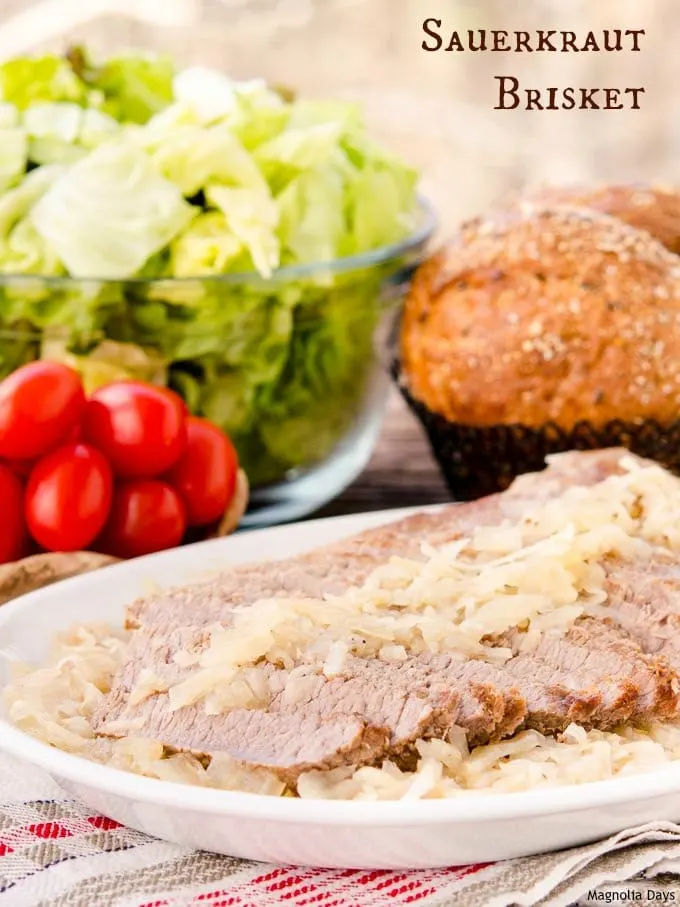 Food and flavor – those two F's go together so well. Some food naturally has loads of flavor. The way they taste makes us eat them time and time again. Beef is one for me. It goes beyond taste and flavor though. It's comfort too. I have many treasured memories of my family gathering around the table to enjoy a meal with beef. Sauerkraut Brisket was made with more than ingredients, it was made with a pinch of love and a dash of those cherished times. Well, maybe more than a pinch and dash.
German food is a big part of my family's meal history. It's also my favorite cuisine. I knew exactly what to do when the Beef Checkoff asked for recipes to make this year flavorful. The tang of sauerkraut wakes up taste buds for sure. There is nothing bland about it. Well, except for its color. That's why colorful vegetables to go with it is key.
Sauerkraut Brisket is both healthy and flavorful. It starts with a fresh beef brisket. It is seared and slowly braised with onions. Then sauerkraut, potato, and apple join in the pot for a little more braising. Sauerkraut is fermented cabbage and its lactic acid bacteria is a natural probiotic. Both potato and apple have fiber and vital nutrients. Serving it with a simple green salad and whole grain bread makes for a complete meal and balanced plate.
The leftovers make an excellent sandwich. Be sure to get extra whole grain rolls. Slice a roll in half, pile on brisket slices, top with sauerkraut, and add a dab of mustard (German middle-sharp aka "mittlescharfer" if you can find it). Serve the sandwich with roasted, steamed, or sautéed green beans.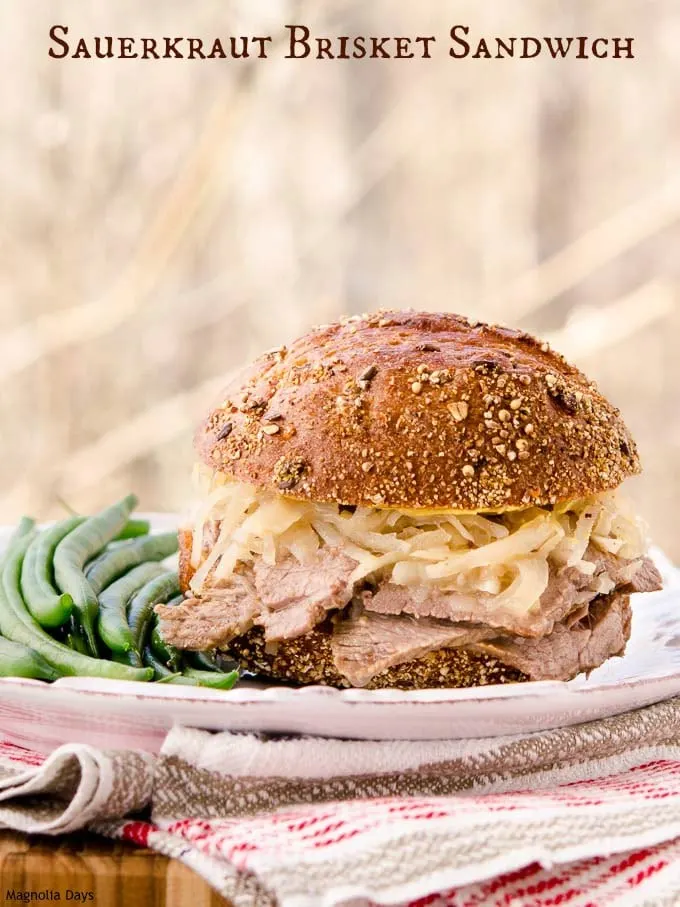 Beef is a nutritious, protein-rich food. It tastes great too. Want to know which cuts are lean? Visit the Beef Checkoff's Interactive Beef Counter and explore the cuts.
Click on each type and look for the green lean symbol. Guess what? Brisket is one of those lean cuts. Hooray!
There's more good news: Sunday Supper has partnered with the Beef Checkoff to share healthy beef recipes for a flavorful life. Scroll down to find the list of them and each one is a click away. Also look at Steak and Asparagus Stir-Fry and Slow Cooker Spiced Beef Stew for meals bursting with flavor.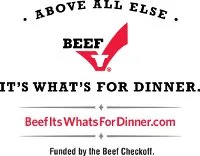 More on The Beef Checkoff: You can follow them on Facebook, Pinterest, Twitter, and YouTube. You can also find lots of information, tips, and recipes on the Beef, It's What's For Dinner website. Take a look at the Healthy Meals with Beef Pinterest Board for more inspiration and recipes.
Sauerkraut Brisket
Sauerkraut Brisket is fresh beef brisket slow-simmered in sauerkraut and onions. It's a healthy meal and great for sandwiches too.
Cook Time
2
hours
55
minutes
Total Time
3
hours
10
minutes
Ingredients
2

pound

fresh beef brisket

2

tablespoons

vegetable or canola oil

Salt and pepper

2

medium sweet onions

thinly sliced

1/2

cup

water

1

bay leaf

2

pounds

sauerkraut

1

medium russet potato

peeled and grated

1/2

cooking apple

Granny Smith recommended, peeled and grated

1

teaspoon

caraway seeds
Instructions
Trim excess fat from brisket. Sprinkle salt and pepper on brisket.

Heat oil in a large Dutch oven (about 7-quart) over medium-high heat until almost smoking.

Add brisket to the pan and sear to brown on both sides, about 3 minutes per side.

Add onions, water, and bay leaf. Cover and simmer for 1 1/2 hours.

Drain sauerkraut and add it to the brisket. Add potato, apple, and caraway seeds.

Toss to combine onions, sauerkraut, potato, apple, and caraway seeds.

Bring to a boil then reduce heat to low. Cover and simmer for 30 minutes. Discard bay leaf.

Transfer brisket to a cutting board. Allow to rest for 10 to 15 minutes. Thinly slice brisket across the grain.

Serve brisket with sauerkraut.
Recipe Notes
Sauerkraut Brisket is fresh beef brisket slow-simmered in sauerkraut and onions. It's a healthy meal and great for sandwiches too.
Are you looking for flavorful meals? Take a look at these healthy recipes with beef by Sunday Supper tastemakers:
Plus: Delicious Lean Beef Recipes from Sunday Supper Movement
Join the #SundaySupper family on twitter every Sunday! We tweet throughout the day and share recipes from all over the world. Our weekly chat starts at 7:00 pm ET. Follow the #SundaySupper hashtag and remember to include it in your tweets to join in the conversation. To get more great Sunday Supper recipes, visit the Sunday Supper Movement website or check out our Sunday Supper Pinterest board.
Would you like to join the Sunday Supper Movement? It's easy. You can sign up by clicking here: Sunday Supper Movement.
Disclosure: This post is sponsored by the Beef Checkoff in conjunction with a social media campaign through Sunday Supper LLC. All opinions are my own.