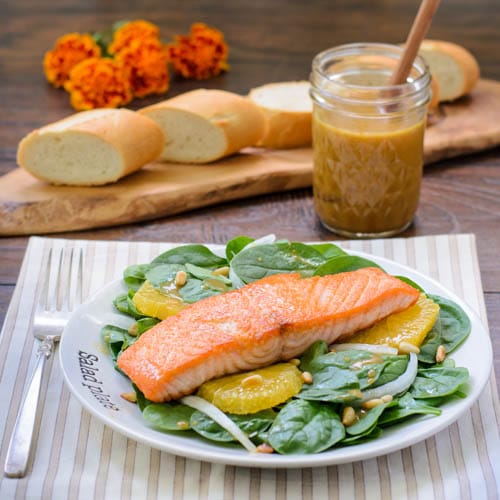 It took a split second. A glance to the side to check ingredients diverted my attention away from the task. Onions were sliced and sitting in a bowl next to the cutting board. Jalapeño peppers were to join them soon. A smash on the knife blade crushed the garlic clove. The peel released easily and gave off the all too familiar aroma. A slice down the middle allowed access to remove the bitter middle. Now the garlic laid flat on the board. My knife glided through the garlic and in that split second of diversion the edge of my thumb was gone. A stupid mistake ended the plans for that meal. A trip to the doctor ensued to get patched up and on the path to healing.
Salmon spinach salad with orange miso dressing became Plan B. The dressing was already made and waiting in the refrigerator. Fresh orange zest and juice, white miso paste, ginger, honey, vinegar, and a few more ingredients were combined together with a quick whirl in the blender. The flavors had developed and it was time for it to compliment a fresh pan seared salmon fillet. A pile of lush green spinach serves as the right base for the salad. Sweet Vidalia onion and toasted pine nuts give the right crunch.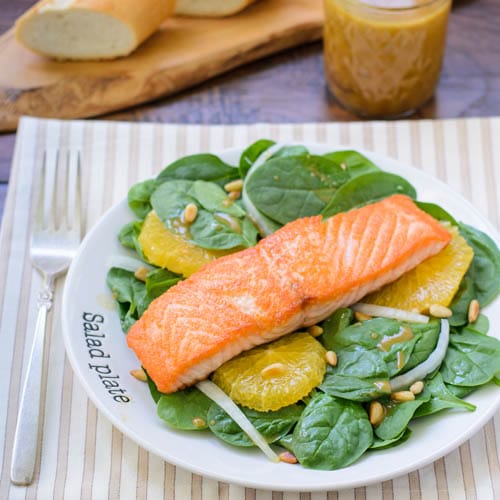 The orange miso dressing is one I developed. There wasn't a single one I found that stood out. I took five different recipes and pulled bits from each to make it what I wanted. The greatest thing about homemade dressings is they can be tweaked to fit your personal taste. A little more or less of something can make all the difference. Serve the salmon spinach salad with bread. I have a few recipes if you want to bake your own. Take a look at my Basic White Bread and Sourdough French Bread.
How often do you make dressings? Which kind is your favorite? I make them very often and I'm on a mission to explore new flavors. Give me your ideas and suggestions in the comments below. Oh, and all will be well with my thumb. It will heal up fine in a short matter of time.
Salmon Spinach Salad With Orange Miso Dressing
For the orange miso dressing:

1 heaping tablespoon grated orange zest
1/2 cup plus 2 tablespoons orange juice
2 tablespoons white miso paste
1 tablespoon minced fresh ginger
1 clove garlic, minced
2 tablespoons soy sauce
1/2 cup rice bran oil or light cooking oil
2 teaspoons honey
1 tablespoon rice vingegar
For the salad:

1 to 2 tablespoons cooking oil
2 skinless salmon fillets (4 to 6 ounces each)
Salt and pepper
5 ounces fresh baby spinach
Sweet onion slices (Vidalia recommended)
1 orange peeled and sliced
Toasted pine nuts (about 1 tablespoon)
For the orange miso dressing:
Place all ingredients in a blender. Blend until smooth. Transerfer to a serving container. Refrigerate leftovers in a sealed container.
For the salad:
Heat the oil in a skillet over medium-high heat until hot but not smoking.
Dry the salmon with paper towels and season with salt and pepper. Place the salmon top side down in the skillet.
Cook for 2 to 3 minutes until edges are browned. Flip salmon and cook 2 to 3 minutes until the center is opaque or to desired doneness.
Tranfer salmon fillets to a plate to cool slightly.
Divide the spinach, onion, and orange slices onto two plates. Top each with cooked salmon. Garnish with toasted pine nuts. Drizzle dressing on salads.
https://magnoliadays.com/salmon-spinach-salad-orange-miso-dressing/
Copyright Magnolia Days - http://magnoliadays.com/