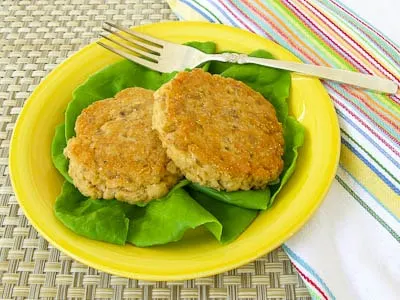 What is your idea of fish cakes? The Cooked In Translation group is featuring fish cakes for August. Have you heard of the group? Every month a host picks an authentic ethnic recipe. The group shares recipes of their interpretation based on their heritage or culinary traditions. Salmon patties were the fish cakes I had when I was growing up here in the South.
Salmon patties are quick and easy to make. Well, this recipe is quick and easy because of using canned salmon. It is how most Southerners make them. Open the cans, stir in a few ingredients, and fry them for a few minutes. They are served with various condiments on the side. Some prefer ketchup while others use tarter sauce. It was ketchup for me when I was a kid – and lots of it too.
Getting the recipe was fun. I have to confess I have not made them until I did for this post. I asked my mom for the recipe and she said "There isn't one, I just make them". I asked another friend who's mom makes them and she got the exact same response. It took a long conversation with my mom to figure out the recipe. We went through the steps and talked about the texture and ingredients. She said my dad would always remind her not to drain all the juice from the can or they would be dry.
Preserving family recipes does take effort. I found not everything is written down and with perfect measurements. A little of this and a spoon of that has to be measured, tested, and then documented. It is worth the time and effort. It is important to pass along family recipes to future generations. They are as much a part of the history and what binds the family together as any object or photo.
The Cooked In Translation group has some great recipes to share. Thanks to Soni from Soni's Food For Thought for hosting this event. Her choice of Indian Fish Cakes as the authentic ethnic recipe inspired me to re-visit salmon patties from my past. I cannot wait to see everyone's version of fish cakes. You can find all the participating blogs and posts with the links below. If you are interested in participating in future Cooked In Translation events you can find all the information by joining in the group on facebook.
What has recently inspired you to re-visit a recipe from your past? What memories do you have of the recipe? Mine always go back to family meals and the good times we had enjoying them. It is wonderful how a simple meal can mean so much in the years to come.
PS. Are you on facebook? If so, please like Magnolia Days – thanks!
Salmon Patties
A recipe for salmon patties made southern-style with egg, flour, and cornmeal.
Ingredients
2

cans boneless and skinless salmon

6 ounces each

1

egg

beaten

1/4

cup

cornmeal

1/4

cup

all-purpose flour

Salt and pepper to taste

Oil for frying

light olive, vegetable, or canola
Instructions
Drain most of the liquid from the can (do not drain all or the patties will be dry). Add the salmon and liquid to a medium bowl and flake the salmon with a fork. Add the egg, cornmeal, flour, salt, and pepper. Stir gently until combined. Form 6 round patties about 2 by 1/2-inches in size by pressing the mixture with your hands.

In a large non-stick skillet or frying pan (I used a 12-in pan), add enough oil to coat the bottom of the pan and heat to medium-high heat. Place the patties in the pan and cook for a few minutes on each side until browned. Lower heat if needed. Transfer cooked patties to a serving plate or platter. Serve warm.
Recipe Notes
A recipe for salmon patties made southern-style with egg, flour, and cornmeal.
Note: If you are reading this in an email, rss reader, or via a syndicated post you will have to go to my post on the blog to see the links for the other Cooked In Translation blog posts.