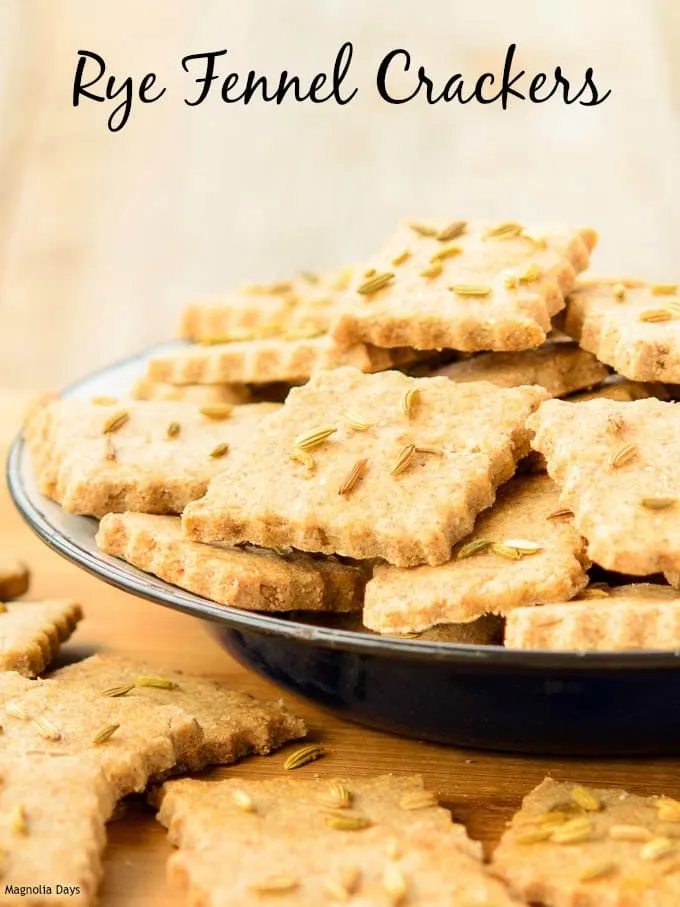 Crafts and crafting are widely popular. The array of supplies and tools is astounding. I have to admit I am terribly craft challenged. What looks so simple to do is beyond my ability. This is why it is extremely doubtful you will ever see artistically decorated cakes here. Of course one reason is how much I do not like fondant. The other is because the likelihood of me making a fondant flower look like a flower is somewhere between zero and none. Perfect example is these Rye Fennel Crackers. They were supposed to be diamond shaped. They wound up being off-squared. I mean, really, who can't cut dough into diamonds? That would be me.
These crackers had a separate challenge. The theme for this month's Bread Bakers was rye with the stipulation of no refined ingredients. Wait, what? No all-purpose flour or regular sugar? Nope. So my quest began with finding out more about unrefined food. I needed to know which flours and sweeteners met the guidelines. After some lengthy online research, I settled on using white whole wheat flour along with rye flour and turbinado sugar.
Making rye fennel crackers was easier than expected. It was my first time making crackers and that also put a separate adventure point in the mix. I've thought about making different ones for years and yet seemed to pass on it. After this experience I plan to dust off the recipe for sourdough crackers I've been holding on to for the longest time.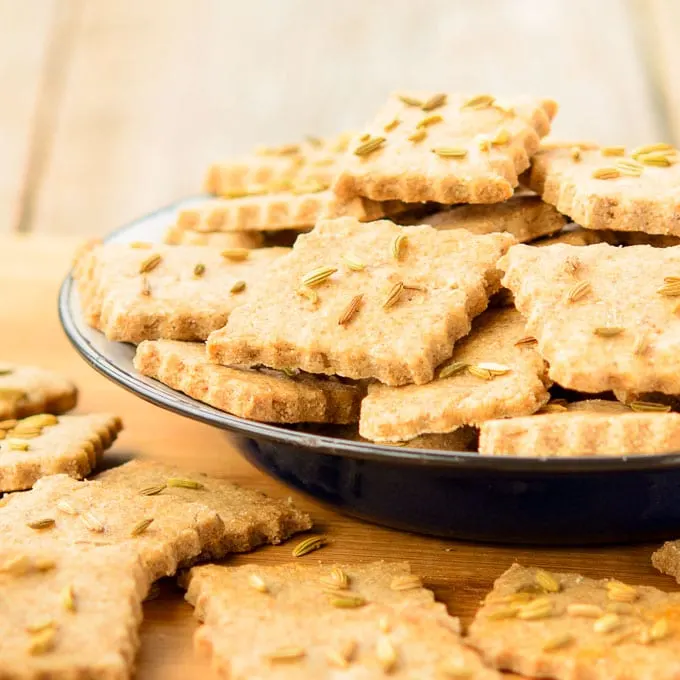 One note on making the crackers: do batches of brushing with egg white and sprinkling with fennel seeds. I brushed all the crackers with egg white first and then sprinkled on the seeds. I think the egg white soaked into the crackers and wasn't enough left on the surface to act as the glue for the seeds. The result made the seeds easily fall off after baking. So do a few at a time to get them to stick better.
How do the crackers taste? They have a buttery, light rye flavor. The amount of fennel flavor depends on how many seeds are on each cracker. They are crunchy as crackers should be yet not as hard as store-bought ones. I'll eat them simply as-is for a snack instead of using them as a base for a spread.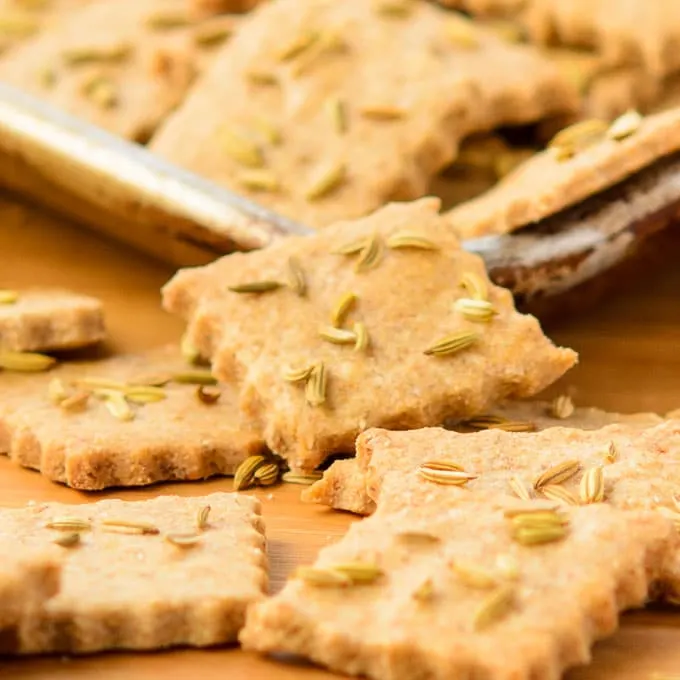 Do you enjoy rye bread? If so, be sure to scroll down to find a list of recipes by Bread Bakers. Our host this month is Anshie at Spiceroots. A big thank you to her for giving us this great challenge. I really enjoyed the adventure of rye, unrefined food, and crackers. If you like fennel, take a look at Seared Cod with Grapefruit Fennel Slaw for a healthy and light meal.
Rye Fennel Crackers
Rye fennel crackers are a healthy and wonderful snack made with unrefined ingredients; rye and whole wheat flours, butter, egg, and fennel seeds.
Ingredients
1 1/4

cups

white whole wheat flour

1 1/4

cups

rye flour

1

tablespoon

turbinado sugar

3/4

teaspoon

salt

1/2

teaspoon

dry mustard

2/3

cup

unsalted butter

softened and diced

6

to 8 tablespoons cold water

1

egg white

beaten

Fennel seeds
Instructions
Preheat oven to 375°F.

Place flours, sugar, salt, and dry mustard in the bowl of a food processor fitted with a knife blade. Pulse until combined.

Add butter and pulse until mixture resembles a coarse meal.

Sprinkle water, 1 tablespoon at a time, over surface and pulse until dry ingredients are moistened.

Transfer dough to a lightly floured surface and shape into a disk.

Roll dough to 1/8-inch thickness. Move dough around while rolling to keep from sticking from work surface.

Cut dough into 1- to 1 1/2-inch squares or diamonds using a fluted pastry cutter.

Place cut dough on ungreased baking sheets about 1/2-inch apart. Brush with egg whites and sprinkle tops lightly with fennel seeds.

Bake for 13 to 15 minutes or until golden brown.

Transfer to a wire rack to cool completely.
Recipe Notes
Rye fennel crackers are a healthy and wonderful snack made with unrefined ingredients; rye and whole wheat flours, butter, egg, and fennel seeds.
Recipe adapted from one in the Southern Living 1987 Annual Recipes cookbook (no longer in print).
This month Bread Bakers is celebrating rye. Take a look at all these wonderful recipes from bakers across the globe:
What is Bread Bakers? It's a group of bread loving bakers who get together once a month to bake bread with a common ingredient or theme. You can see all our of lovely bread by following our Bread Bakers Pinterest Board. Links are also updated after each event on the Bread Bakers home page.
How is the monthly theme determined? We take turns hosting each month and choosing the theme/ingredient.
Would you like to join in the fun? If you are a food blogger, send an email with your blog name and url to Stacy at [email protected].