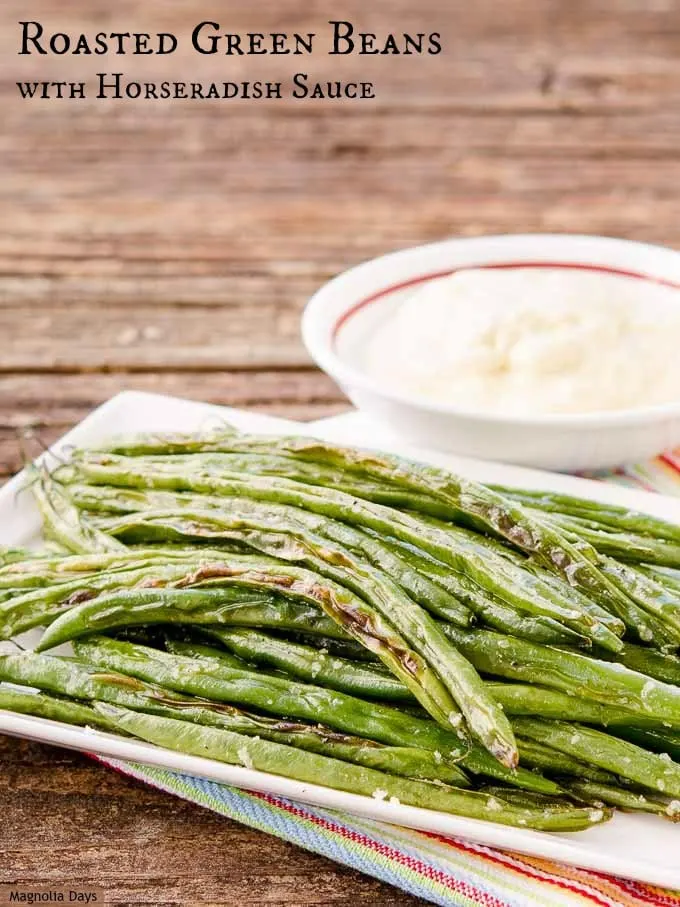 Weather forecasters said the dreaded four letter word: snow. Then they threw in the bonus words of sleet and ice. I was at the salon getting my hair color touched up and the warning spread across as if the building was on fire. They added our county to the list of ones in the path of the winter storm. I knew then I should not have put off going to the grocery store. Yet it had to be done. So I went ahead to get essentials plus what I needed for these Roasted Green Beans with Horseradish Sauce.
It was blowing rain and cold. Cars filled almost every parking spot. I trudged forward holding my umbrella as hard as I could. The wind almost took it away a few times. Then I walked in to find zero shopping carts. There was no way I'd go back out to get one. So I grabbed two baskets and headed in the store. A few minutes later I was carrying around what felt like two 50-pound weights.
Checkout lines were long. At least they had a bunch of registers open. I looked around to see a whole lot of folks with big carts and only a few items. Is it simply habit to get a cart even if you need three things? I wanted one of those carts so bad at that point. Oh well. At least I could set the baskets down and push them as the line moved forward.
What happened with the winter storm? It was a very light dusting at my house. Roads throughout metro Atlanta were fine. The day went on as usual.
How about the Roasted Green Beans with Horseradish Sauce? It was inspired by a meal I had at a restaurant. I ordered a French Dip Sandwich and asked for green beans instead of fries. I also asked if they had horseradish sauce for the sandwich. They brought my order with a little bowl of sauce on the side. I wound up dipping the green beans in the sauce too. I enjoyed it so much I had to re-create it at home.
Some notes on preparing the recipe: The green beans I used are the thin ones also known as haricot verts. They roast fairly quickly. Keep an eye on them because they go from being perfectly roasted to over-done in moments. The sauce can be anywhere from full-fat to non-fat. It all depends on your preference of yogurt, mayonnaise, and milk. Of course the horseradish level can be adjusted too. Start with a teaspoon and go from there.
Do you like roasted vegetables? It's a great big yes for me. Roasting is the primary way I cook vegetables in the winter. Some I've shared before are cauliflower, asparagus, and carrots. Next up may be parsnips. I haven't had them in a while. Stay tuned…
Roasted Green Beans with Horseradish Sauce
Roasted Green Beans with Horseradish Sauce is a tasty side dish and pairs wonderfully with beef. It's fantastic with a French Dip Sandwich.
Ingredients
For the green beans:
1

pound

green beans

haricot verts

Olive oil

Salt and pepper
For the sauce:
5

ounces

plain Greek yogurt

1/4

cup

mayonnaise

1

tablespoon

milk

3

teaspoons

prepared horseradish

1

teaspoon

prepared yellow mustard
Instructions
For the green beans:
Preheat oven to 375°F.

Place green beans on a baking sheet. Drizzle with a small amount of olive oil (about 1 to 2 teaspoons) and sprinkle with salt and pepper.

Roast for 10 minutes, or until just beginning to brown.
For the sauce:
Stir together all sauce ingredients in a small bowl.

Serve green beans with sauce on the side.

You can also thin down the sauce with more milk and drizzle sauce over green beans.

Sauce is better when made a day or two in advance. Refrigerate sauce in a sealed container. Extra sauce can be used as a sandwich spread or served with a beef roast (prime rib especially).
Recipe Notes
You can use low fat or fat-free yogurt, mayonnaise, and/or milk if preferred.