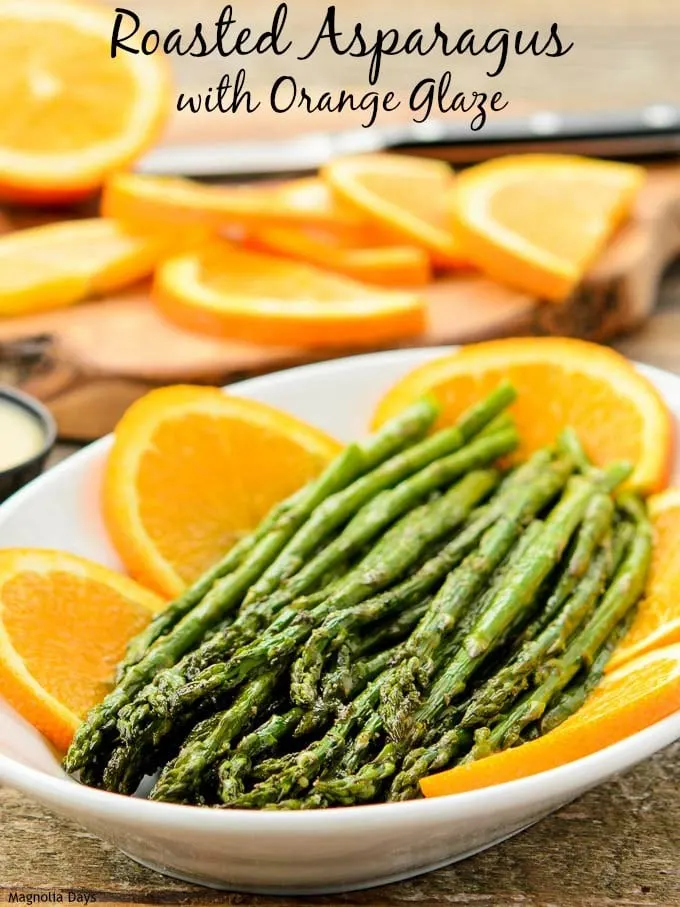 The smell of citrus was crisp and bright. It was like a bubble of sunshine in the produce aisle. It caught my attention the moment I rounded the corner. I couldn't help but stand there and take in deep breaths. I imagined being in an orchard and picking ripe fruit from the tree. Then I looked over to the next isle and instantly was inspired to make Roasted Asparagus with Orange Glaze.
Asparagus is one of my more recent acquired tastes. It is only in the last year or so that I've not only enjoyed it but craved it too. I am still picky about it though. I prefer it very thin. The thicker ones seem to be woodier tasting and the texture is different. Anyway, when I saw bunches of thin stalks that day I knew I couldn't leave the store without some.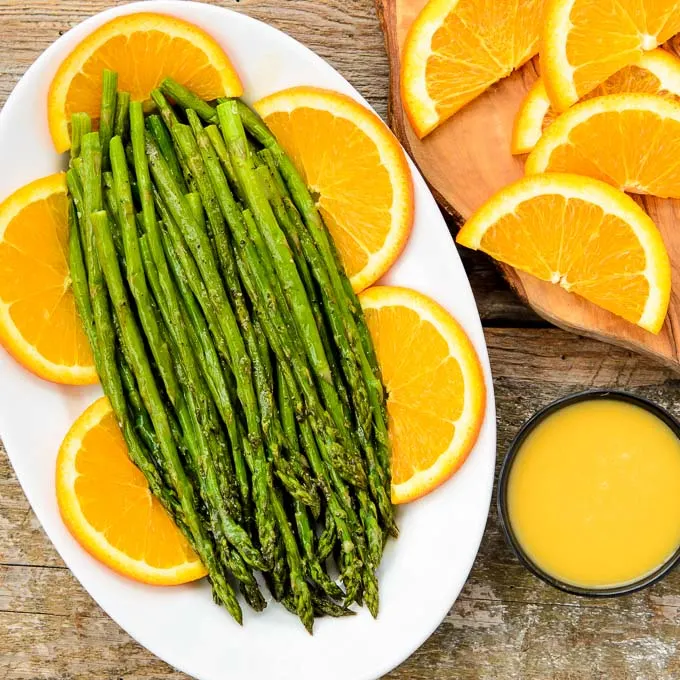 Preparation also matters when it comes to asparagus. I prefer roasted or grilled. Steamed is okay and I'll totally pass on boiled. Pickled is nice however that's a whole different thing. I opted for roasting this time since it was pouring down rain. The asparagus was so thin it only took a few minutes to roast.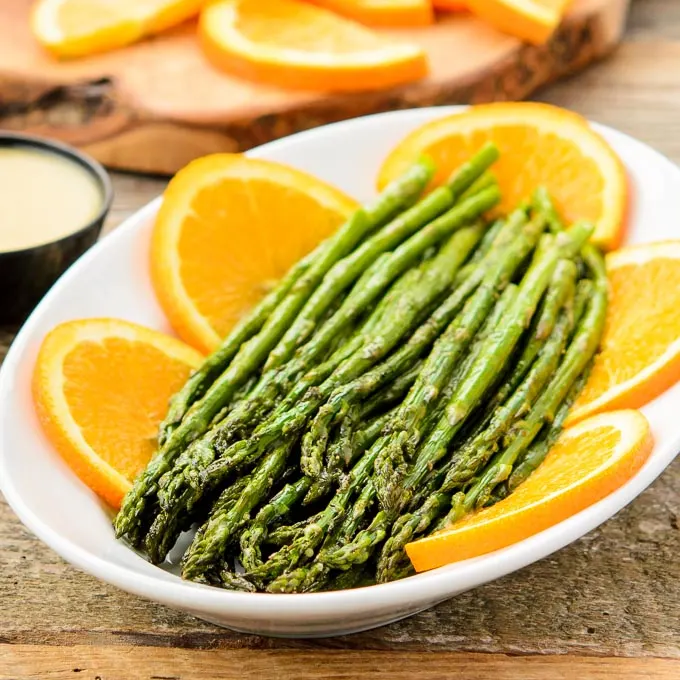 Orange was incorporated in with the glaze. I remember the sauce I made for Orange Biscuits and used it. The only difference is I didn't reduce the orange juice quite as much so it was thinner than a sauce and therefore a glaze. Then it was simply a matter of drizzling the glaze over the roasted asparagus.
Roasted asparagus with orange glaze is an easy recipe. The most critical part is watching the asparagus to make sure it is not over-cooked. You want it to be crisp-tender. The glaze adds a citrus brightness to an earthy vegetable. It sure did brighten up that rainy day.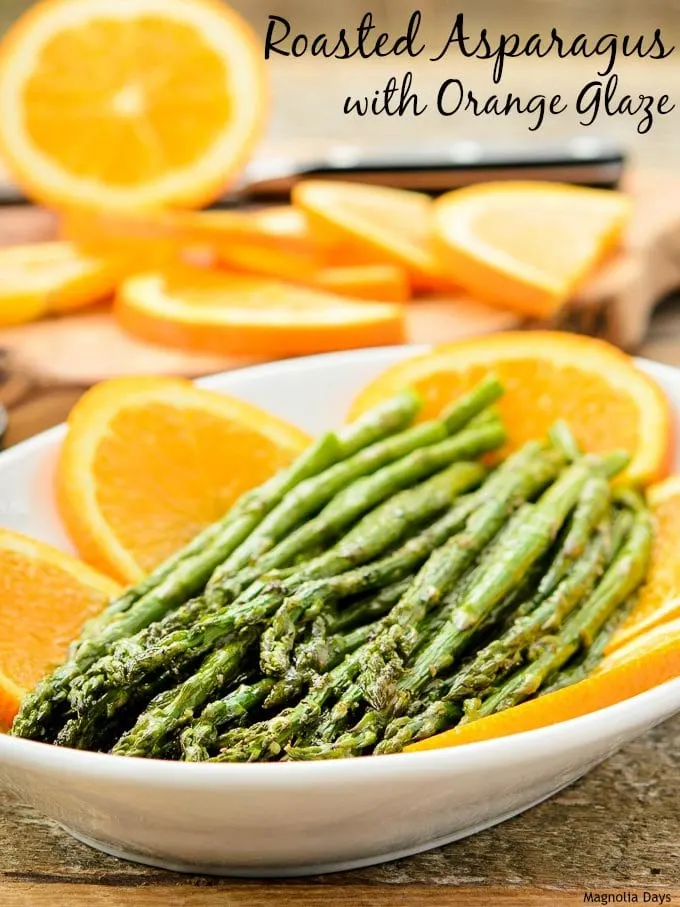 Have you acquired a taste for a certain fruit or vegetable recently? My tastes keep changing. It's interesting as to how much it has evolved over the years. Would I have made roasted asparagus with orange glaze 10 years ago? Nope. I sure will now though. I know I'll make this time and time again.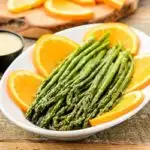 Roasted Asparagus with Orange Glaze
Roasted Asparagus with Orange Glaze is a quick and easy side dish recipe. Fresh asparagus is roasted and topped with a buttery orange glaze.
Ingredients
For the orange glaze:
1

cup

orange juice

2

tablespoons

unsalted butter
For the asparagus:
1

pound

fresh asparagus spears

1

tablespoon

olive oil

Kosher salt

Fresh ground pepper

Orange slices for garnish
Instructions
For the orange glaze:
Boil orange juice for 5 to 10 minutes or until reduced to about half.

Add butter and stir until melted. Remove from heat.
For the asparagus:
Preheat the oven to 400°F.

Break off and discard the tough woody ends of the spears. Place asparagus on a rimmed baking sheet. Drizzle with olive oil and toss to coat asparagus. Arrange asparagus in a single layer. Sprinkle with salt and pepper.

Roast until crisp-tender, about 10 to 15 minutes. Time will vary depending on thickness of the asparagus. Check after 8 minutes and take out of oven when edges begin to lightly brown.

Transfer roasted asparagus to a serving dish. Drizzle some of the orange glaze on top then toss to coat.

Serve with remaining orange glaze. Garnish with orange slices if desired.
Recipe Notes
Roasted Asparagus with Orange Glaze is a quick and easy side dish recipe. Fresh asparagus is roasted and topped with a buttery orange glaze.