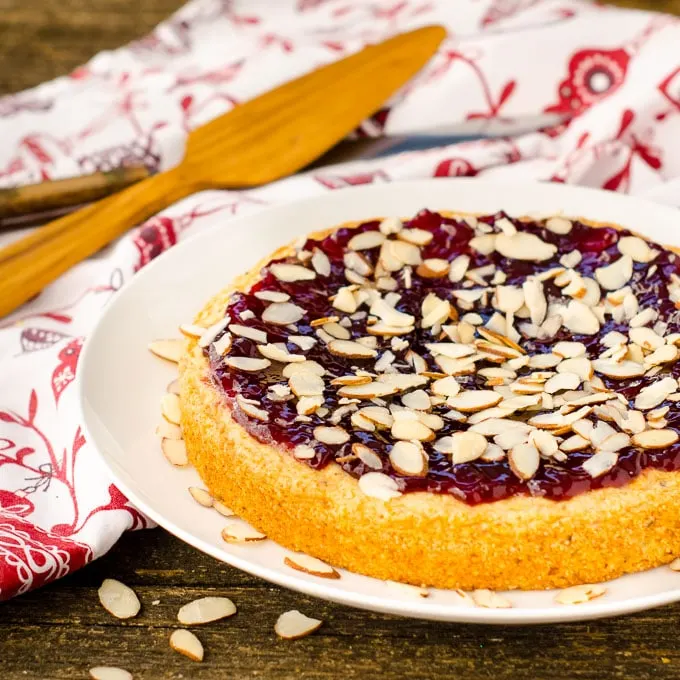 Are you nuts about nuts? I sure am. My freezer is filled with bags of walnuts, pecans, almonds, and pine nuts. A can of mixed nuts or peanuts is often in my pantry. The holiday season would not be the same without a bowl of unshelled nuts on the counter. The sound of cracking the shells brings back the fondest of memories. Toasting, grinding, chopping them is such a part of my holiday baking. Raspberry Almond Torte is a pretty and nutty dessert to make again and again.
The size of a dessert can sometimes matter. Large cakes or dozens of cookies are great for big gatherings. A smaller dessert is a better option if you only have a few guests. Raspberry Almond Torte is small in size and big in flavor.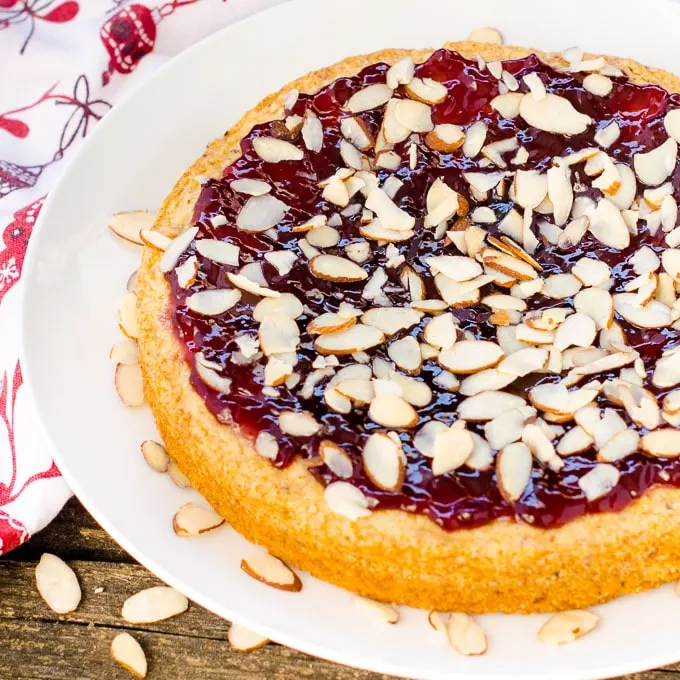 The colors of the torte fit the holiday season. Red raspberry preserves make it festive and stand out on a dessert table. The red color really pops on top of golden nut cake too. It is such a nice contrast.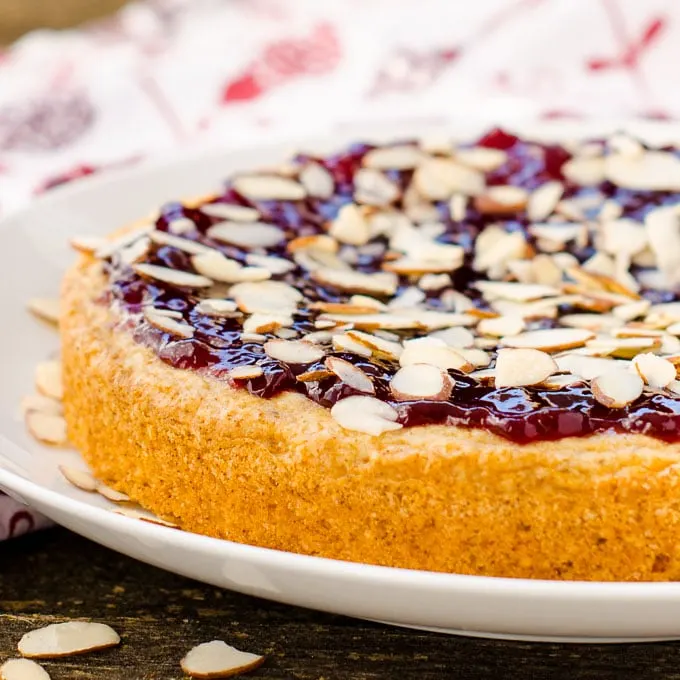 Nut cakes have a unique texture. They have more of a "bite" to them instead of a smooth, soft crumb. They also tend to be a little moister, probably from the oils in the nuts. The key is to not over-bake. Take this torte out of the oven as soon as it is lightly golden brown.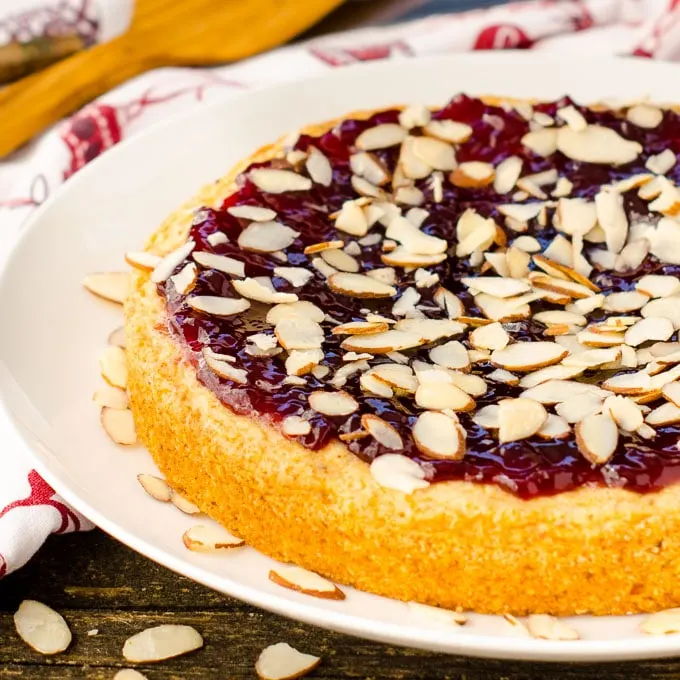 Cool, spread, and sprinkle. Those are the easy last three steps of preparing the torte. Cool it completely, spread preserves on top, then sprinkle it with sliced almonds. Then you can move on to slicing and enjoying.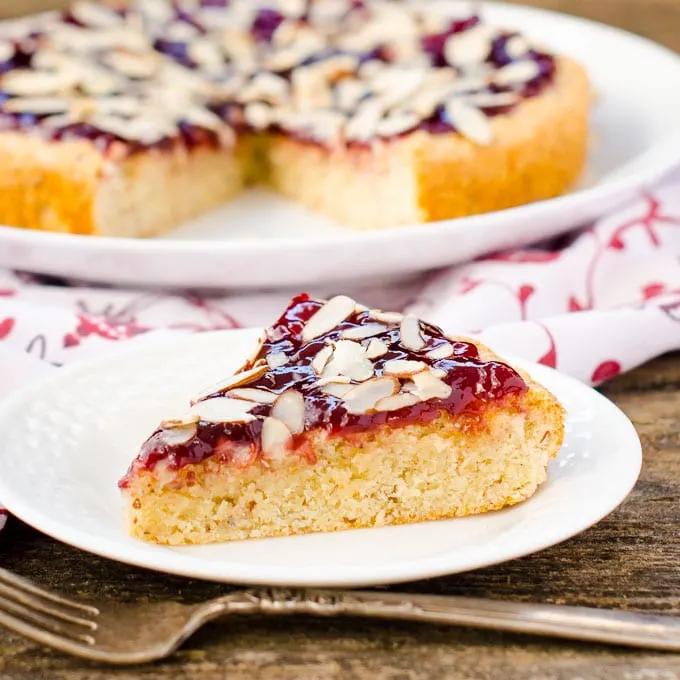 What is your favorite holiday treat? One of mine is spiced pecans. I also like discovering new ones whether they have nuts or not. Luckily it's time again for another Holiday Food Party and there are such great recipes to be discovered. Scroll down to see the list and have fun checking out each one.
Raspberry Almond Torte
Raspberry Almond Torte is a pretty and elegant dessert to make for friends and family. It is nutty, buttery, and topped with raspberry jam and almonds.
Ingredients
1

cup

sliced almonds

divided

3/4

cup

all-purpose flour

1/2

teaspoon

baking powder

1/8

teaspoon

salt

1/2

cup

unsalted butter

at room temperature

3/4

cup

granulated sugar

2

eggs

at room temperature

1/2

teaspoon

almond extract

1/2

cup

raspberry preserves
Instructions
Preheat oven to 350°F. Lightly grease an 8-inch round cake pan.

Finely grind 2/3 cup almond slices. Whisk together ground almonds, flour, baking powder, and salt in a small bowl.

In a medium bowl, cream butter and sugar until light and fluffy. Add eggs and almond extract, one at a time, beating well after each addition.

Add flour-almond mixture and mix until just combined.

Spread batter evenly in prepared pan. Bake until just lightly browned, about 25 to 30 minutes. Do not over-bake.

Cool torte in the pan for 10 minutes. Remove torte from the pan and place on a wire rack. Cool completely.

Place torte on a serving plate. Spread raspberry preserves on top. Sprinkle remaining 1/3 cup almond slices on top of preserves.
Recipe Notes
Raspberry Almond Torte is a pretty and elegant dessert to make for friends and family. It is nutty, buttery, and topped with raspberry jam and almonds.
The holiday season has arrived. I've teamed up with some talented bloggers to share recipes to make for your celebrations. Just look at all this tasty goodness: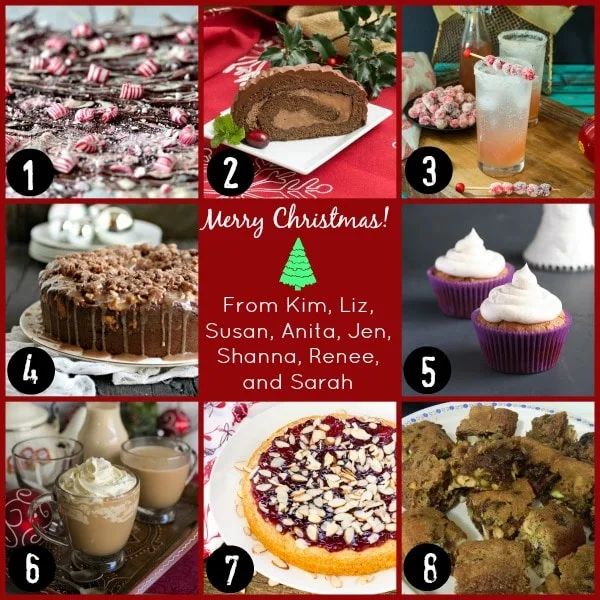 Special thanks to our host Jen at Jen's Favorite Cookies who does so much to make these Holiday Food Parties happen.