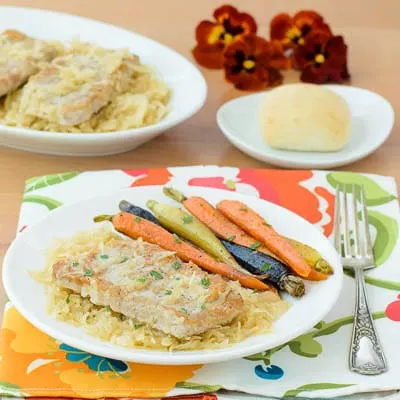 Want to know a secret for tender pork chops? It's very simple to do. The secret is braising. It takes plain fried pork chops and makes them flavorful and tender at the same time. All you need is a skillet with a tight fitting lid. Sure you can use a braiser pan although it is not necessary. Now what to braise with? My first choice is sauerkraut. Why? Aside from how good it tastes, it is because it doesn't get any easier than opening a package or jar and pouring it in*. That's a real time saver when you need a quick and easy Weekday Supper.
Simple is the key to meals during the week. Time is tight and not many people want to do 15 steps or deal with 15 ingredients. This recipe also allows you time to make a quick veggie side and heat up bread while it is braising. I roasted some colorful baby carrots which only takes about 20 minutes. I also put rolls in the oven with the carrots. It was all done in no time.
Pork chops with sauerkraut brought back many memories. Many were from my trip to Germany last November. Some were from all the times my parents cooked sauerkraut when I was growing up. It's been a big part of my life and I know it will continue to be in my future. It's amazing how a simple meal can hold such fond memories and make new ones along the way. That is the power of cooking at home. How it contributes to more than nourishment is the greatest part of all.
Please take a look at the other wonderful Weekday Supper recipes for this week:
Looking for more Weekday Supper inspiration? Follow the #WeekdaySupper hashtag on twitter for quick and easy recipes we share throughout the week, every week of the year! Share yours too, just remember to tweet them with the hashtag.

*For sauerkraut with deeper flavor try Braised Sauerkraut.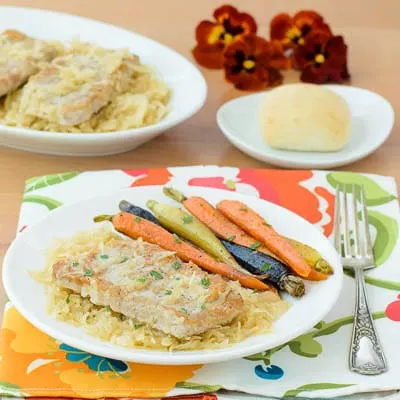 Pork Chops With Sauerkraut
A recipe for pork chops braised in sauerkraut. An easy meal and a way to make tender and flavorful pork chops.
Ingredients
4

to 6 thin cut pork chops

about 1/2-inch

Salt and pepper

Cooking oil

1

package or jar of sauerkraut

8 to 16 ounces
Instructions
Season the pork chops with salt and pepper.

In a large skillet over medium-high heat, add a thin layer of oil. Heat until almost smoking. Add the chops to the pan and brown both sides, about 2 to 3 minutes on each side.

Add the sauerkraut to the skillet. Bring to a boil, cover, and turn down the heat to low.

Simmer for 30 to 40 minutes until the chops are tender. Serve immediately.
Recipe Notes
A recipe for pork chops braised in sauerkraut. An easy meal and a way to make tender and flavorful pork chops.