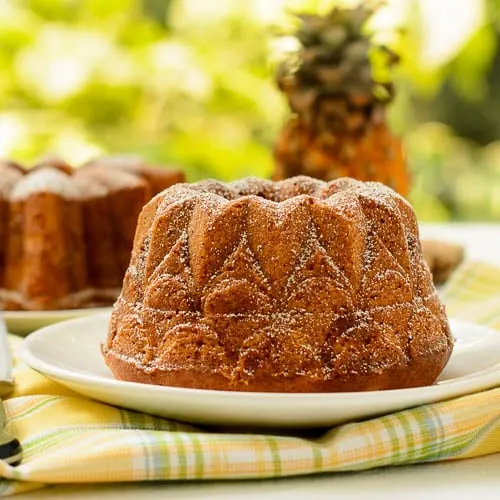 Some things come together so nicely. You see a challenge and wonder how you will ever meet it. Then time keeps ticking along and suddenly the pieces fall into place. One opportunity sparks the chain which ends up being the resolve of the issue. Such happened with this month's Bundt Bakers Tropical theme. I was stumped on what to make. Then the small pieces arrived and soon these little Pineapple Bundt Cakes were in the oven.
Tropical really was a challenge for me. Why? Well, I don't care for mangoes, papayas, and some of the other tropical fruits. I keep trying them to see if my taste has changed and alas it has not. Last year for the same theme I baked a Pina Colada cake and enjoyed it to the very last crumb. I've already done a coconut cake. Then a box of baby pineapples arrived and inspired both Creamy Pineapple Tartlets and these little cakes.
One fun aspect was baking with my small bundt pans. They are larger than mini bundts and about a quarter of the size of a regular bundt pan. I got them on Amazon and the star-shaped one is no longer available. There are four available: Flora
(which makes the cake in my photo), Noblesse
, Classic
, and Saphir
. Anyway, I'm not trying to sell pans it's only that I got a lot of comments on previous posts about the pans and how to get them. (Although I have to note those pan links are affiliate ones).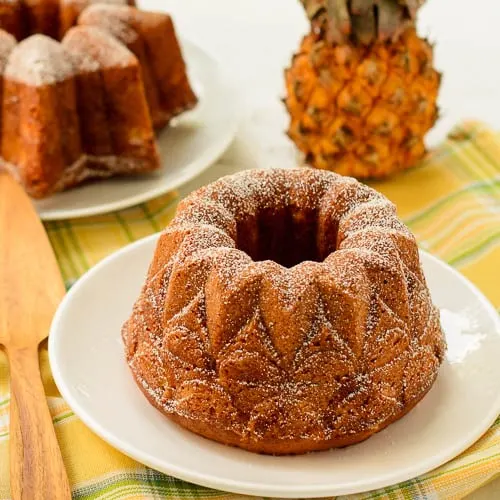 How is the Pineapple Pound Cake? It is moist with a medium crumb (not as dense as some pound cakes). The pineapple flavor starts as a hint then comes through more as you are enjoying a slice. A touch of cardamom gives a background boost without being an obvious component. Cardamom tastes minty to some folks and so I wanted to keep it to a minimum.
Do you enjoy tropical fruit and cake? If so, then I have a great list for you with links to the recipe for each one. I can't wait to see them because bundts are so pretty. These bakers make sure they are tasty too. Our lovely group, Bundt Bakers, just keeps growing. This month we have lots of amazing Bundts that fit the bill for any tropical fruit loving person. Be sure to hop on over and take a look:
Pineapple Pound Cake
A recipe for pineapple pound cake baked in a bundt pan or loaf pans. It is a moist cake made with crushed pineapple and dusted with confectioners sugar.
Total Time
1
hour
15
minutes
Ingredients
1

cup

unsalted butter

at room temperature

1

cup

granulated sugar

1

teaspoon

grated lemon zest

1/4

cup

honey

5

eggs

at room temperature

1

teaspoon

vanilla extract

1/3

cup

well-drained crushed pineapple

2

cups

all-purpose flour

1

teaspoon

baking powder

1/4

teaspoon

salt

1/4

teaspoon

ground cardamom

Confectioners sugar for dusting
Instructions
Preheat oven to 350 degrees F. Grease and flour 2 small bundt pans (3 cup capacity each) or 4 mini loaf pans (1 1/2 cup capacity each).

Beat butter, sugar, and lemon zest in a large bowl until light and fluffy. Add honey and beat to combine.

Add eggs, one at a time, beating well after each addition.

Add vanilla and pineapple and stir or beat to combine.

Whisk together flour, baking powder, salt, and cardamom in a separate bowl. Add to wet ingredients and stir or beat until just combined.

Spoon batter into prepared pans. Bake for 35 to 40 minutes for small bundt pans, 25 to 30 minutes for mini loaf pans, or until a toothpick or cake tester inserted in the center comes out clean.

Cool cakes in the pans for 10 minutes. Remove cakes from pans and cool completely on a wire rack. Dust cakes with confectioners sugar prior to serving.
Recipe Notes
A recipe for pineapple pound cake baked in a bundt pan or loaf pans. It is a moist cake made with crushed pineapple and dusted with confectioners sugar.
What is Bundt Bakers? It's a group of Bundt loving bakers who get together once a month to bake bundts with a common ingredient or theme. Follow our Bundt Bakers Pinterest board for incredible bundt cake recipes and inspiration. Stacy of Food Lust People Love heads up our group and has a #BundtBakers page where you can find information and links to the recipes for each month.
How is the monthly theme determined? We take turns hosting each month and choosing the theme/ingredient.
Would you like to join in the fun? If you are a food blogger, send an email with your blog name and url to Stacy at [email protected].