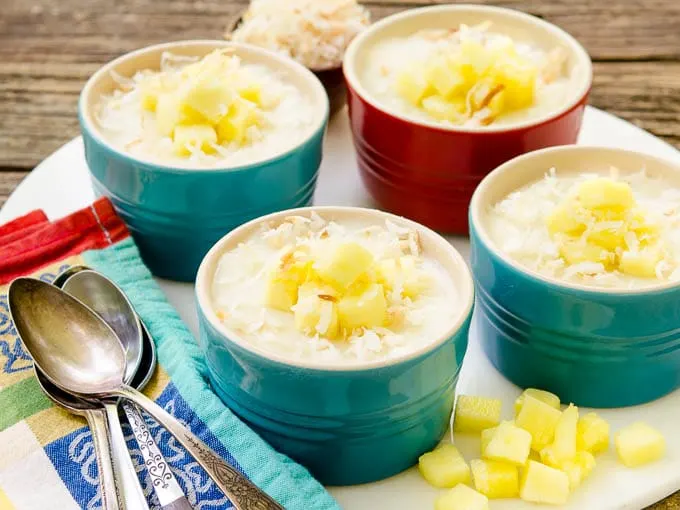 Happy Piña Colada Day! Yep, July 10th is a day to celebrate the tropical cocktail. Of course, if you are reading this on any other day then Belated Happy Piña Colada Day! My fond memories of the drink go back to when I was first married. Friends would come over and I'd make oodles of them. Remembering those days made me smile when I made Pineapple Coconut Pudding.
Those Piña Colada weekends happened 33 years ago. And coincidentally right about this time. We were married in June and so July was when those times were in full swing. I made so many batches I cleaned out the stock of sweetened coconut milk and pineapple juice from the local store. We bought rum by the gallon. Our little apartment was packed full of friends sipping on the frozen cocktail.
Now I'll take the flavors over the drink. Plus my days of sipping on sweetened coconut milk are over. Give me a Classic Gibson Martini or wine instead. Pineapple and coconut really are two things I'll use in cooking and baking often. That goes especially for coconut.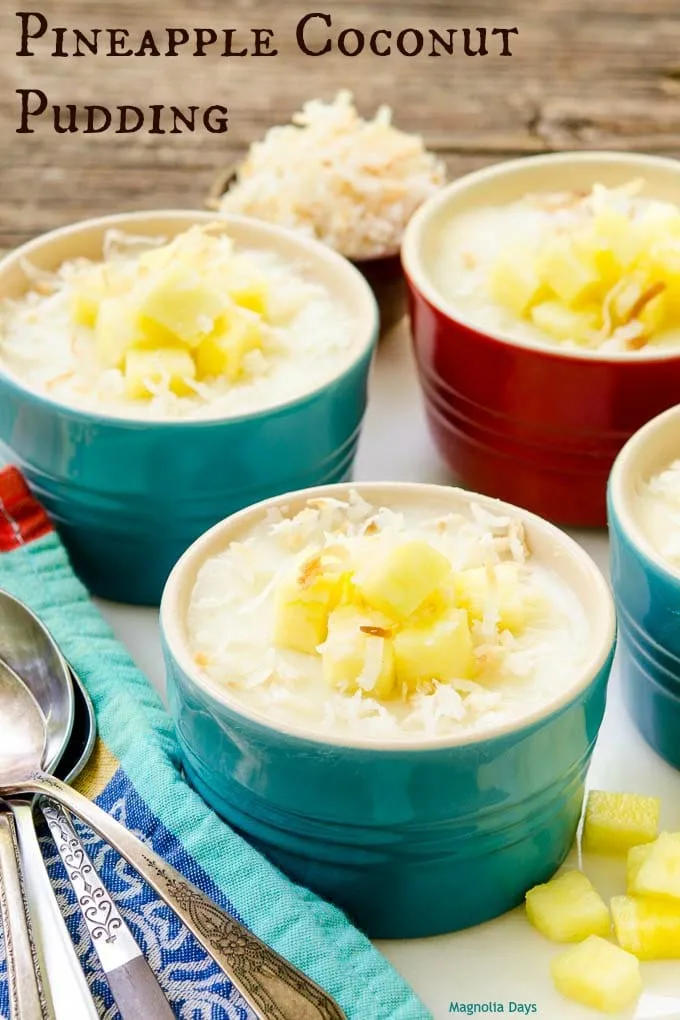 Who is celebrating Piña Colada Day? Me and a whole bunch of Sunday Supper tastemakers. The theme of the virtual celebration is coconut. You know I was excited the moment I saw it. Only thing was to figure out what to make. My initial thoughts went straight to Thai food. It's because coconut milk is used often in the cuisine.
I headed straight for my cookbook collection. I have a few for Thai food. While looking at every recipe with coconut milk I ran across one for pudding. It sparked my interest and I decided to give it a try with my own adaptation. The result is a pudding like no other I've had.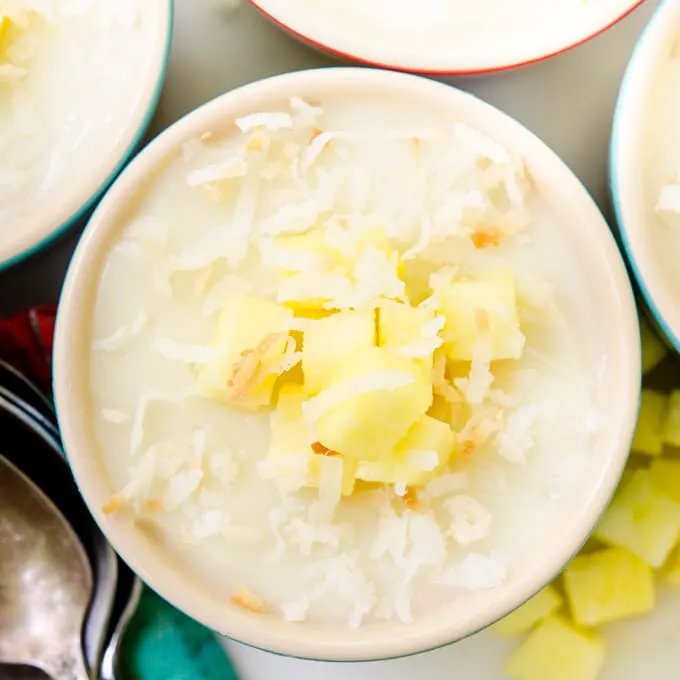 Pineapple Coconut Pudding is smooth and creamy. Yet the creaminess is not like a regular milk based pudding like my Vanilla Pudding. Its texture comes from the silkiness quality of coconut milk. Oh and it's almost translucent. I wanted to put that out there in case you are expecting something similar to the filling of a coconut cream pie. This pudding is quite different.
The pudding fits with special dietary needs too. It's both gluten and dairy free. There are only four ingredients (not counting toppings). It's easy to make because all you do is put those ingredients in a pan, whisk, bring to a boil, and then pour it into bowls and chill.
How about more coconut recipes? Scroll down below the recipe and big collage photo to find a list. Also look at my Lemon Coconut Bars and Thai Yellow Curry Shrimp. Big thanks to Constance of Cosmopolitan Cornbread for hosting the Sunday Supper Piña Colada Day celebration.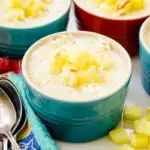 Pineapple Coconut Pudding
Pineapple Coconut Pudding is a creamy and cool dessert with tropical flavors. It's easy to make with only a few ingredients.
Ingredients
2

cups

coconut milk

well-stirred

3/4

cup

pineapple juice

1/3

cup

granulated sugar

1/4

cup

cornstarch

3/4

cup

diced fresh pineapple

1/4

cup

lightly toasted coconut flakes
Instructions
Whisk together coconut milk, pineapple juice, sugar, and cornstarch in a medium saucepan over medium-high heat.

Continue whisking slowly until mixture comes to a full boil and thickens.

Ladle into 4 small bowls or ramekins.

Place plastic wrap directly on surfaces. Cool to room temperature then chill overnight.

Serve topped with fresh pineapple and toasted coconut flakes.
Recipe Notes
Pineapple Coconut Pudding is a creamy and cool dessert with tropical flavors. It's easy to make with only a few ingredients.
Recipe adapted from one in the Easy Thai Cooking cookbook (Amazon affiliate link).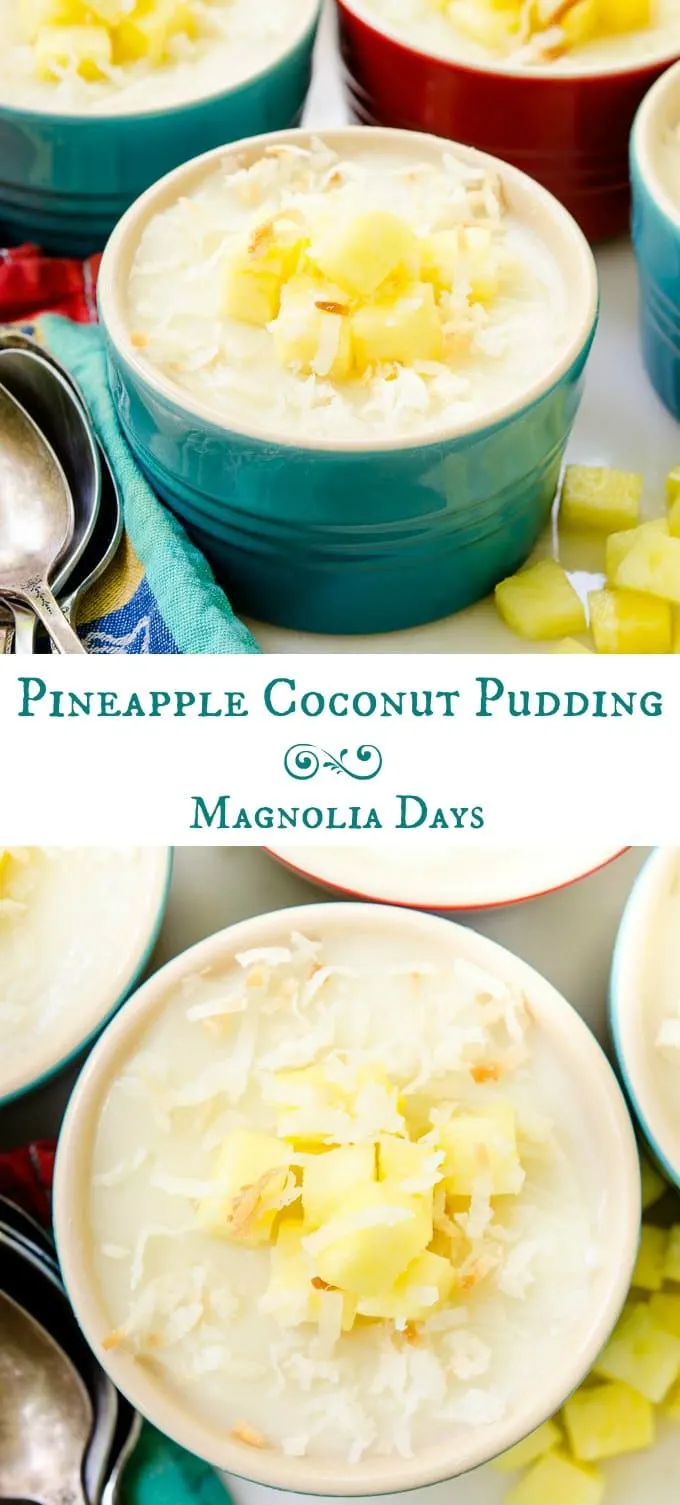 It's a National Piña Colada Day celebration! Take a look at these recipes with coconut by Sunday Supper tastemakers:
Great Starts
Dive in with Sides and Appetizers
Coco-Nutty Main Dishes
"Col-lots-a" Desserts
Sweet to Sip Beverages
Join the #SundaySupper family on twitter every Sunday! We tweet throughout the day and share recipes from all over the world. Our weekly chat starts at 7:00 pm ET. Follow the #SundaySupper hashtag and remember to include it in your tweets to join in the conversation. To get more great Sunday Supper recipes, visit the Sunday Supper Movement website or check out our Sunday Supper Pinterest board.
Would you like to join the Sunday Supper Movement? It's easy. You can sign up by clicking here: Sunday Supper Movement.