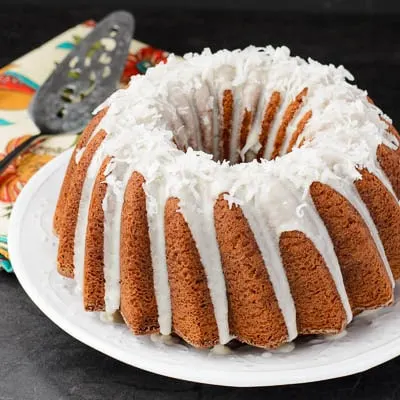 Here I go again turning a drink into a cake. This one brings back memories from almost 30 years ago. It is the drink, a Pina Colada, that reminds me of the time right after I got married. We went on our honeymoon to Panama City Beach. It was hot and we were cooling down with that frozen, creamy, tropical beverage. Oh those drinks were so good! Who knew many years later I would be baking a Pina Colada Bundt Cake. I certainly never thought of it back then.
We returned from our honeymoon to our little apartment. We were the first of our friends to be married and on our own. So you can imagine our place became the hangout. Keep in mind I was 18 and my husband was 19. Our friends were the same age and back then the legal drinking age was 18. I made pina coladas like crazy. I cleaned out the store of pineapple juice and cream of coconut almost every week. I can't believe I didn't wear out my blender. It's still going strong today.
Tropical is the theme for March #BundtAMonth. When it was first announced, I wasn't sure what to bake. It took me a few days until I thought about pineapple and coconut. All the memories started flooding in and I knew it had to be a pina colada bundt cake. I searched for recipes and so many of them used a boxed cake mix. I decided to adapt the recipe I used for the Citrus Cocktail Mini Bundt Cakes. The result is exactly what I wanted. A moist, dense cake with pineapple and coconut flavors. The flavors are more subtle than strong. The cake is topped off with a pineapple-flavored glaze and coconut flakes are sprinkled on top.
Ready for a taste trip to the tropics? Take a look at these recipes by the #BundtAMonth bakers:
Here's how you can be a part of Bundt-a-Month:
Simple rule: Use any tropical fruit – and bake us a Bundt for March
Post it before March 31, 2013
Use the #BundtaMonth hashtag in your title. (For ex: title could read – #BundtaMonth: Papaya Bundt)
Add your entry to the Linky tool below
Link back to our announcement posts
Even more bundt fun! Follow Bundt-a-Month on Facebook where we feature all our gorgeous bundt cakes. Or head over to our Pinterest board for inspiration and choose from over 400 Bundt cake recipes.
Happy Baking!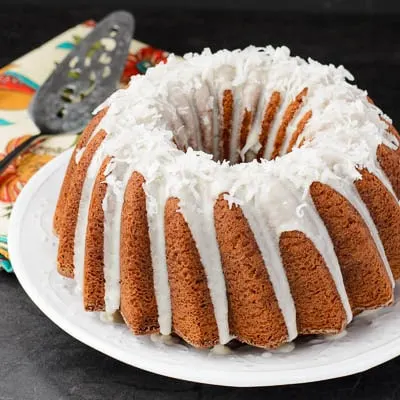 Pina Colada Bundt Cake
A recipe for a pina colada bundt cake. Pineapple and coconut flavors give a tropical flair to a cake baked in a bundt pan.
Total Time
1
hour
10
minutes
Ingredients
For the cake:
3

cups

all-purpose flour

1

teaspoon

baking soda

1

teaspoon

salt

1

cup

unsalted butter

2 sticks, at room temperature

2

cups

granulated sugar

6

eggs

large, at room temperature

1/2

cup

unsweetened coconut milk

2

tablespoons

rum

3/4

cup

low-fat pineapple yogurt

at room temperature

1

teaspoon

vanilla extract

1/2

teaspoon

coconut extract

1/2

cup

crushed pineapple

drained and juice reserved for glaze

Sweetened coconut flakes for garnish
For the glaze:
1

cup

confectioners sugar

1 1/2

tablespoons

unsalted butter

melted

1/2

teaspoon

vanilla extract

Reserved pineapple juice and/or milk
Instructions
For the cake:
Preheat the oven to 350 degrees F. Grease and flour a 12-cup bundt cake pan.

In a medium bowl, whisk together the flour, baking soda, and salt. Set aside.

In a large bowl, beat butter and sugar using an electric mixer on medium-high speed until light and fluffy, about 5 minutes. Add the eggs, one at a time, beating well after each addition. Add the coconut milk and rum. Beat until combined. Add the flour mixture in three additions, alternatively with the yogurt in two additions, mixing on low speed until just combined. Do not over mix. Stir in the vanilla, coconut extract, and crushed pineapple.

Pour the batter into the prepared bundt pan. Bake until a toothpick inserted in the center of the cake comes out clean, about 1 hour.

Cool cake in the pan for 10 minutes. Invert cake on to a cooling rack and cool completely. Place a sheet of parchment paper under the cooling rack. Pour the glaze over the cake. Garnish with coconut flakes if desired.
For the glaze:
In a small bowl, add the confectioners sugar, melted butter, vanilla, and 3 tablespoons pineapple juice and/or milk. Stir to combine. Add more pineapple juice or milk to desired consistency (should be pour-able but not too thin).
Recipe Notes
A recipe for a pina colada bundt cake. Pineapple and coconut flavors give a tropical flair to a cake baked in a bundt pan.