When does summer end? Not officially, but when it feels that way to you? Some mark it with Labor Day. Others consider the first day kids go back to school is the last of summer. A bell rings and kicks off a plethora of activities. Schedules become beyond crazy. Home-cooked meals need minimal preparation time. Thin sliced meat cooks quickly. It only takes a few minutes to cook Peanut Chicken Cutlets.
Whoever came up with cutlets was brilliant. I'm sure it was hundreds of years ago. I haven't really taken the time to do full research though. All I know is they have been a part of my family's meals way before I ever existed. Two words: Weiner Schnitzel. Oh yes. Thin sliced and pounded veal that is breaded and fried to a crispy delightful perfection. One day I'll post about it. For now, I'm taking the basic preparation of it and changing up some of the ingredients.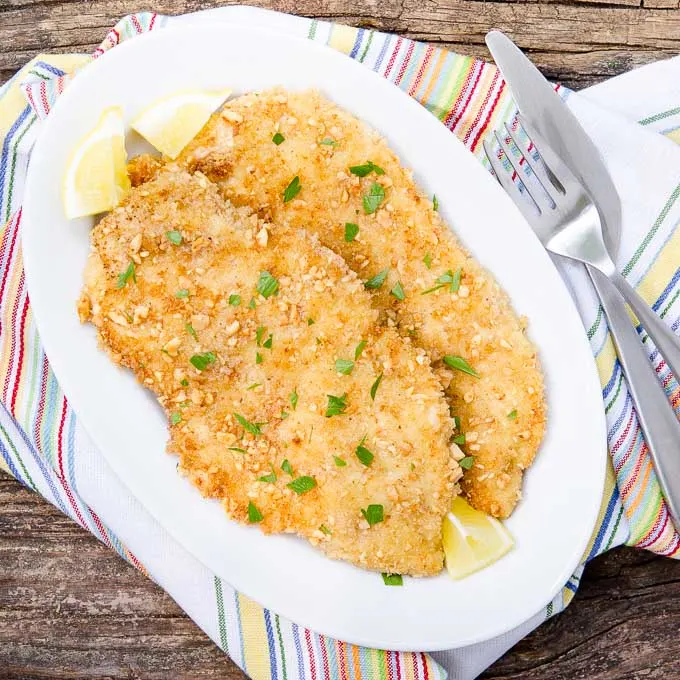 It starts with fresh chicken breast cutlets. Most grocery stores have them available all year long. The cutlets will need to be pounded if they are not already cut 1/4-inch thick. This is when a meat mallet comes in handy. Put a cutlet in a heavy-duty plastic bag and have fun pounding. It's a great way to get out some frustration. Just don't get carried away and wind up with chicken mush.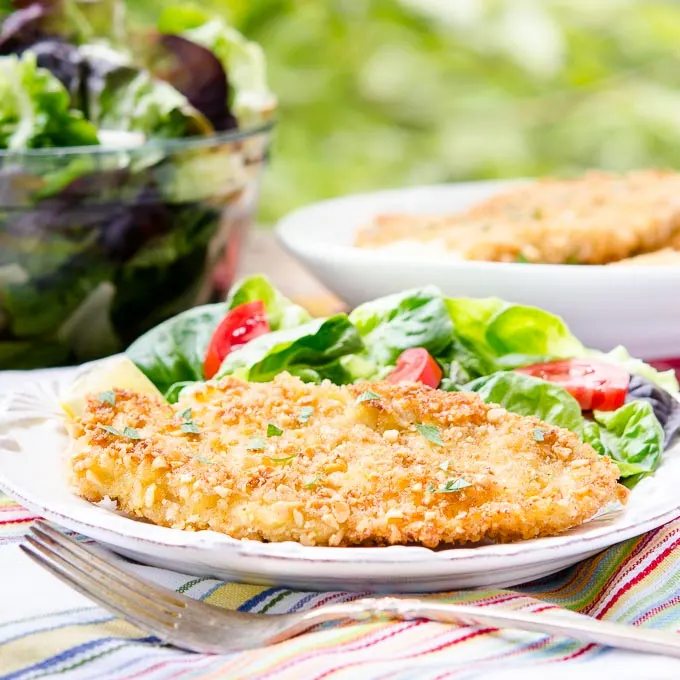 Breading cutlets has three steps: flour, eggs, and breadcrumbs. The third step can easily be changed up for different flavors and textures. For example, I use Italian seasoned breadcrumbs when I make my "regular" turkey cutlets. I use crushed tortilla chips for Mexican turkey cutlets. With these peanut chicken cutlets, I use panko (Japanese breadcrumbs) mixed with finely chopped dry roasted peanuts.
Frying cutlets is done quickly. Be sure to use a large skillet or sauté pan (non-stick recommended). You do not want to crowd the pan or they will be soggy instead of crisp. Get the oil and butter hot before adding cutlets to the pan. Cook cutlets about 3 minutes on each side to get them golden brown and cooked through. Then you have crispy, crunchy, nutty chicken to serve with your favorite sides or a salad. They make great sandwiches too.
What else to make during back to school time? The answer to that question is below. Sunday Supper tastemakers are sharing recipes for starting with breakfast and going all the way to dessert. Scroll down to see the list. Big thanks to DB aka Foodie Stuntman at Crazy Foodie Stunts and Caroline at Caroline's Cooking for hosting this event.
Peanut Chicken Cutlets
These Peanut Chicken Cutlets have a crispy, crunchy crust made of panko breadcrumbs and chopped peanuts. They cook in minutes for a speedy weeknight meal.
Ingredients
1

pound

chicken cutlets

thin sliced fresh chicken breast

Salt and pepper

1/4

cup

all-purpose flour

3

eggs

beaten

1 1/4

cup

panko

Japanese breadcrumbs

3/4

cup

salted dry-roasted peanuts

finely chopped

Unsalted butter

for frying

Olive oil

for frying
Instructions
Heat oven to 200°F. Place a wire rack in a jelly-roll or sheet pan.

Place each cutlet in a large heavy-duty plastic zip top bag or between sheets of heavy-duty plastic wrap. Use a rolling pin or the flat side of a meat mallet to flatten cutlets to 1/4-inch thickness.

Lightly season the cutlets with salt and pepper.

Set up a breading station with 3 containers. Make sure the containers are wide enough for the cutlets. Place flour in one and eggs in another. Combine breadcrumbs and peanuts in the remaining container.

Dredge one cutlet in the flour and shake off the excess. Dip cutlet in eggs to coat completely. Dredge cutlet in breadcrumb mixture, pressing to adhere and fully coat, then shake off the excess. Repeat process with remaining cutlets.

In a large non-stick saute pan or skillet, add 1 to 2 tablespoons of butter and some olive oil. You only want a thin layer of oil/butter (enough to cover the bottom of the pan). Heat the butter and oil over medium-high heat. You can test to see if it is hot enough by dropping some breadcrumbs in the pan and if it sizzles it is ready.

Cook half of the cutlets for 3 minutes on each side, until lightly browned on both sides and cooked through.

Transfer cooked cutlets to wire rack and place in the oven to keep warm while cooking remaining cutlets.

Cook remaining cutlets, adding more butter and oil to the pan if needed.
Recipe Notes
These Peanut Chicken Cutlets have a crispy, crunchy crust made of panko breadcrumbs and chopped peanuts. They cook in minutes for a speedy weeknight meal.
It's back to school time. Take a look at these recipes by Sunday Supper tastemakers for snacks, meals, treats, and so much more:
Getting Started On School Days
Ideas for the Lunchbox
After School Snacks and Beverages
School Night Suppers
Sweets to End the Day
Join the #SundaySupper family on twitter every Sunday! We tweet throughout the day and share recipes from all over the world. Our weekly chat starts at 7:00 pm ET. Follow the #SundaySupper hashtag and remember to include it in your tweets to join in the conversation. To get more great Sunday Supper recipes, visit the Sunday Supper Movement website or check out our Sunday Supper Pinterest board.
Would you like to join the Sunday Supper Movement? It's easy. You can sign up by clicking here: Sunday Supper Movement.