People can be very passionate about food. So passionate, they will seek out like-minded cohorts to celebrate their favorites. Groups form and the next thing you know a declaration is made. One such group has declared March 25 as Chocolate Peanut Butter Day. Over 30 bloggers including myself came together for an event hosted by Carla of Chocolate Moosey and Miriam of Overtime Cook to share all sorts of chocolate peanut butter recipes. Join in the fun by following the hashtag #chocPBday on social media and share your recipes too. Follow our Pinterest board to find all the recipes in one place. We are also teaming up with OXO, King Arthur Flour, and Peanut Butter & Co. to bring you three fabulous prize packs. You will want to enter the giveaway below if you enjoy chocolate, peanut butter, and baking.
Peanut Butter Chocolate Chip Quick Bread is my contribution to the celebration. It took the kind help of the group, especially my friend Anita of Hungry Couple, to work out some the kinks in the recipe. I wasn't pleased with the results of my first attempt. The biggest issues were the bottom, top, and butter dripping out of the pan. A minor issue was not enough peanut butter flavor. It all worked out with the second attempt by making a few changes.
What changed from the first attempt to the second? The bread has a candied peanut bottom that stuck to the pan. I almost ditched the layer until Anita recommended lining the pan with parchment. It worked like a charm. The top over-browned because of butter seeping up from the bottom. Covering the ends with foil in the last 20 minutes of baking helped that tremendously. The edges are still very brown however not almost burnt as with the first attempt.
The final two changes were also easy to make. Butter seeping up the sides was dripping out of the pan and onto the bottom of the oven. It began to smoke and that does not give a great flavor and it means cleaning the oven. This was solved by creating a valley in the center of the batter so the butter would run to the middle instead of out of the pan. I also placed the pan on a baking sheet to catch any stray drips. To increase the peanut butter flavor I eliminated the butter called for in the original recipe and used extra peanut butter in its place.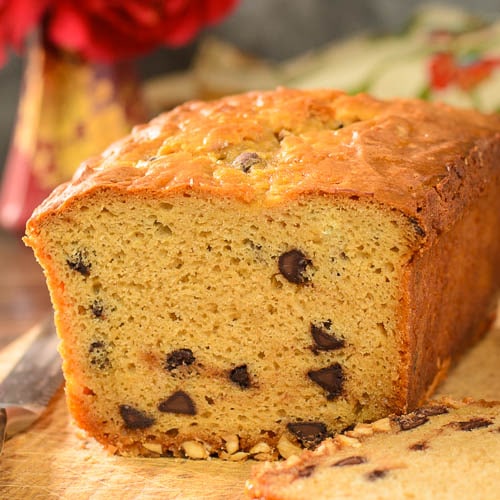 How is the Peanut Butter Chocolate Chip Bread? It is moist and has a slight chewy texture. You get a caramel, nut, and chocolate trio of flavors with every bite.  The candied peanut bottom is a delight all of its own. Slice the bread and serve it for breakfast, afternoon snack, or anytime you have a peanut butter chocolate craving. And if you still have a craving check out Chocolate Peanut Butter Snack Cake, Tiger Butter, Peanut Butter Chocolate Chip Bars, and the recipes from the group below.
Peanut Butter Chocolate Chip Quick Bread
2 tablespoons unsalted butter, melted
1 1/4 cups firmly packed light brown sugar, divided
1/4 cup coarsely chopped cocktail peanuts
1 tablespoon water
2 cups all-purpose flour
1 teaspoon baking powder
1/2 teaspoon baking soda
1/2 teaspoon salt
1 large egg
1/4 cup creamy peanut butter
1 cup buttermilk, at room temperature
3/4 cup chocolate chips
Preheat oven to 350 degrees F. Lightly grease a 9- X 5-inch loaf pan. Line the pan with parchment paper with a 2-inch overhang on two sides. Lightly grease the parchment paper.
Pour melted butter in the pan. Sprinkle 1/4 cup brown sugar and peanuts evenly over bottom of the pan. Sprinkle water over peanuts.
Whisk together flour, baking powder, baking soda, and salt in a medium bowl.
Beat egg in a large bowl for 1 minute using an electric mixer at medium speed. Add remaining 1 cup brown sugar and peanut butter and beat well.
Add buttermilk and beat until blended.
Add flour mixture and beat until moistened and just combined. Do not over-mix.
Stir in chocolate chips.
Spoon mixture into pan and use spoon to spread it so the sides are higher than the middle.
Place the pan on a baking sheet and bake for 40 minutes.
Check the bread to see if the edges are browning too quickly (butter that seeps up from the bottom of the pan may cause this to happen). If so, lay strips on foil on the ends of the bread (do not cover the middle).
Continue baking for 20 minutes, or until a toothpick or cake tester inserted in the center comes out clean.
Cool bread in the pan for 10 minutes.
Use the parchment paper to lift the bread out of the pan and place on a wire rack. Cool completely before slicing.
https://magnoliadays.com/peanut-butter-chocolate-chip-quick-bread/
Copyright Magnolia Days - http://magnoliadays.com/
Recipe adapted from one in the Southern Living 1988 Annual Recipes cookbook (out of print).
It's time to crank up the cravings! Here are the participants and recipes for Chocolate Peanut Butter Day:
Three lucky winners will win one of the following:
Prize Pack #1: OXO Baking Tool Set: One 3-in-1 Egg Separator, One Bent Icing Knife, One Brownie Spatula, One Cake Tester, One Cookie Spatula, One Cupcake Icing Knife, One Cupcake Corer, One Egg Beater, One Stainless Steel Measuring Cups, One Stainless Steel Measuring Spoons, One Medium Cookie Scoop
Prize Pack #2: King Arthur Flour ingredients: One bag of all-purpose flour, one package of Guittard bittersweet chocolate disks, and one bottle of pure vanilla extract
Prize Pack #3: Peanut Butter and Co. package including: one Dark Chocolate Dreams 6-pack, One Variety 6-pack, and One 31 Days of Dark Chocolate Dreams cookbook
This giveaway is open to US residents only and will be picked from random draw. Giveaway ends Monday March 31 at 11:59 PM Eastern Time. The winners will be notified via email and have 24 hours to respond. If not, the prize is forfeited and another winner will be chosen.
Big thanks to our sponsors for providing the giveaway items:
OXO:
Website | Facebook | Twitter | Pinterest | Instagram | YouTube
King Arthur Flour:
Website | Facebook | Twitter | Pinterest | Instagram
Peanut Butter & Co:
Website | Facebook | Twitter | Pinterest| Instagram | YouTube
Disclosure: OXO, King Arthur Flour, and Peanut Butter and Co. are providing the prizes at no charge. I did not receive any compensation for participation in this event. All opinions are my own unless otherwise stated or contained within a guest post.