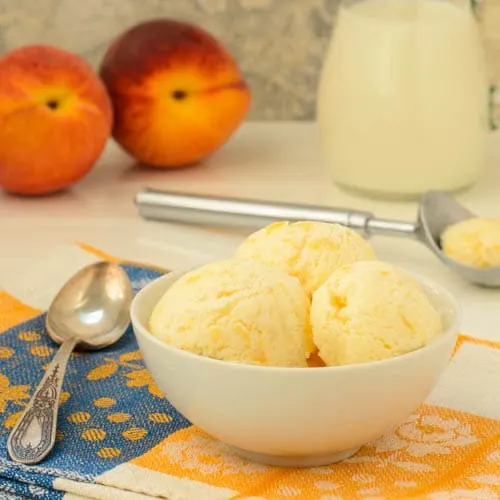 Cream always was in the refrigerator. A spare can was in the cabinet. Yes, a can. What cream is in a can? It's evaporated milk and it was what I grew up with as being cream. What's interesting is we had fresh milk delivered from a local dairy. Why fresh milk and yet used canned cream is beyond me. I remember my dad using evaporated milk mixed with water for cereal if we were out of milk. He used it for a special treat every summer. Now I've taken that treat and transformed it into peaches and cream frozen yogurt. It's a nod to the past with updated ingredients.
Peaches are now in season here in Georgia. Ripe peaches are soft, sweet, and very juicy. The softness of the flesh goes from the outside all the way to the pit. The ones you find in the store may have some softness just under the skin but they are hard next to the pit. Once you have enjoyed a fresh picked fully ripe peach, you will find those store-bought ones are lacking in so many ways.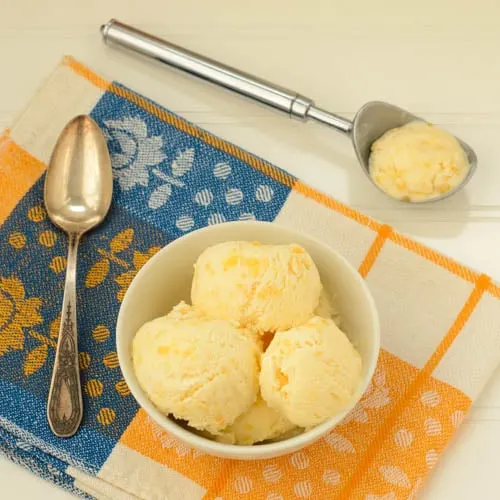 My husband requested a flavored frozen yogurt. I had a bunch of Greek yogurt thanks to Chobani. I decided to make a combination of ice cream and frozen yogurt. This is a no-cook and egg-less recipe. It does have a couple of refrigeration times so it's not a stir and churn one. The better the peaches, the stronger the flavor. The fat from the heavy whipping cream gives it a softer texture. I recommend using low-fat or full-fat yogurt.
How are you using the fruit of the season? Have you made any frozen treats with it? Last year I made peach sorbet and this year it's peaches and cream frozen yogurt. I think I see a trend. Fresh fruit makes great frozen treats. What will be next? Stay tuned…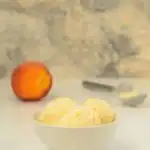 Peaches and Cream Frozen Yogurt
A recipe for peaches and cream frozen yogurt. Fresh peaches, Greek yogurt, and cream make a wonderful frozen treat. This an egg-free and no-cook recipe.
Ingredients
2

cups

peeled

pitted, and sliced peaches

1

cup

sugar

1

cup

plain Greek yogurt

1

cup

heavy whipping cream
Instructions
Stir together peaches and sugar in a medium bowl. Cover and chill for at least an hour or overnight.

In a food processor fitted with a knife blade , pulse the peaches, sugar, and juice from peaches until peaches are chopped but not pureed.

Whisk together the yogurt and cream in a large bowl until smooth.

Stir or whisk in the chopped peaches until well blended.

Cover and chill for one hour.

Pour the mixture into an ice cream maker and freeze according to the manufacturer's instructions.

Transfer the frozen yogurt to a freezer safe container. Freeze for at least one hour.
Recipe Notes
A recipe for peaches and cream frozen yogurt. Fresh peaches, Greek yogurt, and cream make a wonderful frozen treat. This an egg-free and no-cook recipe. Time does not include chill time.
Recipe adapted from the Southern Living Fresh Garden Recipes Special Recipe & Gardening Issue 2013.
Disclosure: I received a variety pack of Greek yogurt from Chobani. I was under no obligation to give a review, positive or otherwise. All opinions are my own unless stated or contained within a guest post.