Simple and fresh. What a wonderful theme for this week's #SundaySupper. Although summer officially starts on June 20th, it seems like it has already arrived. I can see how a lot of folks would rather be outside enjoying the season than spending hours in the kitchen. Simple recipes make it easy to cook a good meal and allow more time for summer fun.
The simple and fresh theme came from LAND O LAKES®. The Sunday Supper bloggers were given the opportunity to develop and share recipes with using their new Butter With Olive Oil & Sea Salt. I was so excited because LAND O LAKES® is the brand of butter I have used for many, many years. I went out and purchased this new product immediately. I could not wait to try it.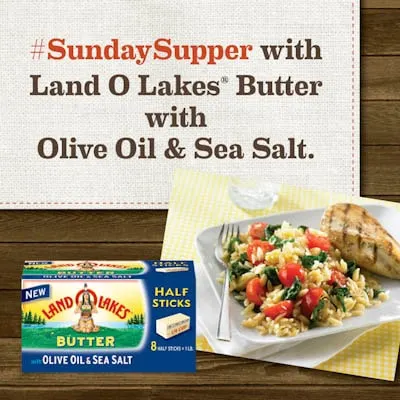 I wanted to share a recipe with butter as the highlight. As I looked around for ideas, I remembered I had this pretty croxetti pasta. The patterns in the pasta give it an elegant touch. They also help to hold the butter sauce onto the pasta.
A plain butter sauce would not be enough. I wanted to do more than just stirring butter into pasta. I chose to use fresh thyme to bring in flavor. Herbs bring a freshness to any dish. I happen to have plenty of thyme around the house.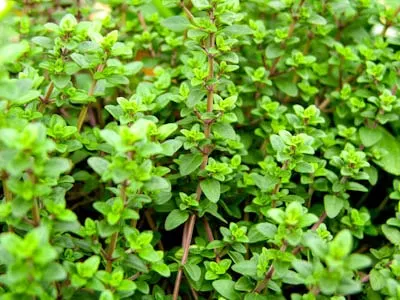 The simple recipe has many options. You can prepare and serve it with just the three ingredients. You can top it with Parmesan cheese or toasted nuts like pinenuts or walnuts. Add cooked chicken, turkey, or shrimp to make it a main dish instead of a side. Spinach would be another great choice. There are many possibilities to use what you have on hand.
Want more recipes? The Sunday Supper bloggers have some incredible ones this week:
Please take the time to visit these wonderful blogs. Also be sure to follow LAND O LAKES® on twitter, @LandOLakesKtchn, and like their facebook page, https://www.facebook.com/LandOLakes. Check out the Sunday Supper Pinterest board to find even more recipes.
Would you like to try this butter? How about for free? I have two coupons to give away. The coupons were provided by LAND O LAKES® and are good for one free package of LAND O LAKES® Butter With Olive Oil & Sea Salt Half Sticks (up to $4.99 value). Leave a comment answering this question: What is your favorite recipe made with butter? I will pick the two recipes that sound the yummiest to me. Good luck!
Subscribe to Magnolia Days by Email
Pasta with Butter-Thyme Sauce
A simple recipe for pasta with a butter-thyme sauce.
Ingredients
10

ounces

Croxetti or other pasta

dry weight

8

tablespoons

LAND O LAKES® Butter with Olive Oil & Sea Salt*

1

heaping tablespoon fresh thyme

lightly chopped
Instructions
Bring a large pot of water to a boil. While waiting for the water to boil is when you can remove the thyme leaves from the stems and lightly chop them. Cook the pasta according to the package instructions. While the pasta is cooking, melt the butter in a small skillet over medium heat. When the butter starts to bubble, add the thyme and reduce the heat to medium-low. Cook for 3 minutes and remove from the heat. Be careful not to over-cook or else the thyme will be fried and crispy. You want only to infuse the flavor of thyme in the butter.

Drain cooked pasta and transfer to a large pasta bowl. Pour butter-thyme sauce over pasta and stir to combine. Serve immediately.
Recipe Notes
Options for toppings to this recipe: toasted pinenuts or walnuts, parmesan cheese, fresh cracked pepper, chicken, and/or shrimp. *Unsalted butter can be substituted. Add salt to taste.
Disclosure: The author received a full-value coupon redeemable for LAND O LAKES® Butter with Olive Oil & Sea Salt, for recipe development and review purposes. All opinions are my own.
About LAND O LAKES® Butter with Olive Oil & Sea Salt: Land O'Lakes is expanding its popular line of half-stick butter with the introduction of LAND O LAKES® Butter with Olive Oil & Sea Salt. This new product contains wholesome ingredients: sweet cream, olive oil and sea salt. LAND O LAKES® Butter with Olive Oil & Sea Salt is an easy and convenient way to simply enhance the flavor of your favorite foods. Available in a premeasured half-stick size, this new product can be used for topping and cooking a variety of foods, combining the two ingredients consumers often combine separately when frying or sautéing foods. The delicious taste of butter and olive oil will add delicious flavor to any dish.