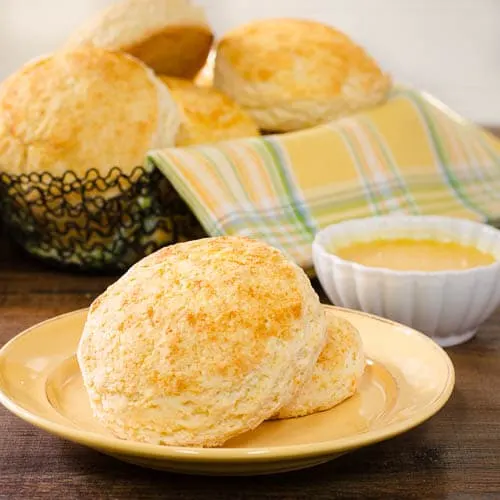 Flour, fat, and liquid are the only three things needed for a batch of fluffy biscuits. Well, that is when the flour is self-rising. Scoop out flour into a bowl, cut in the fat, and bind it together with liquid. Cut or shape then bake. It's as easy as it sounds. The problem to share a recipe is when you are so used to making them that you do no measuring. It is all done by sight and feel. That is the reason why I haven't shared a recipe for regular ones. Special ones, like these orange biscuits, are a different story.
What is the story behind these biscuits? It all started with the Cook for Julia celebration back in August of 2012. I finally purchased some of her cookbooks to prepare for the event. I spotted a recipe for biscuits when I was looking through Julia's Kitchen Wisdom
. I almost chose them to post for the celebration. What stopped me was when I saw sugar as an ingredient. Sugar doesn't go in biscuits, right? Well, maybe not plain ones however it works for these.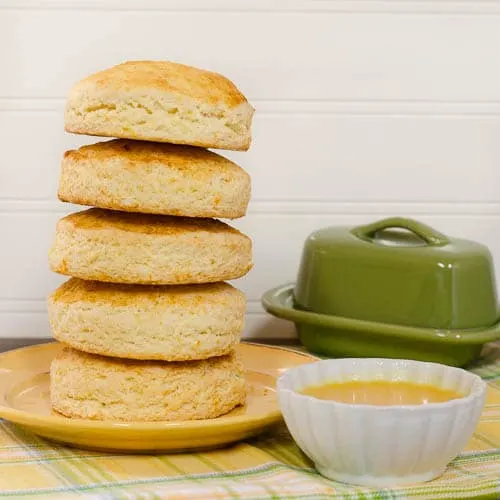 Orange biscuits are light and fluffy. It took some adaption from Julia's recipe in combination with what I know from the look and feel of the dough when I make regular biscuits. Sugar came into play because rubbing orange zest into it releases more flavor than simply adding zest into the mixture. I reduced the amount of shortening and liquid from Julia's recipe because of using soft bleached all-purpose flour (which is the best for biscuits). The dough still was wetter than what I'm used to. Working more flour into the dough while kneading did the trick.
Orange butter sauce was created for these biscuits. Some folks brush melted butter on top of biscuits before baking. I wanted to take that step further to incorporate more orange. Boiling juice to reduce it and concentrate the flavor then adding butter was all it took. It worked nicely to brush on top and also to serve the remaining sauce with the biscuits.
There is another part of the story. The April Twelve Loaves challenge is oranges. It is the reason why I decided to take another look at Julia's recipe. I'm glad I did and I can't wait to see what inspired the talented bakers with the breads they baked. Scroll down to find the list and join me in reading about each one.
Oh, and in case you are curious… I made Ham Steaks with Madeira Cream Sauce, Oil and Lemon Dressing, French Potato Salad, and Tuna Salad Nicoise for the Cook for Julia celebration.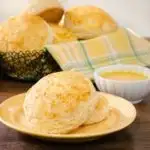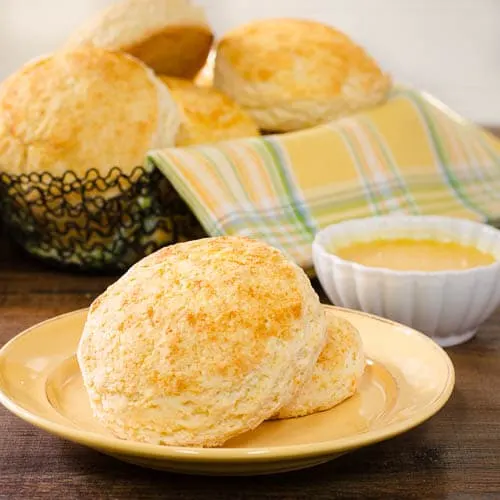 Orange Biscuits
A recipe for light and fluffy orange biscuits made with fresh orange juice and zest. They are served with a homemade orange butter sauce.
Ingredients
For the orange butter sauce:
1

cup

orange juice

2

tablespoons

unsalted butter
For the orange biscuits:
1 1/2

tablespoons

granulated sugar

2

teaspoons

grated orange zest

2

cups

bleached all-purpose flour

plus more for kneading

1 2/3

tablespoons

baking powder

3/4

teaspoon

salt

1/2

cup

shortening

1/2

cup

milk

whole recommended

1/4

cup

orange juice
Instructions
For the orange butter sauce:
Boil orange juice for 5 minutes or until reduced in half.

Add butter and stir until melted. Remove from heat.
For the orange biscuits:
Preheat oven to 425 degrees F.

Use your fingers to rub sugar and zest together until the sugar is moistened and looks like wet sand.

Whisk together orange sugar, flour, baking powder, and salt in a large bowl.

Cut in shortening using two forks or a pastry blender until it is the size of small peas.

Combine milk and orange juice then stir in to flour mixture. It will make a sticky dough.

Turn out dough onto a well-floured work surface. Sprinkle the top with flour and knead about six times with folding dough over in half and using more flour as needed.

Pat dough out to 3/4-inch thickness. Cut out biscuits with a round cutter, by dipping the cutter in flour then pressing the cutter into the dough. Do not turn cutter while pressing.

Place cut out biscuits close together but not touching on a baking sheet.

Gather dough scraps and fold 2 or 3 times, pat out again, and cut biscuits. Repeat until dough is used up.

Brush tops with orange butter sauce.

Bake for 15 to 20 minutes, or until lightly browned.

Serve warm or at room temperature with remaining sauce.
Recipe Notes
Yield depends on size of biscuit cutter.
Knock knock. Who's there? Orange. Orange who? Orange you glad we have this list of breads for you? Check it out:
#TwelveLoaves April: Oranges. The month of March was filled with gorgeous strawberry breads! We have chosen oranges for our April theme! Choose a recipe including oranges. Your bread of choice recipe must include in the recipe: oranges, orange marmalade, orange zest. In addition to being in the dough, it could also be added to a glaze. Whatever you bake, (yeasted, quick bread, crackers, muffins, braids, flatbreads, etc) have fun and let's have a delicious month of bread with oranges. Let's get baking!
Want to add your bread to the collection with the Linky Tool this month? Here is what you need to do:
When you post your Twelve Loaves bread on your blog, make sure that you mention the Twelve Loaves challenge in your blog post; this helps us to get more members as well as share everyone's posts. Please make sure that your bread is inspired by the theme.
Please link your post to the linky tool at the bottom of my blog. It must be bread baked to the Twelve Loaves theme.
Have your Twelve Loaves bread that you baked this April, 2014, and posted on your blog by April 30, 2014.
#TwelveLoaves is a monthly bread baking party. It was created by Lora from Cake Duchess and runs so smoothly thanks to the help of the lovely Renee from Magnolia Days and this month the wonderful Heather of girlichef.
Disclosure: This post contains an affiliate link to Amazon.