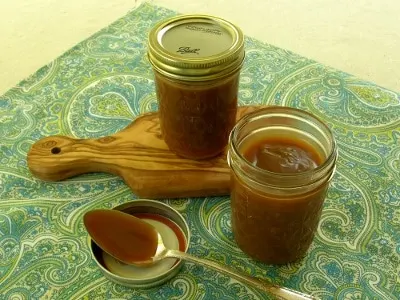 "That, holding your tongue right, and practice are the keys to a successful caramel frosting." – Virigina Willis in her Basic to Brilliant, Y'All cookbook.
That quote applies to anything caramel and not just frosting. Caramel is mighty tricky. It took me three tries plus combining two different recipes until I made caramel sauce successfully. I still have not mastered a caramel cake and my quest continues. Is it worth it? Absolutely, positively, without a shadow of a doubt – Yes!
Caramel is one of my top three sweet delights. Chocolate and peanut butter are the other two. Put all three together and this gal is beyond happy. I remember the chocolate caramel peanut butter cup I had at a Ghirardelli shop in San Francisco. Think of a giant Reese's peanut butter cup but handmade and with both caramel and peanut butter inside. Rich? That word does not cover it. Decadent? Yep. I ate it like there was no tomorrow. It is obvious I still think about it. Yet another reason to travel to California.
Back to the caramel sauce. For my first attempt I used a recipe I found on Baked Bree. There were lots of helpful instructions and hints in the post so I thought it would be a good one. What happened? I cooked it too long and it tasted burnt. I tweeted "Dear caramel, you will not defeat me" and received a great reply and helpful hints from Carla, @chocolatemoosey. I also searched for more recipes and found many of them also had corn syrup and butter as ingredients. I figured corn syrup was to help prevent crystals and help it remain smooth. Butter is an added bonus.
The second attempt incorporated another recipe. I found one on My Baking Addiction that also had lots of hints and information. I decided to combine the two recipes based on my research and what I had found in all the other recipes. What happened the second time? I did not cook it long enough. It tasted like a very sweet heavy cream, almost like sweetened condensed milk. Down the drain it went and I headed back to the store to re-stock the ingredients.
The third time was the charm. I decided I would try using the candy thermometer. It started turning to a light amber color well before 350 degrees. I removed the thermometer and cooked it for a couple more minutes. I went with my gut feeling of when to take it off the heat. I must have held my tongue right because it came out perfectly. It is a really nice caramel color, the right consistency of a sauce, and the flavor is spot on.
Have you made caramel sauce? It is challenging, or at least is was for me. I am glad I went through the process. Now I have the experience and knowledge to make it successfully. Look out friends and family, you may be getting caramel sauce for presents. Hmmm, Magnolia Days Homemade Treats? I think I need to come up with a label design…
Subscribe to Magnolia Days by Email
Homemade Caramel Sauce
A smooth and rich homemade caramel sauce. A tasty topping for ice cream and other desserts.
Ingredients
1 1/2

cups

sugar

1/3

cup

water

1

tablespoon

corn syrup

2

tablespoons

unsalted butter

softened

1 1/4

cups

heavy whipping cream

room temperature

1

teaspoon

vanilla
Instructions
In a heavy 3-quart saucepan (do not use non-stick), stir together sugar, water, and corn syrup. Over medium heat, stir constantly until the sugar dissolves and the syrup is bubbling. Stop stirring completely and allow it to boil undisturbed until it turns to an amber color.

Immediately remove it from the heat and carefully pour in the cream. It will bubble furiously. Whisk in the cream until it is smooth. Add the butter and whisk until smooth. Add the vanilla and whisk to combine. Cool the caramel to room temperature. Store in a sealed container at room temperature for up to 3 days or refrigerated for up to 3 weeks.
Recipe Notes
To help crystals from forming on the side of the pan you can brush down the sides using a pastry brush that has been dipped in water. Be very careful to not disturb the syrup as it cooks. If any crystals do form then you can pour the sauce through a sieve into another container to cool.