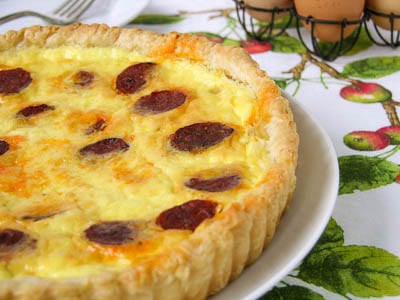 Julia Child has recipes for cooks of all skill levels. Her cookbooks have more than recipes. They are filled with a wealth of information. I have learned new techniques by cooking her recipes lately. It has been a fun experience participating in PBS Food's #CookForJulia event. It is exciting to see how Julia's 100th birthday is being celebrated by food lovers, bloggers, home cooks, professional chefs, and fans of Julia all over the world. My final recipe to share for the event is Onion and Chorizo Quiche.
"Everything in moderation… including moderation" – Julia Child
That is my second favorite Julia child quote. It reflects how I feel about food and eating. When it comes to food, I believe everything is good in moderation and it is okay to indulge every now and then. A balanced, healthy diet and watching portions is all you need. And every now and then a big piece of cake or a plate full of french fries. Add in some exercise and it is all good.
The onion and chorizo quiche is a bit of an indulgence. It is made with cream, sausage, cheese, and with a butter and lard laden crust. It is heavenly. It is the best quiche I have ever had. I adapted the recipe from one in Julia Child's "The Way to Cook
" cookbook. Sausage, onion, and cheese are so good together. Be still my food-loving heart! It is worth the indulgence and I will be happy to eat a few lighter meals to balance it out.
So what is my #1 favorite Julia Child quote? And where is the onion and chorizo quiche recipe? You will have to head over to Isabel's blog, Family Foodie, to find them. I am honored to guest post on her wonderful blog. Her mission to bring back Sunday Supper around the family table means so much to me. I wanted to share a special recipe with a certain ingredient Isabel and I both enjoy very much. So click here → Onion and Chorizo Quiche ← to get to the post and read all about it. Bon Appétit!