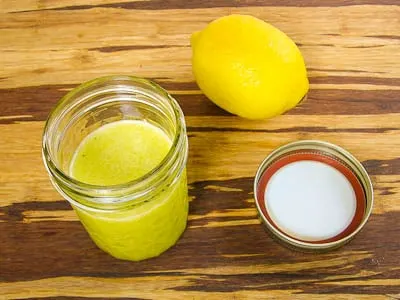 Julia Child's 100th birthday will be August 15, 2012. Fans of Julia, chefs, bloggers, and people all over the world are celebrating her birthday by cooking her recipes. I am one of those fans and bloggers. Julia inspired me from the first time I saw her on PBS. Her show lead the way for so many in the world of food. Now there are whole television networks dedicated to food.
Julia's legacy is being honored with tributes. PBS has their #CookForJulia celebration from August 5th through 15th. I am early posting this but I wanted to share a simple recipe you can make during the event. The oil and lemon dressing is quick and easy to make. It is versatile and can be used on many foods. I can see it as a marinade for grilled vegetables or something to drizzle over seafood. It is more than just a salad dressing.
Julia's recipe calls for minced lemon peel. I used a microplane to grate the zest instead. I also made it in a blender because it is the method I use for dressing. The essence of the recipe is still there. There are few ingredients and the freshness stands out. I strongly recommend using a high quality and fresh oil (I used premium extra virgin olive oil). You can also use avocado oil if you want an oil with a milder or lighter taste. You can find the original recipe in Julia's The Way to Cook
cookbook:
Did you watch Julia Child on PBS? Do you have a favorite episode? It is hard for me to pick one as there were so many I thoroughly enjoyed. I will be sharing more Julia-inspired recipes in the next week – stay tuned!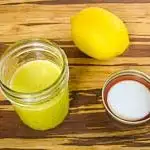 Olive Oil and Lemon Dressing
A simple citrus dressing made with fresh lemon and olive oil. The recipe is adapted from one by Julia Child.
Ingredients
Grated zest of 1 lemon

1/4

teaspoon

salt

plus more if needed

1

teaspoon

Dijon mustard

3

tablespoons

fresh squeezed lemon juice

1/2

cup

olive oil

extra-virgin or high quality

Fresh ground pepper
Instructions
In a small bowl, add the lemon zest and salt. Mash it into a paste using a pestle or spoon. Transfer the paste to a blender. Add the mustard and lemon juice and blend on high to combine. Slowly pour in the olive oil while blending on low speed. Add additional salt and/or pepper to taste and blend on low speed. Transfer dressing to a serving container. Serve at room temperature. Store leftovers in the refrigerator.
Recipe Notes
Adapted from "The Way To Cook" cookbook by Julia Child.