Are you looking for a good sandwich bread? You have come to the right place. I love sandwiches and eat one almost every day. The bread really makes a difference. Homemade is all that much better, especially when it has healthy ingredients of whole wheat, oats, and honey. Oatmeal Wheat Bread is soft and has a little touch of sweetness. Toasting it really enhances the flavor.
My usual sandwich calls for a hearty bread. A typical store-bought airy white bread would not stand a chance with what I pile on it. Think Dagwood. Ham, turkey, tomato, sweet 'n hot salad peppers, jalapeno peppers, lettuce, mayo, mustard and fresh cracked pepper is how I roll. A little meat and a lot of toppings. I go through jars of peppers rather quickly. I probably should buy them in bulk.
The bread does take a while to make. You can figure about 5 hours or so from start to finish. Although most of the time is for rising, baking, and cooling. It is a "do something and then wait" process. Heat milk, add oats, and wait to let it cool. Mix dough and wait to let it rise. Punch down and shape dough and wait again. You get the picture. It is time well spent. You will know as soon as you take a bite. Look at the beautiful slices…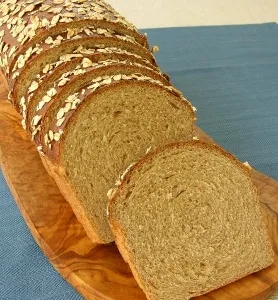 The instructions specify kneading using stand mixer. You can knead the bread by hand if you do not have one. I adapted the original recipe from Epicurious to reflect the method I use for kneading and shaping the loaves. Once I got my KitchenAid® mixer I only hand knead for a few moments to check for consistency. I do this with most all breads, including my Sourdough French Bread.
Which sandwich bread to you use? Have you made your own? Or purchase it at a bakery? Fresh homemade bread is a real treat. The aroma while it is baking is worth it alone. One taste and you may never go back to ordinary store-bought.
Homemade Oatmeal Wheat Bread
A deliciously soft and slightly sweet sandwich bread. Oatmeal Wheat Bread is made with whole wheat, old-fashioned rolled oats, and honey.
Total Time
1
hour
15
minutes
Ingredients
2

cups

whole milk

1

cup

old-fashioned rolled oats

not instant, plus more for topping

1/2

cup

warm water

105 to 115 degrees F

2

tablespoons

active dry yeast

1/2

cup

honey

1/2

stick unsalted butter

1/4 cup, melted and cooled

3

cups

stone-ground whole wheat flour

About 2 1/2 cups unbleached all-purpose flour

1

tablespoon

salt

kosher recommended

1

large egg

slightly beaten with 1 tablespoon water
Instructions
Lightly grease 2 loaf pans (about 8 X 4 inches each) and set aside. Grease a large bowl and set aside.

Heat milk in a 2-quart saucepan over low heat until hot but not boiling. Remove the pan from the heat and stir in the oats. Let stand uncovered, stirring occasional, until cooled to warm (below 110 degrees F) about 30 minutes.

After oats have cooled to warm, stir together water, yeast, and 1 teaspoon of the honey in a small bowl. Let stand until foamy, about 5 minutes. Stir yeast mixture, melted butter, and remaining honey into cooled oatmeal.

In a large bowl of a stand mixer, stir together whole wheat flour, 1 1/2 cups unbleached flour, and salt. Add the oat mixture and stir with a wooden spoon to combine. Put bowl on stand mixer fitted with a dough hook. Knead dough with hook on a low speed and add all-purpose flour in 1/2 cup increments until dough "cleans" the bowl. Knead until dough is soft, smooth, and elastic (about 6 to 8 minutes). Dough will be slightly sticky. Turn dough out on a lightly floured surface and knead a few times by hand. Form dough into a ball and place in the greased bowl. Turn to coat the dough all over. Cover loosely with plastic wrap and a kitchen towel. Let rise at room temperature (or in the oven on a proof setting) until doubled, about 1 to 1 1/2 hours.

Punch down dough and transfer it to a lightly floured surface. Divide dough in half. Roll out each half to and 8 X 14 inch triangle. Starting with the short end, roll up dough tightly and pinch ends and edge to seal. Place in loaf pans with the pinched edge on the bottom. Cover loaf pans loosely with a kitchen towel and let dough rise in a draft-free place at warm room temperature until doubled, about 1 hour.

Heat oven to 375 degrees F. Lightly brush tops of loaves with the egg wash and sprinkle with oats. Bake until bread is golden, about 35 to 40 minutes. Turn loafs half-way through baking for even browning.

Run a knife around edge of pan to loosen. Remove bread from pans and cool completely on wire racks, about 1 1/2 hours. Slice and enjoy!
Recipe Notes
A deliciously soft and slightly sweet sandwich bread. Oatmeal Wheat Bread is made with whole wheat, old-fashioned rolled oats, and honey.