The box was on the shelf for over two years. Throughout all that time there were thoughts of pulling it out and using the gadget inside. Days, weeks, and months passed by and yet it went unused. Sometimes is was completely forgotten and other times it didn't fit in with the plan. Then along came a reason to finally crack open the box and use my cookie press. It was called for in the recipe for Norwegian Almond Cookies. I can see now there will be plenty of cookies pressed through it in the years to come.
Kitchen gadgets are a weakness of mine. I have to use major restraint anytime I am in a kitchenware store. I could spend hours simply walking around perusing the goods. Plus having a food blog gives me yet another excuse to try new things. Such was the case with the cookie press. I saw it and thought "oh yea! I've never pressed cookies before" and it came home with me only to be put aside for far too long.
Why did I bake Norwegian Almond Cookies? It is because the Creative Cookie Exchange theme for this month is International Winter Holiday Cookies. The details were for the cookies to be from any country or tradition not of your own and for any winter holiday. I pulled out my trusty Southern Living Christmas Cookies cookbook and these cookies stood out from the rest. Norway is not a country of my heritage and I'm not familiar with its cuisine. It fit in with the theme perfectly.
The cookies are very lightly sweetened. I do want to stress very lightly in the sweetness range and quite different from typical sugar or butter cookies. They have a light, almost airy, texture. Almond is definitely the star of the show. There is just enough butter and egg to hold them together. I was actually amazed at how almost fluffy-like they are without falling apart.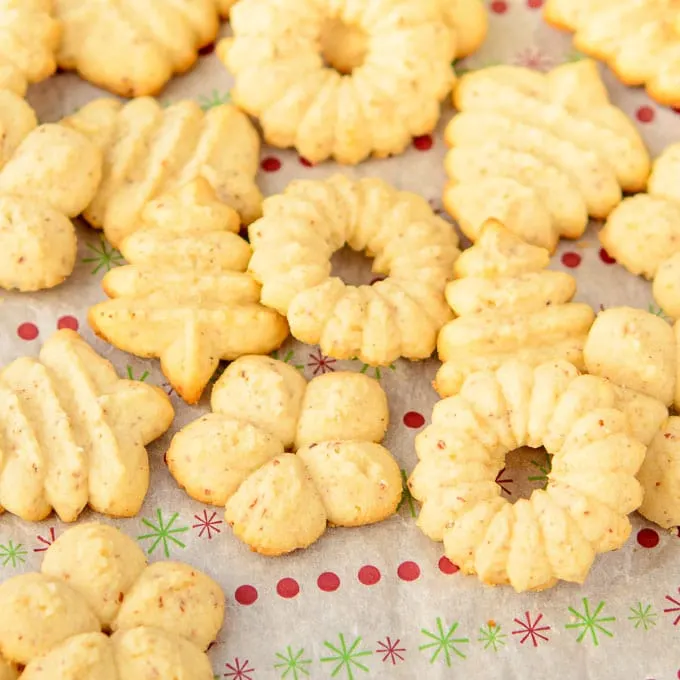 Are you getting ready for holiday baking? Scroll down to see a list of tasty International cookies for the season. Perhaps when your cookies are cooling you could be simmering Gluhwein (German mulled wine) to sip on while enjoying your treats. It is a great way to have a little comfort and joy during the holidays. Or try some Verdens Beste Kake, also from Norway.
Norwegian Almond Cookies
Norwegian Almond Cookies are lightly sweet, full of almond flavor and have an airy-like texture. Make them for special holiday treats and homemade gifts.
Ingredients
3/4

cup

unsalted butter

at room temperature

1/2

cup

sifted confectioners sugar

1/8

teaspoon

salt

1

cup

very finely ground unblanched almonds*

1

large egg

1

teaspoon

fresh lemon juice

1 1/2

cups

all-purpose flour
Instructions
Preheat oven to 400°F.

Cream butter, confectioners sugar, and salt in a large bowl until light and fluffy.

Add almonds and mix until well blended. Add egg and lemon juice and mix until combined.

Add flour and mix until just combined.

Press dough from a cookie press using desired disks at least 1 inch apart onto ungreased cookie sheets (do not use parchment or non-stick cooking mat).

Bake for 7 minutes or until edges are lightly browned. Transfer cookies immediately to wire racks to cool.
Recipe Notes
*Sift almonds through a coarse sieve or colander to make sure there are no larger bits that will not fit through the holes in the pattern of your cookie press disk.
Recipe adapted from one in the Southern Living Christmas Cookies cookbook published in 1986.
The Creative Cookie Exchange theme this month is International Winter Holiday Cookies. If it is a cookie traditionally made somewhere in the world for a holiday traditionally observed near the Winter Solstice you might find it on this list. If you are a blogger and want to join in the fun, contact Laura via email (thespicedlife AT gmail DOT com) and she will get you added to our Facebook group where discuss our cookies and share links.
You can also use us as a great resource for cookie recipes. Be sure to check out our Pinterest Board and our monthly posts (you can find all of them here at The Spiced Life). You will be able to find them the first Tuesday after the 15th of each month! Also, if you are looking for inspiration to get in the kitchen and start baking, check out what all of the hosting bloggers have made: