How do you define a smoothie? I really wasn't sure what makes a drink to be considered one because I rarely have them. I did some searching on the internet only to find it even more confusing. Basically there are two things involved; fruit and a blender. Then the options seem limitless. Some have a frozen aspect like a milkshake and others do not. My nectarine smoothie can be either way. The fruit can be chilled or frozen to give the temperature and texture to your preference.
The store had an over-flowing bin of nectarines. They were right next to peaches. Actually, in-between peaches; Georgia grown and from another state. I suppose nectarines were the appropriate divider between them. Anyway, it had been ages since I've had a good one. Last time was when I made Nectarine Upside Down Cake. So I bought a bunch and headed home to figure out a treat to make with them.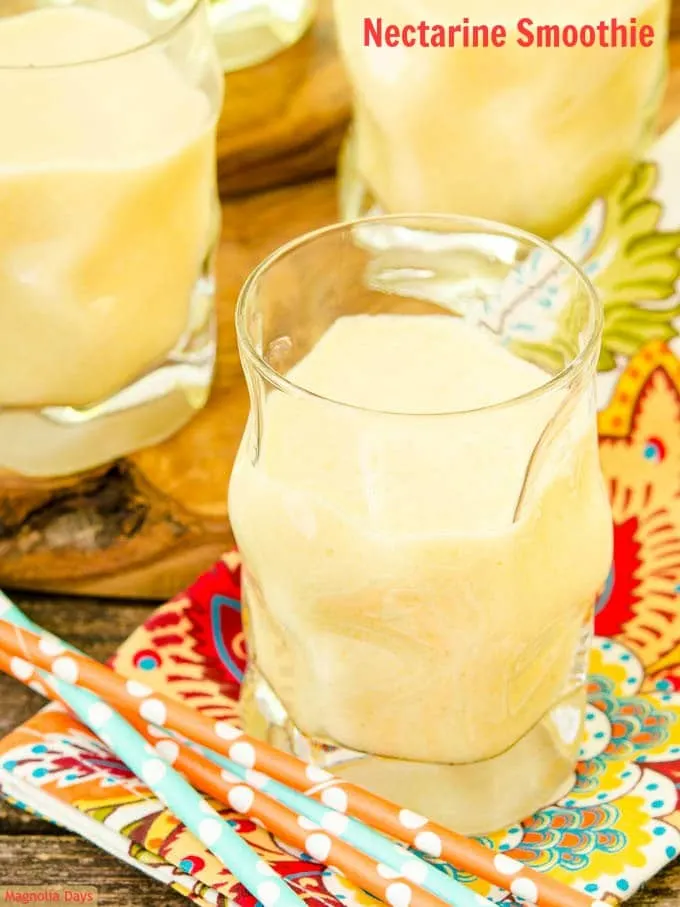 It was another sweltering hot day. A short rain earlier cranked up the humidity. It was like a sauna. It made me want something cool and creamy. I thought of a milkshake, then fruity milkshake which is pretty much a smoothie. Of course I had those nectarines for the base. I blended them with yogurt, milk and honey to create a breakfast drink, um, smoothie.
Have I mentioned I usually don't care for smoothies? Yep, in my Blueberry Green Smoothie post. This is another exception because it is more dairy than fruit. Being more like a milkshake is what does it for me. How do you like your smoothies? More fruit or dairy? I'll keep on trying different combinations and sharing ones I enjoy. Time and experimentation is all it takes. Stay tuned…
Nectarine Smoothie
Treat yourself and your family with a Nectarine Smoothie. Fresh fruit is combined with yogurt, milk, and honey for a delightfully delicate flavored drink.
Ingredients
3

ripe nectarines

see note 1, peeled and chopped

1

cup

plain yogurt

see note 2

1

cup

milk

1

tablespoon

honey
Instructions
Place all ingredients in a blender and blend until smooth. Serve immediately or refrigerate until serving.
Recipe Notes
Note 1: Freeze chopped nectarines prior to blending if a colder smoothie (almost like a milkshake) is desired.
Note 2: I used regular yogurt since nectarines have such a light, delicate flavor. If you use Greek-style yogurt it will have extra tang due to the nature of that style of yogurt and may lessen the nectarine flavor.