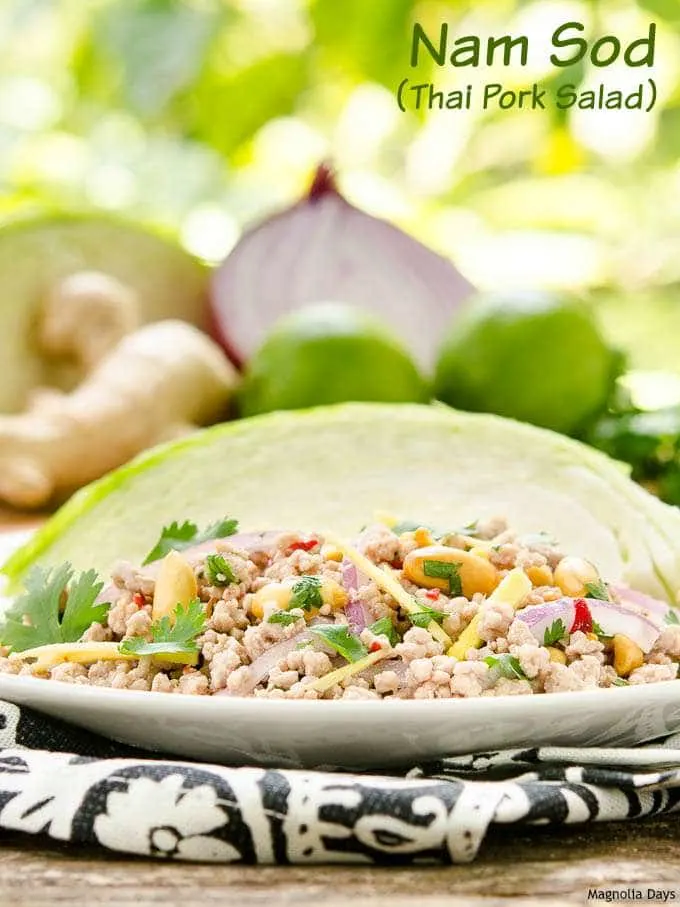 Is that all there is to it? No way. It can't be right. I must be missing something. Okay then, might as well give it a go. Those were all the thoughts going through my head when I finally made Nam Sod (Thai Pork Salad). It is absolutely, hands-down my favorite Thai salad. It has been ever since the first time I tasted Thai food about 20 years ago.
My first experience with Thai food was incredible. Our friends invited us to go with them to this restaurant they enjoyed often. Of course I was all up for trying something new. I looked at the menu and had no clue whatsoever of what to order. Thankfully our friend offered to order for the table. Appetizers were gone in a flash. Then came the salads; Nam Sod (pork), Num Tuk (beef), and Larb Gai (chicken).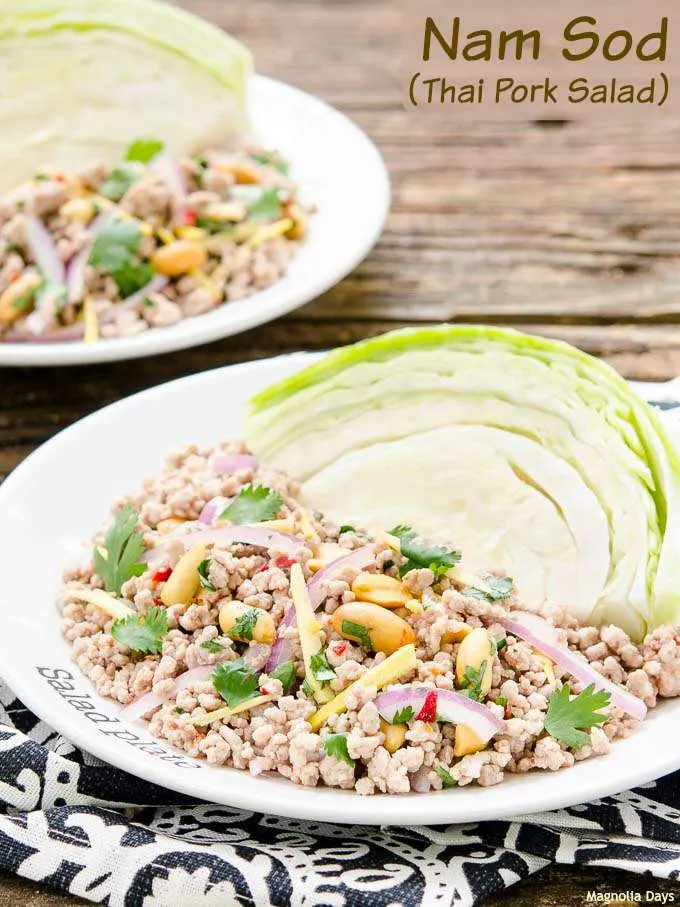 The three salads looked different. My expectation of a salad was a bed of greens with assorted toppings. They are meat salads and served with a wedge of cabbage. Sometimes they are served with lettuce leaves or sticky rice. Cabbage is my preference. It's crunchy and can be cooling if the salad is made spicy. Heat levels of Thai food can be quite high. Medium is more like hot and hot is nuclear inferno.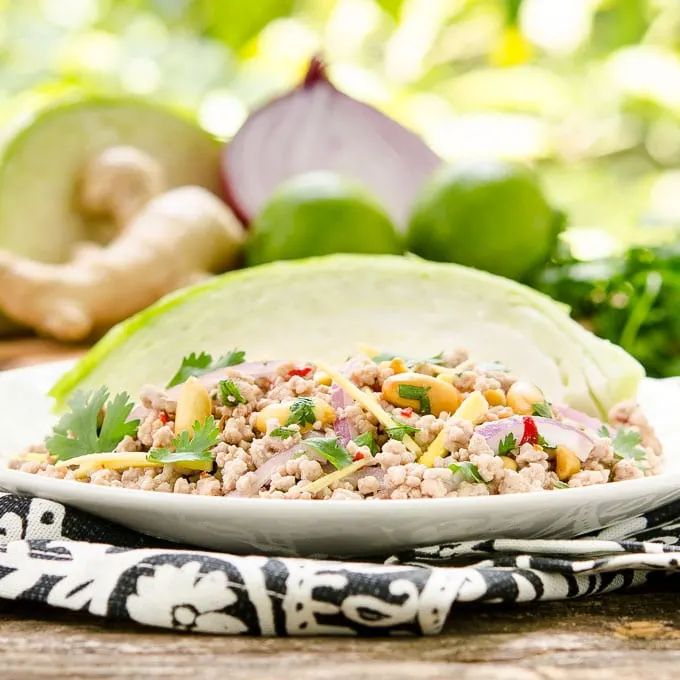 What is in Nam Sod? The base is lean ground pork. I cooked it with a little water to keep it moist since it doesn't have much fat. Then fish sauce, lime juice, and chili paste are stirred in. Let it cool a little then toss in ginger, onion, peanuts, and cilantro. Spoon it on plates and set a wedge of cabbage beside it. Devour. Note the recipe below is for a mild heat level. Increase the amount of chili paste to make it hotter. You can always stir in more at the end.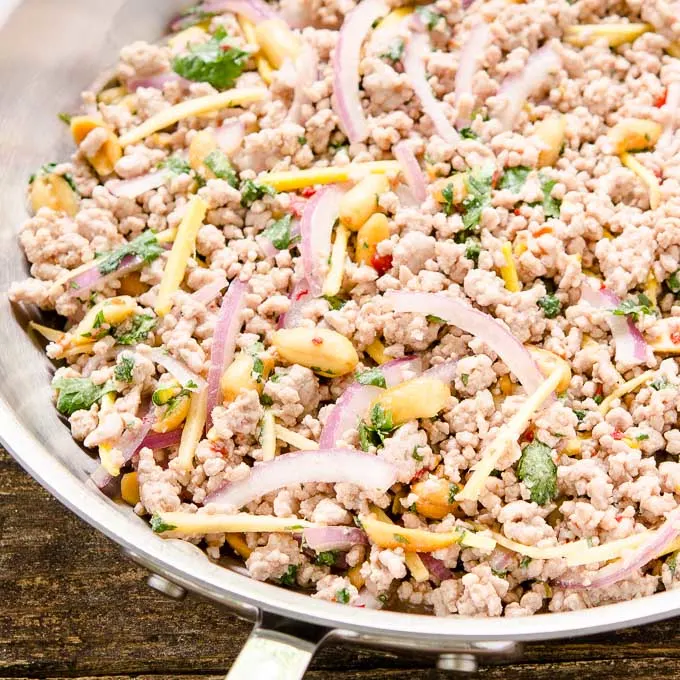 Do you enjoy Asian Cuisine? Which is your favorite? Mine is a tie between Thai and Japanese (sushi). There are still many types and dishes I want to try. Luckily my fellow Sunday Supper tastemakers have a bunch of recipes to share. Scroll down see the list. Big thanks to Amy of kimchi MOM for hosting. She's inspired me to try more Korean food than ever before. I can't wait to see what else I'm inspired to try with all the recipes below.
Nam Sod (Thai Pork Salad)
Nam Sod (Thai Pork Salad) is a healthy meal full of flavors including lime, chile, onion, ginger, peanut, and cilantro. Serve with cabbage wedges.
Ingredients
1

pound

lean ground pork

2

tablespoons

water

2

tablespoons

fresh lime juice

2

tablespoons

fish sauce

2

teaspoons

red chile paste

2

tablespoons

thinly sliced red onion

2

tablespoons

thinly sliced ginger

matchstick slices

2

tablespoons

cocktail peanuts

lightly salted recommended

2

tablespoons

chopped fresh cilantro

Cabbage wedges for serving
Instructions
Place pork and water in a large skillet. Cook over medium-high heat, sirrring and breaking up pork with a spoon or spatula, until pork is cooked through.

Remove from heat and stir in lime juice, fish sauce, and red chile paste. Allow to cool in the skillet for about 5 minutes.

Add, onion, ginger, peanuts, and cilantro. Toss to combine.

Serve with cabbage wedges.
Recipe Notes
This recipe is for a mild heat level. Increase the amount of chile paste to make it hotter if desired. You can stir in extra at the end.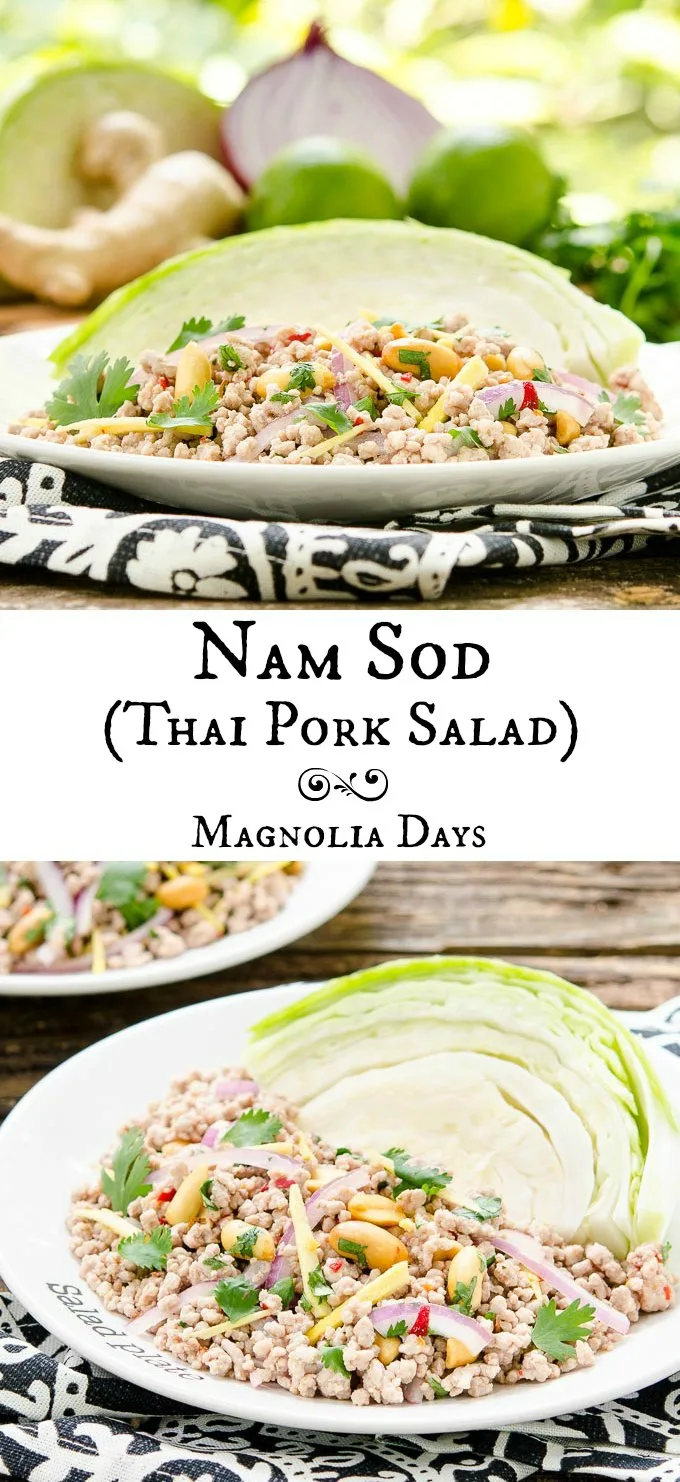 Take a culinary trip to Asia in your own kitchen. How? Start with cooking these recipes for Asian cuisine by Sunday Supper tastemakers:
Small Bites
Soupy Goodness
Big Plates
On the Lighter Side
Cheers!
Oodles of Noodles
Join the #SundaySupper family on twitter every Sunday! We tweet throughout the day and share recipes from all over the world. Our weekly chat starts at 7:00 pm ET. Follow the #SundaySupper hashtag and remember to include it in your tweets to join in the conversation. To get more great Sunday Supper recipes, visit the Sunday Supper Movement website or check out our Sunday Supper Pinterest board.
Would you like to join the Sunday Supper Movement? It's easy . You can sign up by clicking here: Sunday Supper Movement.