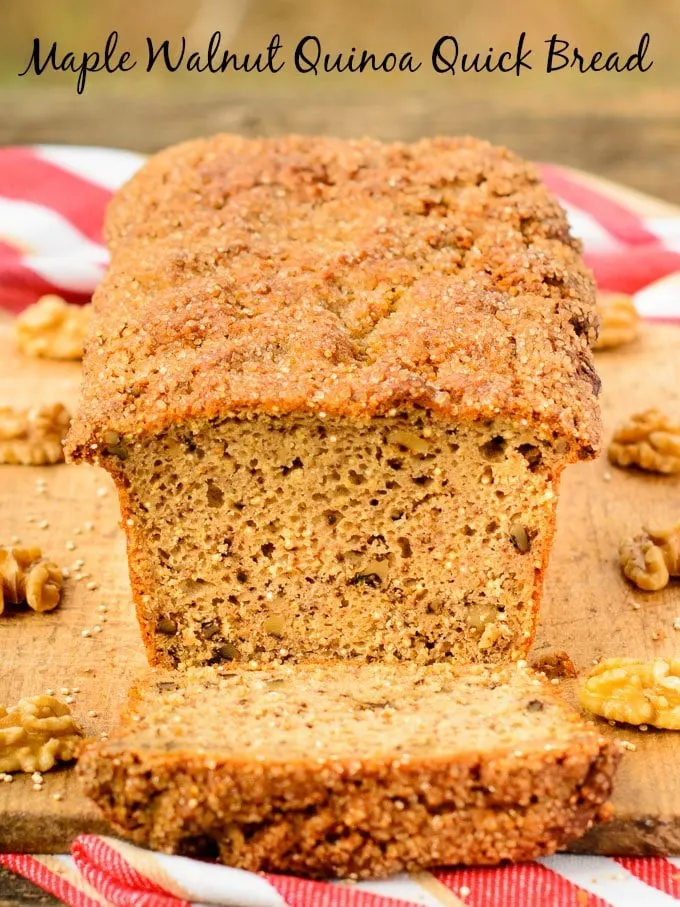 The radio suddenly started playing softly. It was totally weird because it was our clock radio. Neither one of us had set the alarm. If we had, it would have blared music like loud concert. For some unknown reason and right at 6:08am we were awakened by the faint sound of Eric Clapton singing Pretending. Then a minute later it stopped. I got out of bed, brewed coffee, and sat down to write this post about Maple Walnut Quinoa Quick Bread.
Things must happen for a reason. I was having writers block for days. Nothing came to mind as I stared at the screen. Then a crazy radio gave the spark to write. The same goes for this bread. Had it not been for Bread Bakers and our monthly theme, I would have never baked with quinoa flour. The theme is simply quinoa and at first I thought throwing in some toasted quinoa to a yeast wheat bread might be the way to go. I also had amaranth in the pantry and my thoughts went toward a multigrain.
Cookbooks were scoured for a good base recipe. I did not find what I was looking for in any of my bread books. Then I glanced over and saw the 500 Best Quinoa Recipes
book. What does that book have in it? A whole chapter of bread. Awesome. This loaf is the result of a slight adaption to one of the recipes. (The link to the book is an Amazon affiliate link).
How is the maple walnut quinoa quick bread? It is very quinoa-y. This is the bread for you if you love quinoa. There is no mistake whatsoever in the flavor. There is a slight sweetness from maple syrup and a double crunch of toasted quinoa and walnuts. The top sparkles with turbinado sugar. I suggest slicing it thin, lightly toasting it, and serving it with maple butter or plain butter and jam.
Music and bread started my day. I'm wondering what is in store for the rest of the week. What I do know is there are links to a bunch of quinoa bread below. It's interesting to see all the varieties. The Bread Bakers always have such wonderful recipes to share. Oh, and for something related to the theme check out Peanut Butter and Quinoa Granola for tasty homemade snack.
Maple Walnut Quinoa Quick Bread
Maple Walnut Quinoa Quick Bread is made with both toasted quinoa and quinoa flour. It is lightly sweetened with maple syrup and loaded with walnuts.
Total Time
1
hour
10
minutes
Ingredients
1/2

cup

uncooked quinoa

2

cups

quinoa flour

3/4

cup

chopped walnuts

2

tablespoons

cornstarch

1 1/2

teaspoons

baking powder

1

teaspoon

baking soda

3/4

teaspoon

salt

2

large eggs

at room temperature

1

cup

plain Greek yogurt

low-fat recommended, at room temperature

1/3

cup

vegetable oil

1/2

cup

pure maple syrup

2

tablespoons

turbinado sugar
Instructions
Preheat oven to 350°F. Lightly grease an 8- X 4-inch loaf pan (heavy aluminum loaf pan recommended).

Toast the quinoa in a dry skillet over medium-high heat until it is lightly golden in color and just begins to pop. Transfer to a plate and cool to room temperature.

Whisk together toasted quinoa, quinoa flour, walnuts, cornstarch, baking powder, baking soda, and salt in a large bowl.

Whisk together eggs, yogurt, oil, and syrup in a medium bowl until combined.

Pour wet ingredients into dry ingredients and stir until just combined. Spread batter evenly in prepared loaf pan. Sprinkle sugar on top.

Bake for 45 to 50 minutes or until top is lightly browned and a toothpick or cake tester inserted in the center comes out clean.

Cool in the pan on a wire rack for 5 minutes. Remove bread from pan and cool completely on a wire rack. You may need to use a knife to loosen the edges of the bread from the pan due to the sugar causing it to stick.
Recipe Notes
Maple Walnut Quinoa Quick Bread is made with both toasted quinoa and quinoa flour. It is lightly sweetened with maple syrup and loaded with walnuts.
It's another fun theme for Bread Bakers! Be sure to check out these quinoa bread recipes and get ready to do some baking:
What is Bread Bakers? It's a group of bread loving bakers who get together once a month to bake bread with a common ingredient or theme. You can see all our of lovely bread by following our Bread Bakers Pinterest Board. Links are also updated after each event on the Bread Bakers home page.
How is the monthly theme determined? We take turns hosting each month and choosing the theme/ingredient.
Would you like to join in the fun? If you are a food blogger, send an email with your blog name and url to Stacy at [email protected].