Six months ago today I launched this blog. The opening post was Let's Play! and I invited the world to visit my virtual playground and have some fun. It was the start of an exciting adventure I never imagined. Blogging has expanded and enhanced my life in so many ways. It is on my mind almost every waking moment and pops into my dreams too.
I am learning photography because of blogging. No matter how delicious my recipes are, something is lost if I am not able to present visually appealing images. The truth is I went most of my life without taking pictures. I had no experience or knowledge about photography, especially when it comes to food. It is an exciting challenge and a fun one to have. I even started a Project 365 this year to take and post one photo each day in order to improve my skills.
I now put labels on food. Labels like: "Do Not Eat" or "Still Need to Photo". My husband will ask me if it is okay for him to eat something I made if it is not labeled. Long gone are the days when I cooked, we ate, and did the dishes. Now there is the photo shoot to go along with it including camera setup, lighting, scene building, and food styling. I am having so much fun in discovering and unlocking my creativity.
Connecting with people has been the best part of blogging. Each day I am in awe of the kindness shown by so many people in this world. The beauty, knowledge, and delights you share are incredible. The blogging community is truly a giving and supportive group. I witnessed this first hand at the WordPress WordCamp Atlanta conference this past weekend. It was a gathering of over 400 people who were helping others and learning at the same time. I felt I was in the midst of friends from the moment I arrived. I snapped this photo with my iPhone at the start of the conference: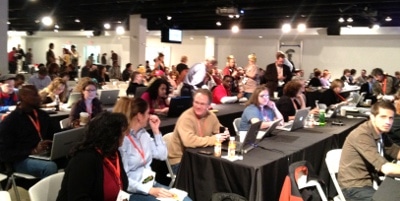 Everyone did not scatter when the sessions were over the first day. There was an after-party at a restaurant down the road and we packed the place. We could not get enough of the day or miss the opportunity to meet and talk with more people. The highlight of after-party for me was meeting and talking with Matt Mullenweg, the co-founder of WordPress. Big thanks go to John Saddington (@tentblogger) for introducing me to Matt. I was completely impressed when Matt asked me about my story of blogging, why I chose WordPress, and what I thought about it. I am glad to know the people behind the software that makes this blog run is concerned about the end-users, big or small. Here is a photo of John, Matt, and myself at the after-party:
I am so glad I started this adventure. I sincerely appreciate every single bit of support you have given. Thank you very much for the comments, tweets, shares, likes, subscribing, spreading the word, and coming back to visit. Is there anything you would like for me to feature? More desserts? Savory foods? Wines? I am ready and excited for what the next six months and beyond will bring. Continue the journey with me and see what the future holds. Let's keep playing!