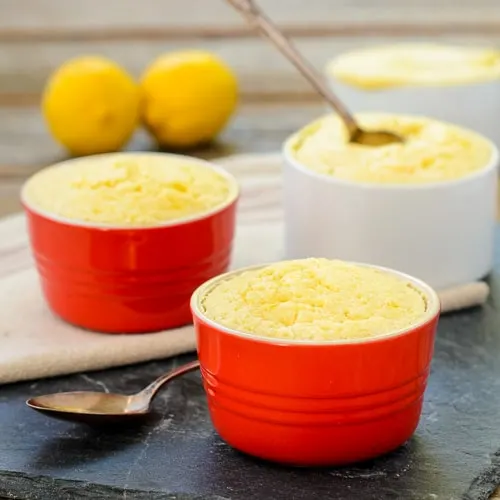 It is amazing what can pile up while away on a long trip. I returned home to piles of mail, newspapers, laundry, emails, leaves, cookbooks plus a very empty refrigerator. Sifting through it all took longer than expected. I was spoiled with having meals cooked for me and yet I longed to get back in the kitchen. First up was to replenish the food inventory with a trip to the grocery store. I decided to try some new things and reached for those cookbooks to make a list. Eggs, milk, and lemons is all I needed to make Lemon Delicious Puddings and so that was worked into the plan for the week.
Afternoon cake and coffee is a daily event in Germany. Well, we had it almost every day. There were a few days I was so full from lunch that I had to skip it. Now I look back and miss it so much. I guess it is why I had to make a dessert and one that isn't too sweet (like the ones in Germany). Lemon Delicious Puddings recipe is from Bake: The Essential Companion
by Alison Thompson.
About the Lemon Delicious Puddings: I learned something because of making the recipe. It calls for superfine sugar and I could not find it at my grocery store. What I discovered is you can take regular granulated sugar (you will see extra fine on the package) and run it in a food processor for 30 seconds and make it superfine. The puddings are more like pudding cakes. Do not expect creamy when you make these. Think of extra super moist cake. The tart lemon flavor is strong and yet is balanced with the right amount of sweetness. The instructions say to serve it with cream or ice cream however I found they are delightful all on their own.
About the cookbook: It is well laid out with easy to read text and lovely photos for each recipe. I like how it has the entire contents list at the front of the book and on one page. That is followed by an introduction and detailed information for baking techniques, equipment, and ingredients. I recommend this book for both beginner and experienced bakers. You can purchase it on Amazon by clicking on this photo of the book (affiliate link):
Lemon Delicious Puddings
A recipe for Lemon Delicious Puddings that are baked and have a super moist cake-like texture. The puddings are a sweet/tart dessert served hot.
Ingredients
1/3

cup

unsalted butter

3/4 stick/90g, softened

2/3

cup

superfine sugar

150 g

3

eggs

separated

Finely grated zest and juice of 3 lemons

2/3

cup

self-rising flour

90 g, sifted

1 1/4

cups

milk

300 ml
Instructions
Preheat the oven to 325°F (160°C).

Beat butter and sugar, in the bowl of an electric mixer fitted with the paddle attachment, on high speed for 5 minutes, until pale and creamy. Add the egg yolks one at a time, beating well after each addition. Add the lemon juice and zest, sifted flour and milk. Mix on low speed until combined. Transfer the mixture to another bowl. Thoroughly wash and dry the bowl of the mixer.

Place the egg whites in the bowl of the electric mixer. Using the whisk attachment, whip the whites on high speed until firm peaks form. Fold the whipped egg white into the lemon mixture.

Divide the batter evenly between four 8-fl oz (250-ml) individual pudding dishes. Bake for 25 minutes, until set. Serve hot, in the pudding dishes, with cream or ice cream.
Recipe Notes
Variation: Use 34-fl oz (1-l) dish instead of individual dishes and bake for 45 minutes, until set. Recipe copyright © Alison Thompson 2011 and used with permission by Tuttle Publishing.
Disclosures: I received a copy of the cookbook at no charge and was under no obligation to post a review. All opinions are my own unless otherwise stated or contained within a guest post. This post contains affiliate links.