Some artificial flavorings and scents are not quite right. Take banana for instance. Anytime I've had something made with banana flavor it tastes off. Store-bought banana popsicles or candy taste nothing to me like the real thing. The same goes with heavy handed coconut flavoring. Too much and a cake tastes like the way suntan lotion smells. Lavender is in the group too. Real lavender smells incredible. Artificial lavender scent is not appealing to me at all. Imagine wind blowing through a lemon orchard and then across a lavender field. It is the heavenly scent coming from the oven when baking a Lavender Lemon Cake.
It was time again to bake a lemon bundt. Anne of From My Sweet Heart picked lemon for June's Bundt Bakers theme. Trying to figure out what to bake was difficult after my incredible Triple Lemon Bundt Cake. It was the absolute best lemon cake I've baked. The challenge was on and so a recipe search began. Most of what I found was the additional ingredient of berries. While those sounded lovely I wanted something different. A continued search turned up lavender and it was intriguing. I had to give it a try out of curiosity.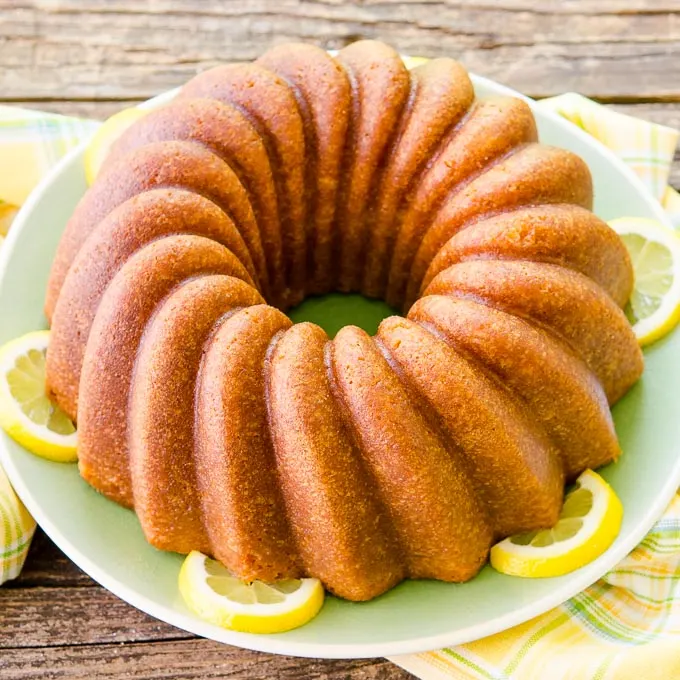 Two flavor enhancing techniques are involved in this cake. First is rubbing lemon zest into sugar. Add lemon zest to a bowl of sugar then use your finger to rub it together. It releases lemon oil from the zest and really brings out natural lemon flavor. It's so much better than using lemon extract. The other is making lavender powder by grinding dried culinary lavender with turbinado sugar. It also releases natural flavor in a most wonderful way. Using these two techniques makes the flavors real and true instead of an artificial off taste.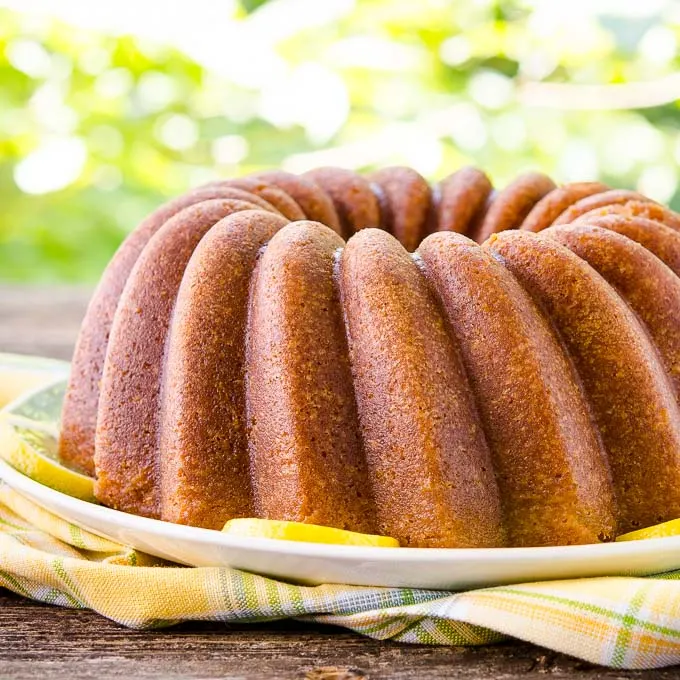 Lavender Lemon Cake is moist with medium crumb. Buttermilk is what I attribute to the moisture. It seems to be the case with almost any cake I've baked with it. Plus it gives an ever so slight and underlying tang. The flavor of the cake? Did I mention a wind blowing through a lemon orchard and across a lavender field? Yep, it smells like that when it is baking and tastes like it too. The cake received rave reviews from folks at my husband's work. One said it was the best treat I've baked to date. And there I thought triple lemon bundt cake was the best. You never know.
Do you enjoy lemon cake? Scroll down to find a big list of recipes. I'm excited to check out each one. Bundts are so pretty thanks to the pans. Minimal if any topping is needed. A simple glaze or sugar dusting does nicely. Take a look at Lavender Poppy Seed Scones and Lavender Poppy Seed Shortbread for more recipes with lavender.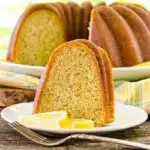 Lavender Lemon Cake
Lavender Lemon Cake is a moist cake baked in a bundt pan and flavored with real lemon and lavender plus topped with a honey lemon glaze.
Total Time
1
hour
20
minutes
Servings
12
to 16 servings
Ingredients
For the cake:
3

cups

cake flour

1 1/2

teaspoon

baking powder

1

teaspoon

baking soda

1/4

teaspoon

salt

1 1/2

cups

granulated sugar

Grated zest of 1 lemon

1 1/2

tablespoons

dried culinary lavender

2

tablespoons

turbinado sugar

1

cup

unsalted butter

at room temperature

4

eggs

at room temperature

1

tablespoon

fresh lemon juice

1

cup

buttermilk

at room temperature
For the glaze:
1/2

cup

confectioners sugar

sifted

1

tablespoon

fresh lemon juice

2

tablespoons

honey
Instructions
For the cake:
Preheat oven to 325°F. Grease and flour a 10- to 12-cup Bundt cake pan.

Whisk together flour, baking powder, baking soda, and salt in a medium bowl.

Place sugar and lemon zest in a small bowl. Use your fingers to rub sugar and lemon zest together (releases lemon oil for more flavor).

Place lavender and turbinado sugar in a spice grinder. Grind until it is a fine powder. Add powder to lemon-sugar mixture and stir or whisk to combine.

Beat butter and sugar mixture in a large bowl until light and fluffy.

Add eggs, one at a time, beating well after each addition.

Add lemon juice and beat until combined.

Add flour mixture in 3 additions, alternately with buttermilk in 2 additions, beginning and ending with flour mixture.

Pour batter into prepared pan and spread evenly in the pan.

Bake for 55 to 60 minutes, or until a toothpick or cake tester inserted in the center comes out clean.

Cool cake in pan for 12 minutes. Prepare glaze.

Remove cake from pan onto a wire rack over parchment or waxed paper. Use a pastry brush to brush glaze on warm cake.

Cool cake completely.
For the glaze:
Place confectioners sugar and lemon juice in a small bowl. Warm honey until runny either in the microwave for about 10 seconds or in a small saucepan.

Add honey to sugar and lemon. Stir to combine. Brush glaze onto cake.

If glaze thickens and does not brush easily onto cake, microwave it for about 10 seconds and stir.
Recipe Notes
Lavender Lemon Cake is a moist cake baked in a bundt pan and flavored with real lemon and lavender plus topped with a honey lemon glaze.
Recipe adapted from Lavender-Lemon Bundt Cake on the Williams-Sonoma website.
Are you searching for lemon cake to bake? Take a look at these bundt cake recipes with lemon by talented bakers from around the world:
What is Bundt Bakers? It's a group of Bundt loving bakers who get together once a month to bake bundts with a common ingredient or theme. Follow our Bundt Bakers Pinterest board for incredible bundt cake recipes and inspiration. Stacy of Food Lust People Love heads up our group and has a #BundtBakers page where you can find information and links to the recipes for each month.
How is the monthly theme determined? We take turns hosting each month and choosing the theme/ingredient. Links for all of our past events and more information about BundtBakers can be found on our homepage.