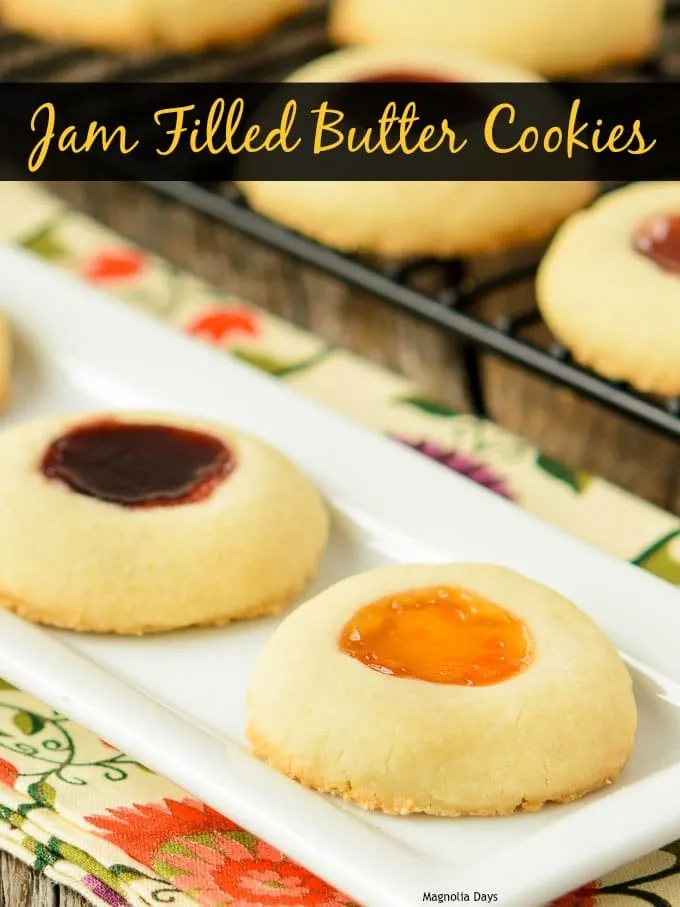 The mission was to make someone's day. It is one thing I definitely could put on my to-do list. It was even easier because carrying out the mission involved baking cookies. I knew who my target was in an instant. What took a while longer was deciding on which cookies to bake. Then, after some thought and a little selfishness thrown in, the decision was made. Jam Filled Butter Cookies happened shortly thereafter.
Cookie favorites vary widely. It's because of so many different types. Crunchy, chewy, chocolate, butter, shortbread, oatmeal, and the list goes on and on. My husband's favorite when it comes to homemade ones would be peanut butter cookies. Second in line are buttery ones. I opted for butter cookies and filled them with his favorite jams; strawberry and grape. Of course I made a few apricot ones for me (did I mention some selfishness thrown in? Sure I did).
Jam Filled Butter Cookies could make someone's day. Especially if you fill them with their favorite flavor of jam or preserves. A little observation or inquiry is all you need to customize these for someone specific. Find out what they prefer and go with it. You can use a variety of flavors if they are for a group. Just make sure it is not a big group because these are small-batch cookies. Two dozen do not go far. Then again, you could double the batch.
The cookies are not overly sweet. There is only a quarter cup of sugar in the dough. Using a tart jam will even cut the sweetness more. Butter is the ruling flavor of the cookie aside from the jam. The texture is reminiscent of shortbread but not quite as dense.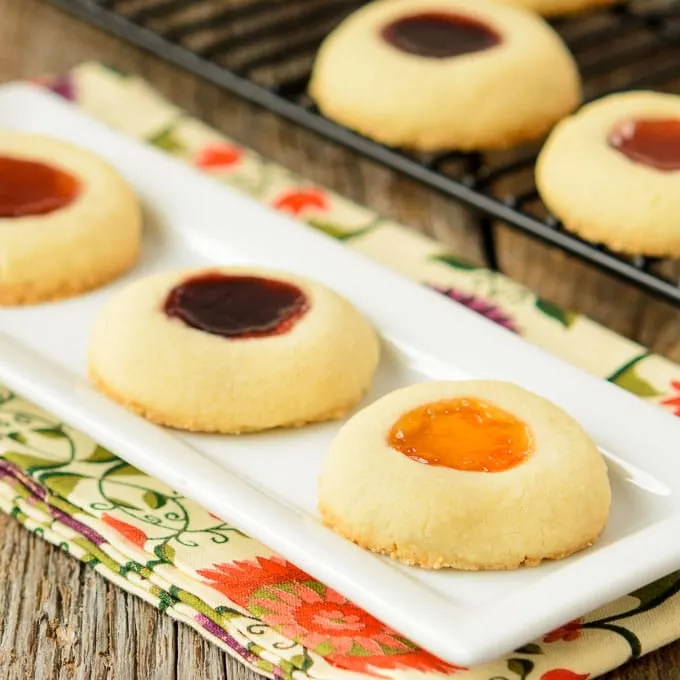 How has someone made your day? Was it with a gift or compliment? Each time someone tries one of my recipes and comes back to let me know how much they enjoyed it totally makes my day. Scroll down to find a list of cookie recipes for the Creative Cookie Exchange. Join me in visiting each one to read how they accomplished the mission of making someone's day.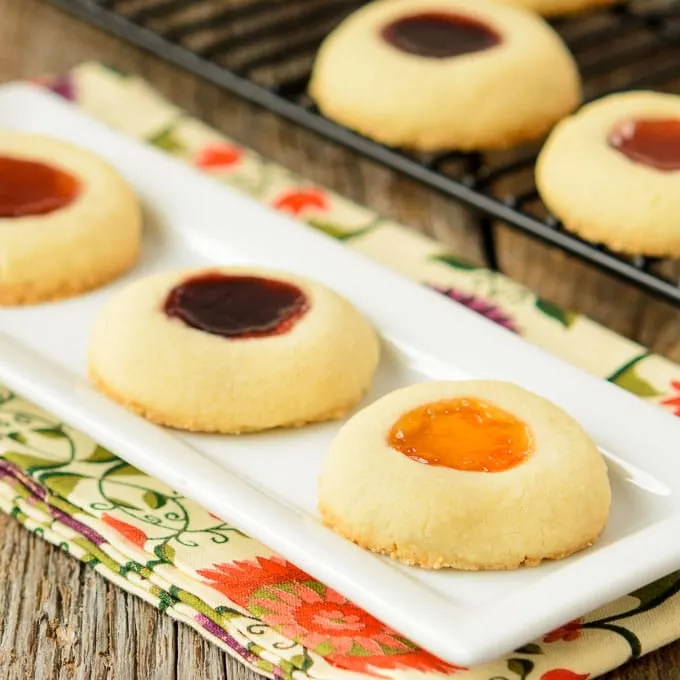 Jam Filled Butter Cookies
Jam Filled Butter Cookies are a really tasty treat. You can make them with your favorite flavor of jam or preserves or a variety to please a crowd.
Ingredients
2

cups

all-purpose flour

1/2

teaspoon

salt

1

cup

unsalted butter

at room temperature

1/4

cup

granulated sugar

1/2

teaspoon

vanilla extract

1/4

teaspoon

almond extract

Jam or preserves
Instructions
Preheat oven to 400°F. Line baking sheets with parchment paper or non-stick liner.

Whisk together flour and salt in a medium bowl.

Cream butter and sugar in a large bowl until light and fluffy.

Add vanilla and almond extracts and beat to combine.

Add flour and mix until combined (dough will look crumbly).

Shape dough into 1-inch balls and place balls on baking sheets.

Flatten cookies slightly and indent centers. Fill centers with jam or preserves.

Bake for 10 to 12 minutes, or until edges are lightly browned.

Cool cookies on baking sheet for 1 minute. Transfer cookies to a wire rack and cool completely.
Recipe Notes
Jam Filled Butter Cookies are a really tasty treat. You can make them with your favorite flavor of jam or preserves or a variety to please a crowd.
The Creative Cookie Exchange theme this month is Make Someone's Day Cookies. We chose someone in our lives that we loved and baked them cookies that they love. Maybe you will feel inspired to bake someone that you love a cookie. If you are a blogger and want to join in the fun, contact Laura via email (thespicedlife AT gmail DOT com) and she will get you added to our Facebook group where discuss our cookies and share links.
You can also use us as a great resource for cookie recipes. Be sure to check out our Pinterest Board and our monthly posts (you can find all of them here at The Spiced Life). You will be able to find them the first Tuesday after the 15th of each month! Also, if you are looking for inspiration to get in the kitchen and start baking, check out what all of the hosting bloggers have made: