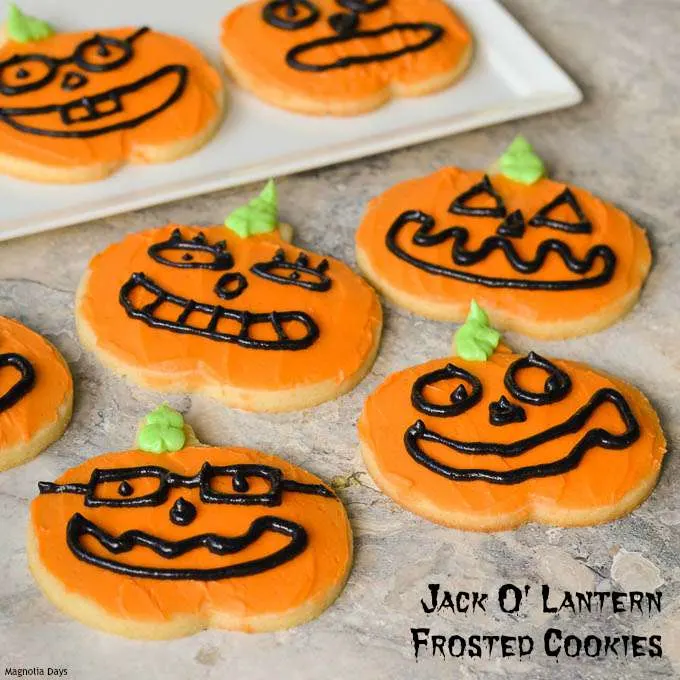 Trick or Treat? I choose treat every single time. Halloween is such fun. I cannot remember my very first trick-or-treating adventure. I am sure it was my parents taking me around in a cute little costume. My first memory was not so much the costume. I remember the plastic pumpkin I carried to hold all the treats. I used that pumpkin for years.
My trick-or-treating did not bring in a big haul. We lived on a street with about 20 houses. It was not in a subdivision or where we could walk to get to more homes. The treats were good ones though. I got full size candy bars and packs of candy. It was not until later when a friend's dad would drive us to other neighborhoods so we could do some big trick-or-treating.
Now the real treats are the ones I make. Jack O Lantern cookies are at the top of my list. They are fun and, best of all, taste wonderful. They are sugar cookies decorated with buttercream frosting. These cookies are not meant to be perfect. They are meant to be fun to decorate and good to eat. Get the kids involved in making the faces. Look at the smiles when people see them on a platter. Watch them disappear quickly.
What is your first memory of Halloween? Your costume, the candy, trick-or-treating, or something else? I look back over the years and smile when I think of all the fun celebrating it. So be safe, have a great time, and enjoy treats like Jack O Lantern cookies.
Jack O Lantern Cookies
Jack O Lantern cookies - pumpkin shaped sugar cookies decorated with buttercream frosting. Make them for a great Halloween treat.
Ingredients
For the cookies:
3

cups

all-purpose flour

3/4

teaspoon

baking powder

1/4

teaspoon

salt

1

cup

unsalted butter

at room temperature

1

cup

sugar

1

egg

at room temperature

1

tablespoon

milk

1

teaspoon

vanilla

All-purpose flour

for rolling out dough
For the frosting
1/2

pound

European style unsalted butter at room temperature

equivalent to 2 sticks

Pinch of salt

2

teaspoons

vanilla

1

box powdered sugar

1 pound, sifted

3

to 4 tablespoons milk or half-and-half

plus more if needed

Orange

green, and black food coloring gel

Unsweetened cocoa powder
Instructions
For the cookies:
Sift together flour, baking powder, and salt. Set aside. In the bowl of an electric stand mixer, add butter and sugar and beat until light in color. In a small bowl, add egg, milk, and vanilla and whisk to combine. Add the egg mixture to the butter/sugar mixture and beat to combine. Put mixer on low speed and gradually add flour, beating until just combined (do not over-mix). Divide the dough in half, wrap in waxed paper, and refrigerate for at least 2 hours.

Preheat oven to 375 degrees F.

Sprinkle surface where you will roll out dough with flour. Remove 1 wrapped pack of dough from refrigerator and let it soften slightly (about 10 or 15 minutes). Sprinkle rolling pin with flour and roll out dough to 1/4-inch thick. Move the dough around frequently to make sure it is not sticking. Use a pumpkin shaped cutter to cut cookies. Place cookies at least 1-inch apart on a baking sheet lined with parchment or silicone baking mat. Bake 7 to 9 minutes, until cookies are just beginning to turn brown around the edges, rotating cookie sheet halfway through baking time. Let cookies sit on baking sheet for 2 minutes after removal from the oven and then transfer to a wire rack. Cool completely. Repeat with remaining dough.
For the frosting:
In a large bowl, add the butter, salt, and vanilla, Beat using an electric mixer until creamy. Add the sifted powdered sugar and 3 tablespoons milk. Beat until smooth, adding more milk as needed for spreading consistency.

Take about 1/2 cup of the frosting and place it in a small bowl. Stir in green food coloring gel, a small amount at a time, until it has reached desired color. Add more milk if needed for piping consistency.

Take about 1 1/2 cups of the frosting and place it in a small mixing bowl. Reserve and set aside.

Stir in orange food coloring gel, a small amount at a time, to the remaining frosting in the large bowl until it has reached desired color. Spread frosting over cookies. Mix more orange frosting from the reserved bowl as needed.

Pipe the green frosting on the top of the cookie (stem) using a leaf tip.

Add some sifted cocoa to the remaining reserved frosting and beat until combined. The amount depends on how much frosting. About 1 teaspoon per cup. Stir in black food coloring. Note that the frosting in the bowl will look more dark grey than black. It takes a good bit of black coloring to get it to the right color and it helps starting out with a chocolate frosting base. Pipe the black frosting on to the cookies using a #3 round tip to make the "faces".

Store cookies on a platter in the refrigerator. If you need to stack them in a container to store, place parchment between layers.
Recipe Notes
Jack O Lantern cookies - pumpkin shaped sugar cookies decorated with buttercream frosting. Make them for a great Halloween treat.
Cookie recipe adapted from one by Alton Brown on the Food Network website. Frosting recipe is my version of a simple buttercream similar to ones found in countless books and websites.
How about some more spooktacular treats? The Sunday Supper team has put together recipes to make your Halloween the tastiest ever:
Bewitching Brews:
Ghoulish Gruel:
Haunted Snacks:
Spooky Sweets:
Join the #SundaySupper conversation on twitter each Sunday. We tweet throughout the day and share recipes from all over the world. Our weekly chat starts at 7:00 pm ET and you do not want to miss out on the fun. Follow the #SundaySupper hashtag and remember to include it in your tweets to join in the chat. Check our our #SundaySupper Pinterest board for more fabulous recipes and food photos.