Something did not seem right. It kept falling and being flabby. There would be a climb up the hook and then lose its grip. More flour was not helping. I moved it from the machine to the counter. Hand kneading should have given a clue. It seemed loose and with a moisture like I haven't encountered before. I kept at it as time was limited. This was the only day I had to bake Hungarian White Bread.
The dough rose like a charm. Actually it rose like an over-achiever. It was past double in less time than it should take. Forming the loaves was interesting. The loose and wet dough didn't want to stay together. Slashing the top caused one to almost collapse. I pinched it together and put the loaves in my ovens. One baked okay and the other was quite sad looking. Then I sat at the computer to type up the recipe while they cooled. That is when I discovered the mistake. I forgot to add salt to the dough.
Salt in bread is very necessary. It's an essential part of the process. It tightens the gluten structure and gives strength to the dough. That's why my dough was flabby and kept falling. Salt slows down the enzyme activity and fermentation. That's why mine rose too fast. Salt is also a big part of flavor. You know what my unsalted bread tasted like? It was awful. Simply awful as in eating a slab of plain flour.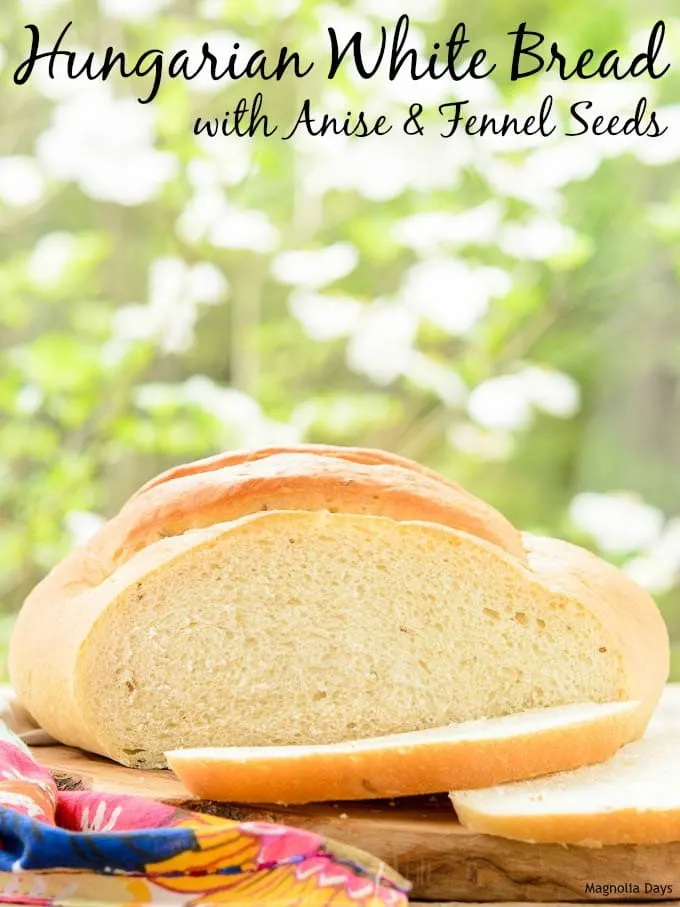 The second batch was spectacular. The dough came together just as it should. Loaves were easily shaped. I knew I had success when I peeked in the oven and saw a perfectly golden brown loaf. Then I could see how my ovens bake differently. The one in the basement took a little longer to bake. It must run slightly cooler than the one in my kitchen.
Hungarian White Bread is light in texture. It is wonderful for sandwiches and toast. There's a sprinkling of anise and fennel seeds throughout the loaf. Their flavor is subtle and yet just enough so it is more than plain old white bread. I have no idea if this is actually an authentic bread of Hungary. I only know it is named that way because of anise and fennel being traditional spices of the country.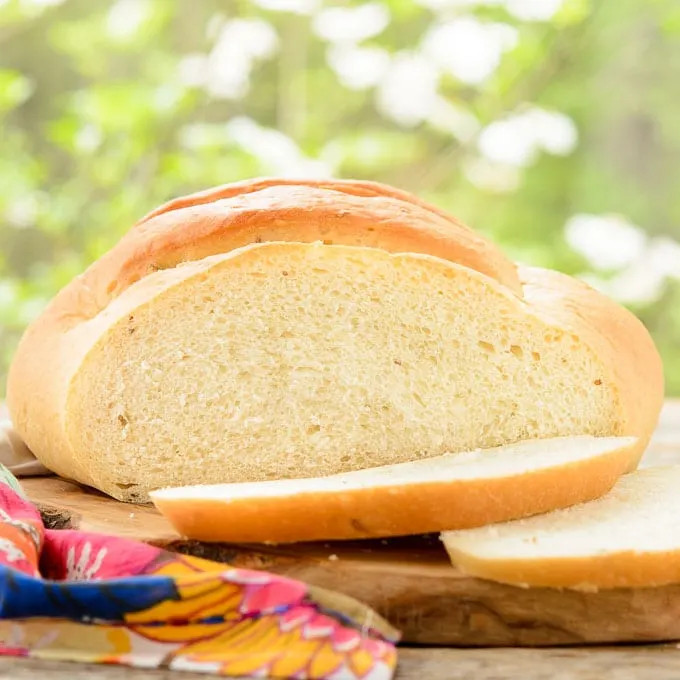 Why did I bake this bread? It's time for Bread Bakers again. Our host this month, Camilla of Culinary Adventures with Camilla, gave us the theme of springtime breads from around the world. We were challenged to travel the globe in our own kitchen and bake a bread we've never made before. Hungary became my destination. Scroll down to see the breads baked for the theme. Also take a look at my Vienna Hoagie Buns for another European inspired bread.
Hungarian White Bread
Hungarian White Bread is light, airy, and flavored with anise and fennel seeds (traditional spices of Hungary). It is great for sandwiches or toast.
Prep Time
1
hour
50
minutes
Total Time
2
hours
20
minutes
Ingredients
6

to 6 1/2 cups all-purpose flour

2

packages instant yeast

1/4 ounce

3

tablespoons

granulated sugar

2

teaspoons

salt

1

teaspoon

fennel seeds

3/4

teaspoon

anise seeds

2

cups

water

2

tablespoons

vegetable or canola oil

1 1/2

tablespoons

unsalted butter

melted
Instructions
Grease a large bowl and set aside.

Whisk together 2 cups flour, yeast, sugar, salt, and both seeds in the bowl of a stand mixer.

Heat water and oil in a small saucepan until warm (120 to 130 degrees F). Add to flour mixture.

Using the flat beater, mix on low speed until moistened. Increase speed to medium and mix for 3 minutes.

Change flat beater to dough hook. Turn mixer on low (setting 1 or 2 or as recommended by manufacturer when using dough hook). Gradually add enough remaining flour to make a soft dough. Knead for 4 to 5 minutes.

Turn dough out on a lightly floured surface. Knead a few times and shape into a ball. Place the dough in the greased bowl and turn to coat dough. Cover and let rise in a warm draft-free place until double, about 1 hour.

Lightly grease two sheet pans while dough is rising.

Punch down dough and divide in half. On a lightly floured surface, shape each half into a round loaf. Place loaves on prepared sheet pans.

Make 3 slashes across the top of each loaf using a very sharp knife.

Cover loaves and let rise in a warm, draft-free place until almost double, about 30 minutes.

Preheat oven to 375°F while the loaves are rising.

Bake for 25 to 30 minutes until golden brown.

Transfer loaves from sheet pans to wire racks. Brush loaves with melted butter. Cool completely.
Recipe Notes
Hungarian White Bread is light, airy, and flavored with anise and fennel seeds (traditional spices of Hungary). It is great for sandwiches or toast.
Recipe adapted from The Red Star Centennial Bread Sampler cookbook published in 1981 (no longer in print).
Do you enjoy bread from other countries? Take a look at these wonderful springtime bread recipes from talented bakers all over the world:
What is Bread Bakers? It's a group of bread loving bakers who get together once a month to bake bread with a common ingredient or theme. You can see all our of lovely bread by following our Bread Bakers Pinterest Board. Links are also updated after each event on the Bread Bakers home page.
How is the monthly theme determined? We take turns hosting each month and choosing the theme/ingredient.
Would you like to join in the fun? If you are a food blogger, send an email with your blog name and url to Stacy at [email protected].