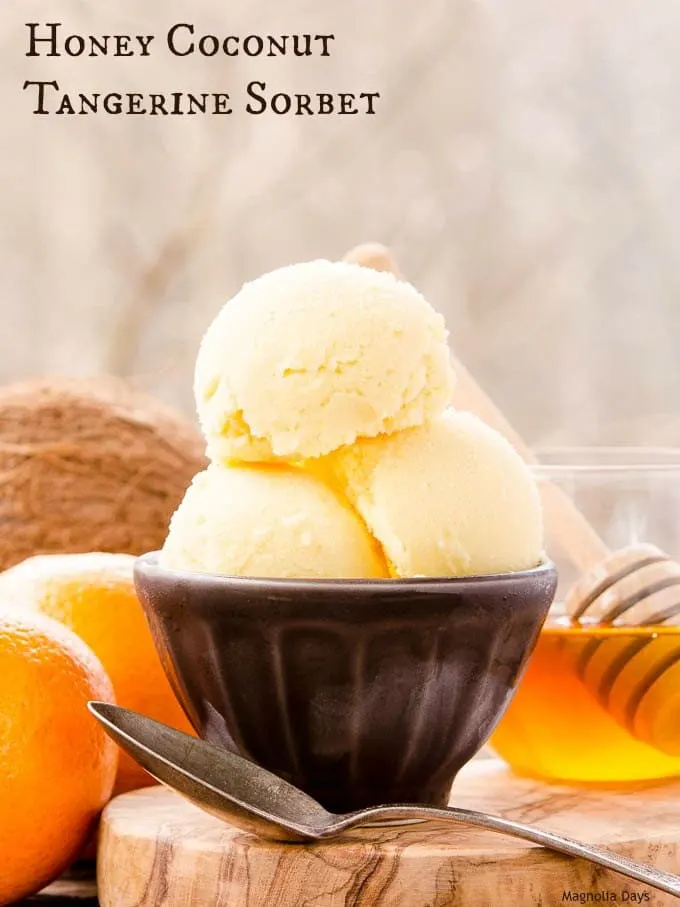 It was a magnificent sunny day. The deep blue color of the sky almost erased bare tree branches. When I closed my eyes it felt like spring. So what did I do? I took Milo on a walk and worked up an appetite. Then I went to the store and bought bratwurst to grill. While grilling, I craved a cold treat. Two failures and three trips to the store later, I had a batch of Honey Coconut Tangerine Sorbet.
It started as honey tangerine sorbet. It's citrus season and seemed timely and simple too. I cheated and bought bottled fresh juice instead of juicing a whole bunch of tangerines. I added honey for sweetness and a dash of lemon. I should have realized early on it was a failure. It was churning longer than usual. I took a look and saw a big blob spinning around in the machine. It looked okay though. I put it in the freezer for final firming as I do with all ice creams, sorbets, and frozen yogurts.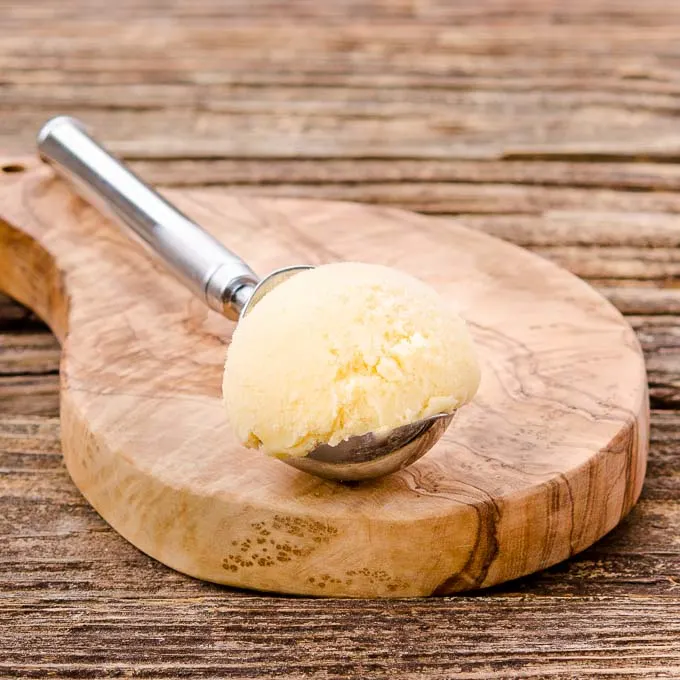 The next day I had a tangerine brick. It would take a hammer and chisel or ice pick to get it apart. Scooping was not even an option. So I thought I'd turn it into something else – a smoothie. Let it melt back to juice and blend it with something. Off to the store I went to get coconut milk and yogurt. I figured yogurt to give it thickness plus freezing coconut milk to use instead of ice cubes.
I put it all in the blender; Juice, yogurt, honey, and frozen coconut milk cubes. It was another disaster. The coconut milk cubes didn't blend. They probably would have in one of those high-end expensive blenders. Yet I have a regular one. I tried different ways; putting the cubes in with a little juice and putting in more cubes. Total fail again. Then I thought of trying sorbet with coconut milk. Back to the store I go.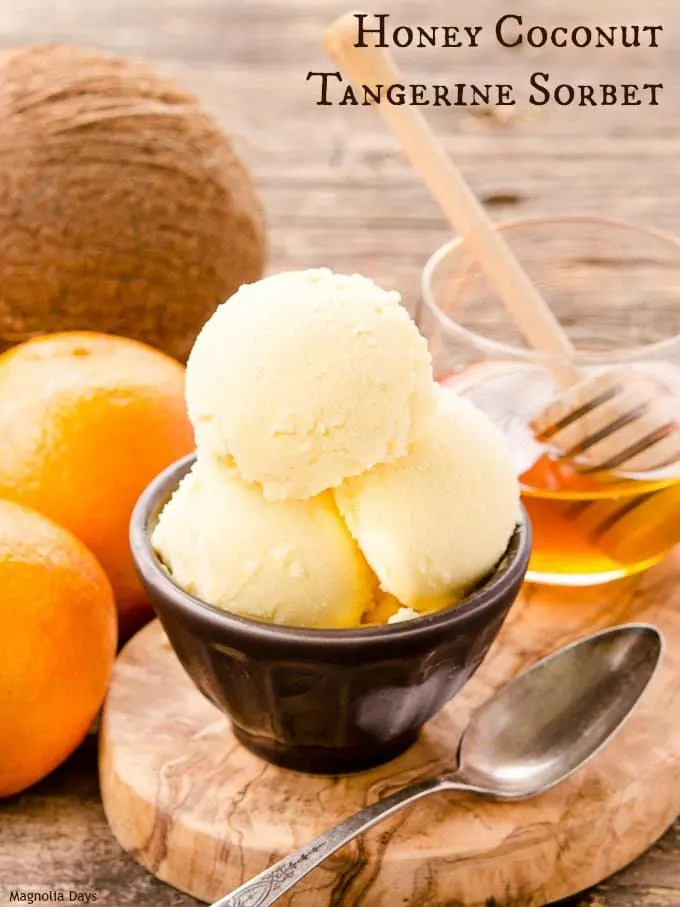 Honey Coconut Tangerine Sorbet churned nicely. I put it in the freezer to firm up after churning. This time it was hard yet not a brick. I'm used to that with sorbet and some frozen yogurts. Setting it out on the counter for a while or microwaving it for a few seconds will soften it for scooping.
The texture is snow-like with a creaminess factor. It took a little work to get it into nicely shaped scoops for the photos. The scoops would fall apart into fluffy little bits. No worries. I'd eat a bowl of fluffy Honey Coconut Tangerine Sorbet bits any day.
I'm really looking forward to spring. It's my favorite season. Until then I'll take any warm, sunny day to fire up the grill for a Grilled Vegetable Steak Salad or Grilled Bacon Onion Cheese Flatbread with sorbet for dessert.
Honey Coconut Tangerine Sorbet
Honey Coconut Tangerine Sorbet is a creamy and snow-like frozen treat with tropical and citrus flavors. It's dairy-free too.
Ingredients
2

cups

fresh tangerine juice

chilled

13.5

ounces

coconut milk

full-fat, chilled

1/3

cup

honey

1

tablespoon

fresh lemon juice
Instructions
Place all ingredients in a blender and blend until combined.

Pour into an ice cream maker and churn according to manufacturer's instructions.

Transfer sorbet to a freezer safe container and freeze for at least 2 hours.

Sorbet will be hard. To soften either allow to set at room temperature for about 10 minutes or microwave on high for about 20 seconds.
Recipe Notes
Cook time is approximate time to churn sorbet in ice cream maker. Time stated does not include freezing for 2 hours after churning.