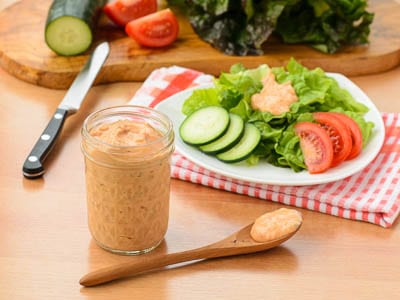 Thousand Island is one of my husband's favorite dressings. When it comes to a "regular" salad he will choose it or Ranch. Regular salad being a simple one with lettuce, tomato, and cucumber. Sometimes cheese and grilled chicken are on there too. I'm more of a vinaigrette gal. The only time I use 1000 Island is on a turkey reuben. Because I prefer homemade I finally got around to making it. It was about time. No more store-bought.
This dressing is thick and a little tangy. You could make it milder if you use more mayonnaise (probably a 1/4 cup or so) or reduce the amounts of some of the ingredients. Like any dressing, you can adapt it for your taste. A little more of this or a little less of that can make a difference. I have fun in the process. Sometimes it takes me a few times before I get it exactly how I want it. Then my tastes change or I want to use it for something else and the experimenting beings.
Is it worth making it at home? Of course it is. It does take more time than opening a bottle. However, the flavor is what it is all about. Any salad or sandwich is better with homemade dressing. Being able to customize it to your own taste is a bonus. I still have a few more to tackle too. Well, more than a few actually.
What's your favorite dressing? Let me know and perhaps I will feature it in a future post. I really like the inspiration. Who knows, I might discover a new favorite too.
Thousand Island Dressing
Ingredients
3/4

cup

mayonnaise

1/2

cup

chili sauce

1/4

teaspoon

ground mustard

Juice of 1/2 lemon

1

teaspoon

apple cider vinegar

1

tablespoon

sweet pickle cubes

3

round dill pickle slices

about a tablespoon

1/2

X 1 1/2-inch slice roasted red bell pepper

1

teaspoon

capers

1

tablespoon

chopped onion

1

hard-boiled egg yolk

Fresh ground pepper
Instructions
In a medium bowl, stir together mayonnaise, chili sauce, ground mustard, lemon juice and vinegar until combined.

In a small chopper or food processor, add the sweet pickle cubes, dill pickle slices, roasted red bell pepper, capers, onion, and egg yolk. Process until finely chopped.

Add chopped mixture to the mayonnaise mixture. Season with fresh ground pepper. Stir until thoroughly combined. Refrigerate for at least 1 hour. Serve as a salad dressing or sandwich topping. Refrigerate leftovers in an air-tight container for up to 2 days.
Recipe created by using inspiration from three recipes on About.com, Food Network/Ina Garten, and Food Network Kitchens websites.