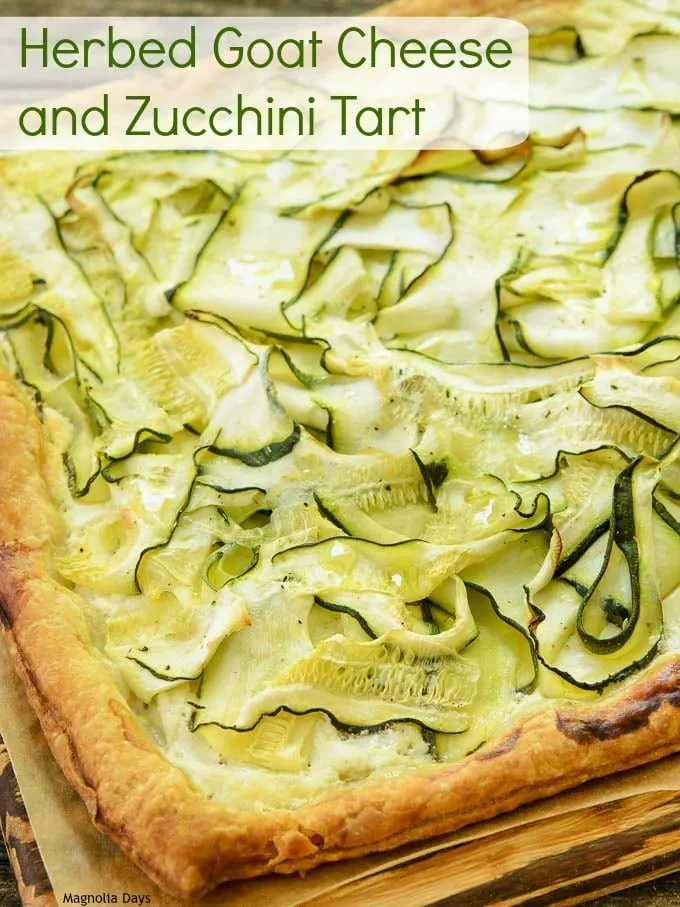 My oven drawer is filled with sheet pans. The collection started long ago when I wanted to find the perfect one for baking cookies. I've tried the whole range of shiny, dark, non-stick, air-filled, rimmed, and flat. Then after using a good quality aluminum one, the others pale in comparison. I use a sheet pan almost daily however I never thought to cook an entire meal on one. That changed with Herbed Goat Cheese and Zucchini Tart.
Countless cookies and vegetables have been cooked on my pans. They have held up so well throughout the years. It was time to move up from sweets and sides to full meals when a new cookbook arrived. Seeing the possibilities gave me such excitement. Making dinner without having to scrub saucepans and skillets afterwards is mighty fine. As soon as I saw the recipe for the tart I knew the first thing I would make from Sheet Pan Suppers
(affiliate link).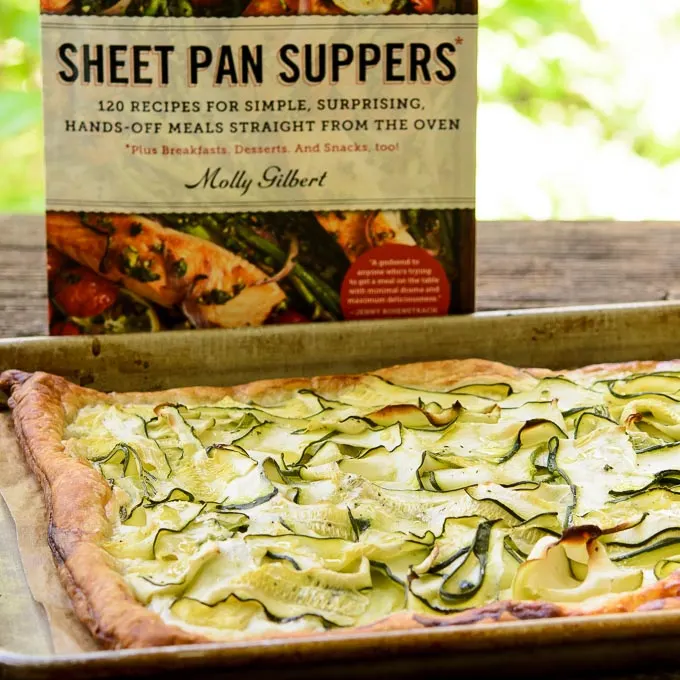 Herbed Goat Cheese and Zucchini Tart is a snap to make. It does take a little time and effort to slice the zucchini. I suggest using a peeler that is flat. Mine has the blade lower than the edges and wouldn't slice through the thicker middle. Well, until I figured out rotating the zucchini. It makes some of the slices angled and thinner on one side than the other. However, the ability to haphazardly spread the zucchini on the tart means they don't have to be sliced perfectly. It makes it quite pretty and gives it a lovely rustic look too.
How is the tart? It start with two words: puff pastry. That right there is enough for me. The lightness and crispiness of it is simply divine. Then there are goat and ricotta cheeses along with herbs that are already in or on the goat cheese log. You could stop right there and I'd be happy. Why stop though? Piling zucchini and drizzling olive oil on top simply makes it incredible. Shake up a strawberry martini to sip on while it is baking in the oven.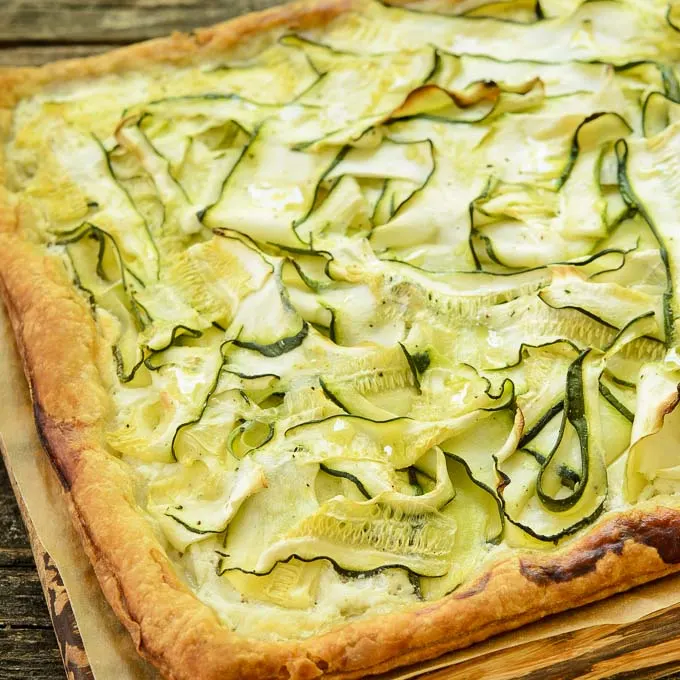 The Sheet Pan Suppers cookbook is one I recommend. There are recipes from breakfast all the way to dessert. They are well laid out and in font that has good size and style for readability. They also have well-written instructions. The photography is wonderful and plentiful. Would you like to see some meals made from recipes in the book? Take a look at this Sheet Pan Suppers Pinterest board and follow it too.
About the cookbook author: Molly Gilbert is cooking instructor, graduate of the French Culinary Institute, recipe tester in the kitchen at Saveur, and food blogger. Take a look at this interview with Molly and check out her Dunk & Crumble blog. You can follow her on Twitter, Instagram, Pinterest, and Facebook.
You can enter to win a Sheet Pan Suppers cookbook. All you have to do is leave a comment and let me know your favorite food to cook on a sheet pan. Entries will be assigned a number and the winner selected using Random.org. The winner will be notified by email. If the winner does not respond in 48 hours an alternate winner will be selected. Contest ends on Wednesday, May 13, 2015 at 11:59pm Eastern Time. Contest is only for United States citizens, with a US shipping address, and over the age of 18. There are several more chances to win the cookbook on other Weekday Supper posts (see list below). Entrants can only win one cookbook via this Weekday Supper campaign.
Do you want to purchase the book now? It's easy! All you have to do is click on the photo of the book and it will take you to Amazon where you can get one for you and perhaps another to give as a gift too. (Affiliate link).
Herbed Goat Cheese and Zucchini Tart
Herbed Goat Cheese and Zucchini Tart is an elegant meal that is a snap to make. It's a great way to use the bounty of fresh summer produce.
Total Time
1
hour
20
minutes
Servings
8
to 10 servings
Ingredients
1

sheet frozen puff pastry

see Note, thawed according to package directions

All-purpose flour

for rolling out the dough

1/2

cup

ricotta cheese

1

roll herbed goat cheese

4 ounces, at room temperature, crumbled

4

or 5 medium-size zucchini

Kosher salt and freshly ground black pepper

1

tablespoon

extra virgin olive oil
Instructions
Preheat the oven to 375°F with a rack in the center position. Line a sheet pan with parchment paper.

Carefully unfold the puff pastry sheet on a lightly floured work surface. Use a flour-dusted rolling pin to gently roll the puff pastry into a large rectangle roughly 12 by 16 inches; it should be just smaller than your sheet pan.

Carefully transfer the puff pastry to the prepared pan. Use a sharp knife to score a 3/4-inch-wide border around the puff pastry; do not cut all the way through. Use a fork to prick holes inside the border of the rectangle, poking the dough every inch or so. Place the sheet pan in the fridge or freezer to harden the pastry dough, about 20 minutes.

Meanwhile, stir-mash together the ricotta and goat cheese in a small bowl until fully combined. Set aside.

Trim the ends off the zucchini and, using a vegetable peeler, cut them lengthwise into long, thin strips. (Alternatively, you could use a sharp chef's knife to cut them into 1/4-inch rounds.) Place the zucchini in a large bowl and sprinkle with a pinch each of salt and pepper. Toss to distribute the seasoning.

When the dough is good and chilly, place the pan back on your work surface. Spread the chese mixture evenly over the pastry, leaving the border bare. Arrange or pil the zucchini atop the cheese either haphazardly or in your favorite pattern, until the cheese is completely covered. Drizzle the olive oil over the zucchini.

Bake the tart until the crust is puffed and deeply browned and the zucchini has softened and browned at the edges, 45 to 50 minutes.

Allow the tart to cool slightly before cutting into squares. Serve warm or at room temperature.
Recipe Notes
To thaw puff pastry, remove it from the package, keeping it wrapped in plastic, and leave it in the refrigerator overnight or on your work surface for about 30 minutes. Pastry sheets come folded up like a letter - don't try to unfold them when they're frozen or they'll tear! After the pastry has thawed, you'll be able to easily unfold it. Wrapped well in plastic, thawed pastry will keep for about 2 days in the fridge.
Recipe copyright © Molly Gilbert 2014. Used with permission from Workman Publishing Company.
Are you ready to cook a meal on a sheet pan? To get you started, here are more Weekday Supper recipes from the Sheet Pan Suppers cookbook:
Disclosures: This post is sponsored by Workman Publishing Company in conjunction with a social media campaign through Sunday Supper LLC. All opinions are my own. This post contains Amazon affiliate links that are noted above.