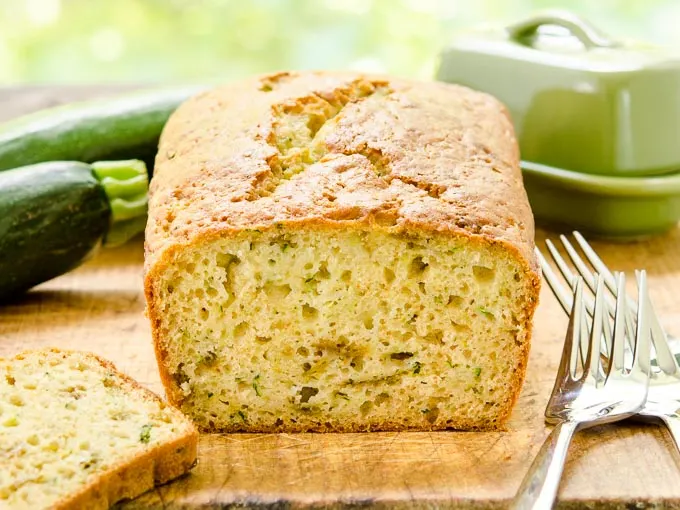 The sound of water woke me up last night. It was running through the pipes in the house and coming down from the sky. My husband was running the sprinklers because it had not rained. Mother Nature decided to pull a funny with rain. Nothing like paying to water the yard for no reason. Oh well. At least things will be nice and green for a few days. It will go with all the greenness in Hatch Chile Zucchini Bread.
Hatch chile season has arrived. A produce company gave the first notice. I had to make something with them as soon as I saw a photo of those tasty green chile peppers. Luckily there were some in my freezer. I've hoarded them since the last batch I received.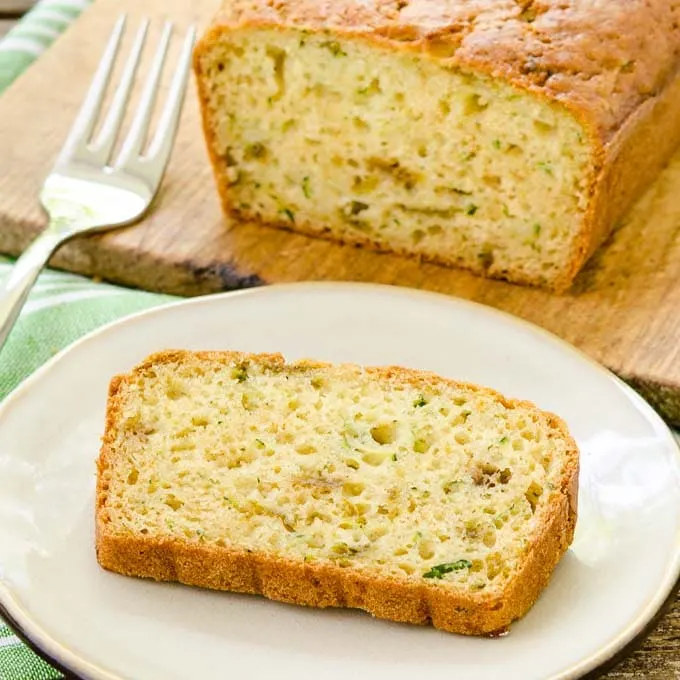 Finding hatch chiles in Georgia is difficult. It's best to order them online. Just do an internet search and you'll see companies selling them. Locating zucchini is ridiculously easy. Markets will be over flowing with them. Your friends may be trying to unload their garden's bounty too.
Bread Bakers theme this month is peppers. It's another reason I dug into my hatch chile stash. Plus my serrano and jalapeño plants are doing so poorly. This hot and dry summer has stressed my container garden tremendously. My pepper plants have leaves and little flowers yet hardly any peppers.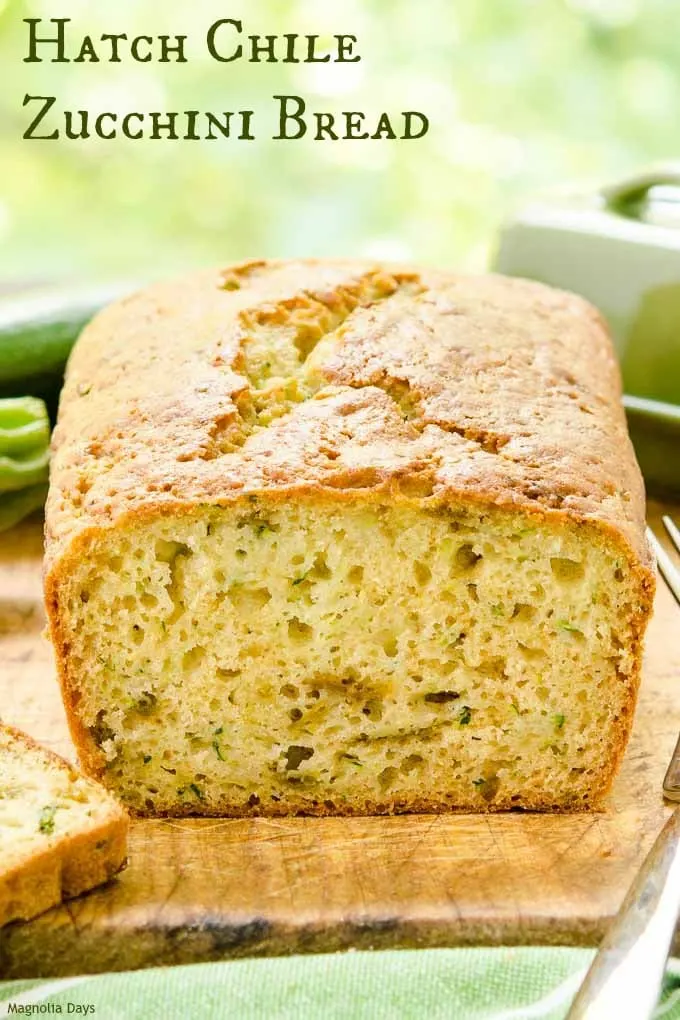 Hatch Chile Zucchini Bread is sweet with a kick of heat. I used hot hatch chiles that were roasted, peeled, and seeded. Heat and flavor is underlying and come in at the end. What you taste first is typical zucchini bread. Then comes in the unique pepper flavor and heat. It sure is a nice way to celebrate this special hatch chile pepper season.
How about more bread recipes with peppers? Scroll way down to find them. There is a nice variety of bread types and pepper heat levels. Thanks to Sue of Palatable Pastime for being the host. For more recipes with hatch green chiles, check out my Hatch Chile Avocado Cream Dip, Hatch Chile Cilantro Slaw, Hatch Chile Tartar Sauce, and Hatch Chile Shrimp Corn Chowder.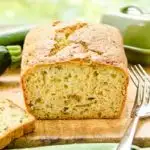 Hatch Chile Zucchini Bread
Hatch Chile Zucchini Bread is moist and sweet with a kick of heat. Green vegetables and chile peppers are inside this delectable treat.
Total Time
1
hour
20
minutes
Ingredients
1 1/2

cups

all-purpose flour

1 1/4

teaspoons

baking powder

1/2

teaspoon

baking soda

1/2

teaspoon

salt

1/4

teaspoon

hatch chile powder or ground cumin

2

large eggs

3/4

cup

granulated sugar

1/3

cup

vegetable oil

1/3

cup

sour cream

1

cup

shredded zucchini

2

hatch chile peppers; roasted

peeled, seeded, and chopped
Instructions
Preheat oven to 350°F. Lightly grease and flour an 8 1/2- X 4 1/2- X 3-inch loaf pan.

Whisk together flour, baking powder, baking soda, salt, and hatch chile powder in a large bowl.

Whisk together eggs, sugar, oil, and sour cream in a medium bowl. Stir in zucchini and hatch chile peppers.

Add wet ingredients to dry ingredients and stir to combine until dry ingredients are just moistened.

Spread batter evenly in prepared pan. Bake for 1 hour or until a toothpick or cake tester inserted in the center comes out clean.

Cool bread in the pan for 10 minutes. Remove bread from pan and cool completely on a wire rack.
Recipe Notes
Hatch Chile Zucchini Bread is moist and sweet with a kick of heat. Green vegetables and chile peppers are inside this delectable treat.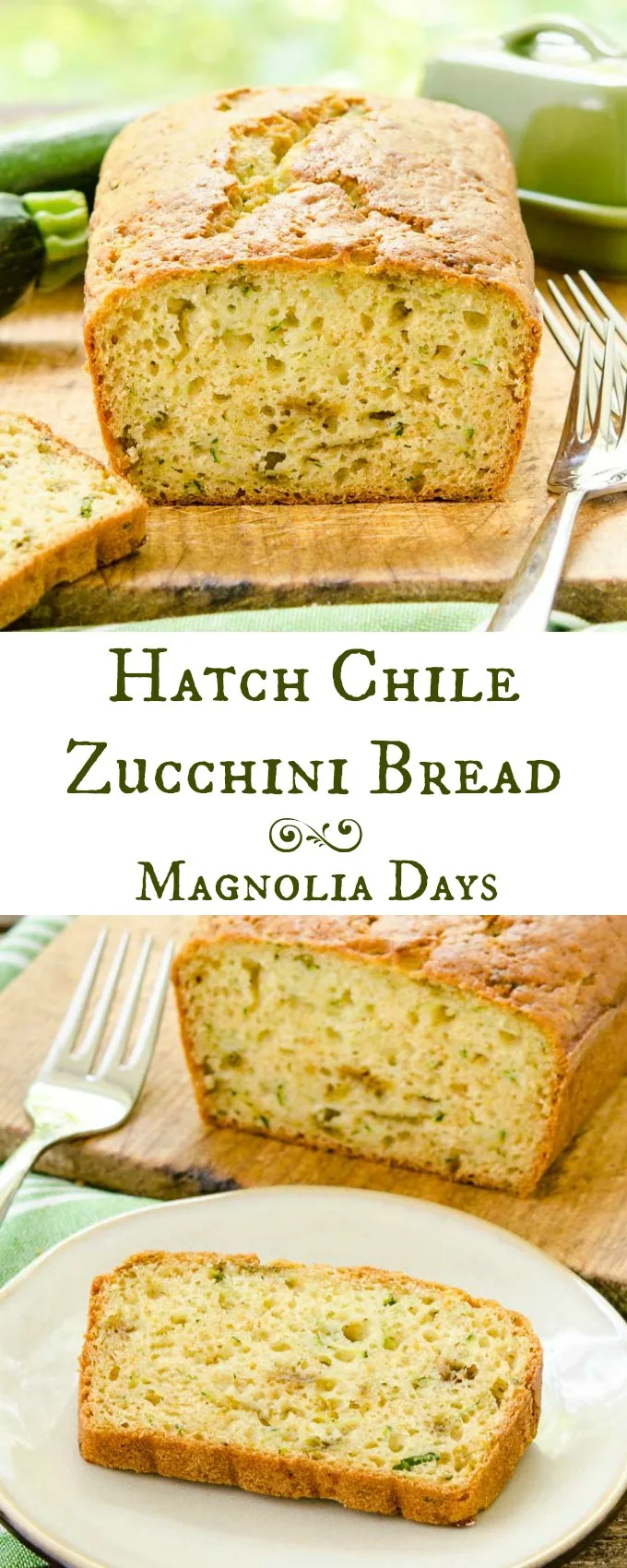 Peppers, peppers, and more peppers! Take a look at these recipes for bread with peppers from mild to hot:
What is Bread Bakers? It's a group of bread loving bakers who get together once a month to bake bread with a common ingredient or theme. You can see all our of lovely bread by following our Bread Bakers Pinterest Board. Links are also updated after each event on the Bread Bakers home page.
How is the monthly theme determined? We take turns hosting each month and choosing the theme/ingredient.
Would you like to join in the fun? If you are a food blogger, send an email with your blog name and url to Stacy at [email protected].