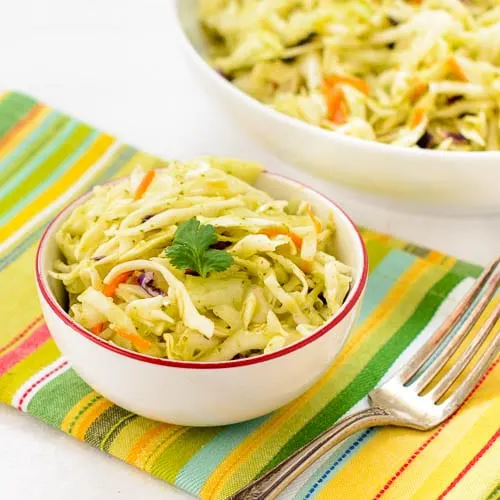 Slaw is a simple side or topping with so many variations. Cabbage reigns as the most common vegetable used in it. Then there are slaws made with shredded broccoli, celery, carrots and more. Texture plays a part too. The cabbage can be thick shredded, finely shredded, or grated. The most important part is the dressing. It makes it savory, sweet, creamy, vinegary, or spicy. My latest version, Hatch Chile Cilantro Slaw, starts with a vinaigrette easily made in a blender. It's so pretty and tasty it deserves a photo spotlight of its own.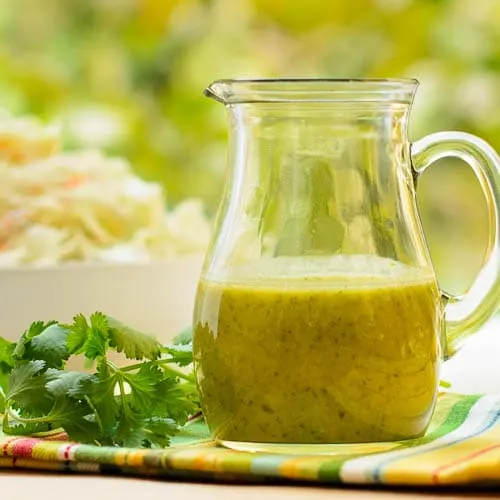 What a lovely color of this dressing. It comes from green hatch chile and cilantro. Most people know what cilantro tastes like. Some enjoy it immensely and others say it tastes like soap. I'm in the immensely group. With hatch chiles, well, it was only recently I had the pleasure of tasting them. I shared recipes for Hatch Chile Shrimp Corn Chowder and Hatch Chile Corn Quiche. It could not stop there because I enjoyed those chiles so much and the kind folks at the Hatch Chile Store sent me some of their frozen, already roasted ones. It was a good delivery day for sure.
How did making a slaw come to mind? I was going through a stack of magazines on my coffee table. In the Cooking Light May 2014 issue there was a page of vinaigrettes. A spicy one caught my attention. The recipe in the magazine called for red chile and my first thought was to use jalapeño instead. Second, and even better, thought was to use hatch chile. I tweaked the recipe and soon I had a bowl of crunchy, slightly spicy slaw that I know I'll make time and time again.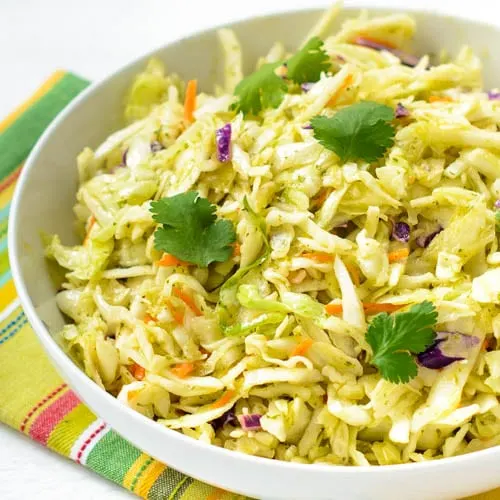 Have you had hatch chile before? If you live in my area (Georgia/East Coast) you are more than likely to say no. Only because they have not been readily available. I have yet to see them in my local markets. At least you can order hatch chiles online now. If you love peppers, I highly recommend giving them a try. Make this Hatch Chile Cilantro slaw and serve it as a side dish or as a topping for fish tacos and more.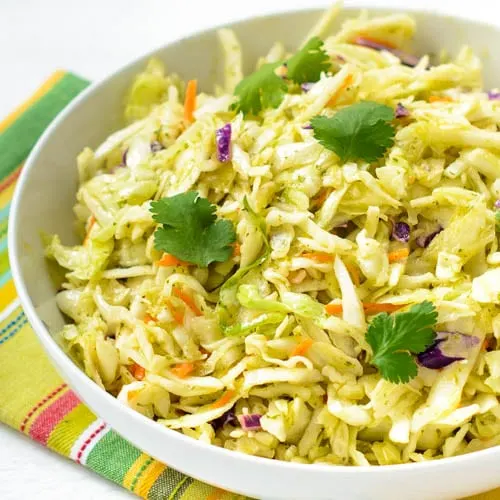 Hatch Chile Cilantro Slaw
Make Hatch Chile Cilantro Slaw for a spicy side dish to serve with seafood, pork, chicken, and more. Use it as a topping for hot dogs or in lettuce wraps.
Ingredients
3

tablespoons

fresh lime juice

1 1/2

tablespoons

chopped hatch green chile

roasted and seeded, not fresh

2

teaspoons

ginger paste or fresh grated ginger

1

teaspoon

fish sauce

1

teaspoon

honey

1

garlic clove

chopped

1

tablespoon

finely chopped fresh cilantro

1/4

cup

olive oil

16

ounces

shredded coleslaw mix

Fresh cilantro for garnish
Instructions
Place lime juice, chile, ginger, fish sauce, honey, garlic, and cilantro in a blender. Blend until smooth.

Turn blender to low speed and slowly pour in olive oil.

Pour dressing over cabbage in a large bowl and toss to coat.

Garnish with fresh cilantro leaves if desired. Serve immediately.
Recipe Notes
Make Hatch Chile Cilantro Slaw for a spicy side dish to serve with seafood, pork, chicken, and more. Use it as a topping for hot dogs or in lettuce wraps.
Disclosure: I received a package of hatch chiles from The Hatch Chile Store at no charge. I was under no obligation to post a review. I was only requested to link to their website if I shared a recipe using the chiles. All opinions are my own unless otherwise stated or contained within a guest post.