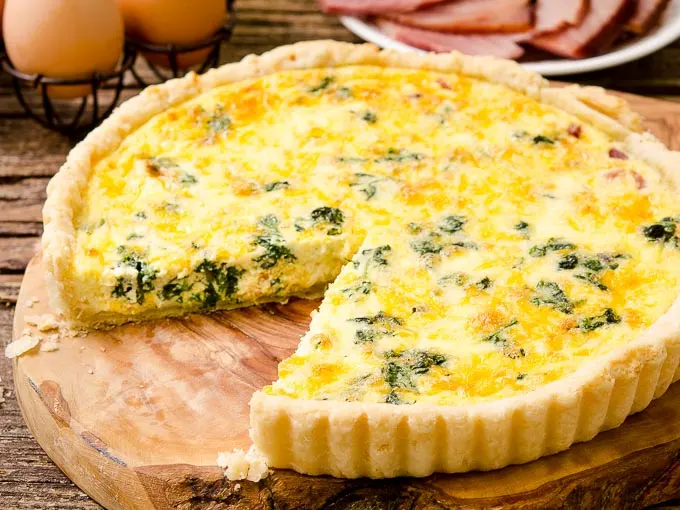 The last week had some wonderful surprises. It rained several days. We finally had a week when we didn't have to run the irrigation system. Plus my plants perked up beautifully. Friends brought a giant bag of tomatoes from their garden. A co-worker gave us fresh eggs from their chickens. I had an immediate craving for Ham and Cheese Quiche with Spinach as soon as I saw those eggs. test
It's been a while since I got fresh eggs. Our tomato-giving friends used to have chickens. I was spoiled because they would bring eggs to me often. One of the things I made with them was a Ham and Vegetable Frittata. Hmmm, ham with fresh eggs seems to be a pattern here.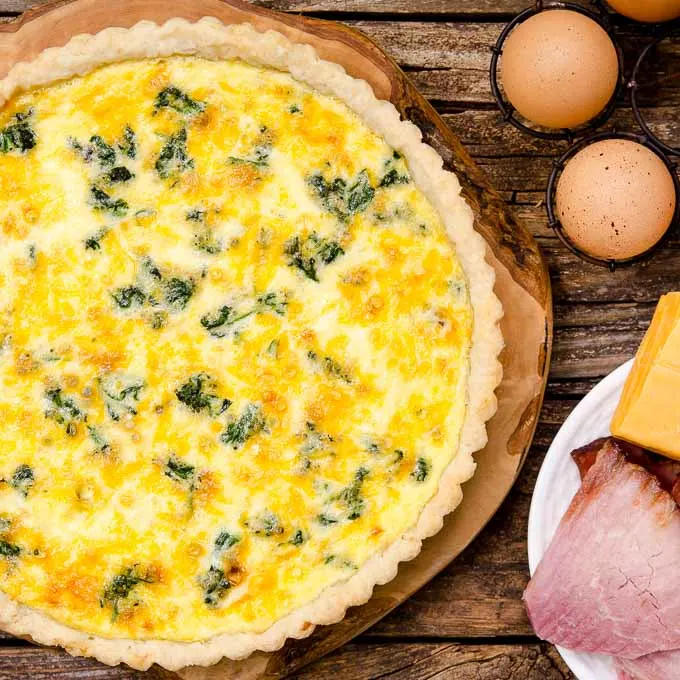 Quiche brought back old memories too. The first time I had quiche was back in the 80's. We would go to this particular restaurant occasionally on Sunday. Quiche was on their brunch menu. Once I tried it I was hooked. Then I started making them, not from scratch though. I'd use frozen pie crusts and frozen quiche mix. Fast forward to now and it is from scratch all the way.
The right crust can elevate even the simplest quiche. I struggled for the longest time to make a good one. Julia Child to the rescue. I followed her detailed guidance in her "How to Cook" cookbook. The exception is I use lard instead of shortening. Lard is the bomb for pasty crusts. Trust me. Just give it a try and you will see. Oh and I use bleached all-purpose flour because it is softer than unbleached.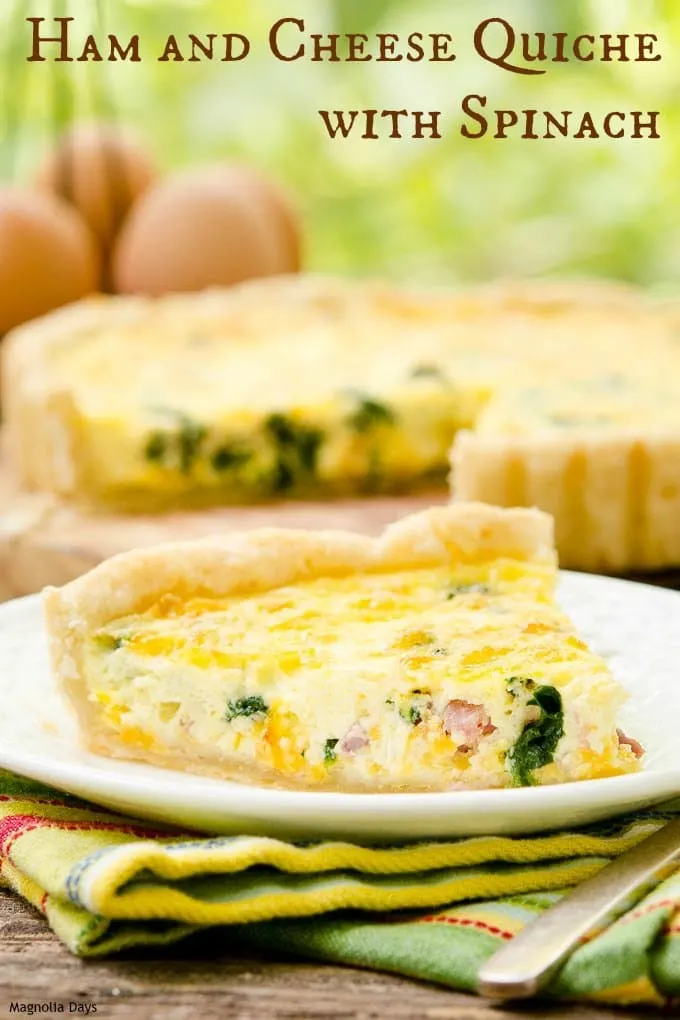 Ham and Cheese Quiche with Spinach takes a while to make. You'll need to allow plenty of time for the crust making process. Of course there is always the option to use a store-bought crust. The quiche is great for brunch or as a light meal with a simple green salad. I even ate a slice for a mid-afternoon snack.
The past week also had some sadness. We lost a dear friend because of a major heart attack. The loss struck me hard. It made me realize I need make some changes. I've decided to slow things down with blogging and get to things I've put off for far too long. So for a while I'll only post once a week. Then perhaps I'll be back to the usual. Or not. We'll see how it goes. Stay tuned…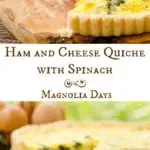 Ham and Cheese Quiche with Spinach
Ham and Cheese Quiche with Spinach has a buttery and flaky homemade crust. It is fantastic for brunch or as a light meal with a simple green salad.
Prep Time
2
hours
30
minutes
Total Time
3
hours
5
minutes
Ingredients
For the crust:
12

tablespoons

unsalted butter

1 1/2 sticks

2 1/4

cups

bleached all-purpose flour

or 1 1/2 cups unbleached all-purpose flour plus 1/2 cup plain cake flour - see note

1

teaspoon

salt

1/4

cup

chilled lard

1/2

cup

ice water

plus more if needed
For the quiche:
1

teaspoon

olive oil

3

ounces

baby spinach leaves

Salt and pepper

1/2

cup

grated cheddar cheese

1/2

cup

diced ham

3

large eggs

beaten

Heavy cream

half-and-half, or milk
Instructions
For the crust:
Dice the butter into small pieces and place in the freezer for about an hour.

In the bowl of a food processor fitted with a knife blade, add the flour and salt. Pulse 1 or 2 times to combine. Add the diced butter and pulse 5 or 6 times.

Slice the lard into chunks and add to the mixture. Turn on the processor and add most of the water. Remove the cover and check the dough. When it is done it should appear like small clumps and will hold together when you press a handful together. Add more water if needed and pulse.

Turn dough out onto a work surface and press it together. Using the heel of your hand, push clumps of dough (about the size of an egg) out in 6-inch smears.

Form the dough into a round disc and wrap in plastic. Place the wrapped disc in a plastic bag and refrigerate at least 2 hours or overnight.

Have a 9-inch tart pan or quiche ring ready and set aside.

Cut dough in half. You only need half for this recipe. Re-wrap the remaining dough and refrigerate or freeze for future use.

Roll out dough on a lightly floured surface to a round 1/8-inch thick by 10 1/2 inches wide. Move the dough around as you are rolling it out to make sure it is not sticking to the work surface.

Roll the dough up on the rolling pin and un-roll it over the tart pan. Lightly press the dough in place. Pull in 1/2-inch of the dough at the edges. Roll the pin over the edges to cut off excess dough.

Push the dough on the sides of the tart pan to an even thickness and up 1/3 inch above the pan. Prick the bottom of the dough at 1/4-inch intervals with a fork.

Cover the shell and refrigerate 30 minutes or more.

Heat oven to 450 degrees F.

Cut a square of aluminum foil 4 inches larger than the tart pan. Lightly butter the shiny side. Turn the foil over (shiny side down) and make a pouch of it. Fill the pouch with a dried beans or pie weights. Line the dough with the foil and press it against the edges. Make sure the beans or pie weights cover the entire bottom and are against the sides. Also make sure foil covers top edge of crust to prevent over-browning when baking quiche.

Bake the crust for 15 minutes. Remove the foil and beans/weights and prick the bottom again with a fork. Bake a few minutes more until the pastry begins to color and separate from the side of the pan.

Cool crust 10 minutes in the pan then remove it to cool on a rack. Once cooled completely, place the crust back in the tart pan.
For the quiche:
Heat oven to 375 degrees F.

Heat olive oil in a large skillet over medium heat. Add spinach and a pinch of salt and pepper.

Cook spinach, tossing constantly, until wilted. Place cooked spinach on a plate lined with cheesecloth.

Once spinach is cooled enough to handle, use the cheesecloth to squeeze out liquid from spinach. Chop spinach.

Add beaten eggs to a measuring cup and add enough cream, half-and-half, or milk to make 1 1/2 cups.

Scatter all but about 1 tablespoon cheese over crust. Scatter ham and spinach over cheese.

Pour egg mixture into crust. Sprinkle remaining cheese on top.

Bake for 30 to 35 minutes, until the quiche is puffed and browned.

Cool 10 to 15 minutes in the pan on a wire rack. Remove the quiche from the pan and cool on a wire rack to room temperature.

Transfer quiche to a platter for serving.
Recipe Notes
The quantities of flours are different because of the unique characteristics of each type of flour.
You can use a store-bought pie dough. Pre-bake as per the manufacturer's instructions.
Time stated is hands-on and does not include time for freezing butter, chilling crust dough, and cooling crust after baking.