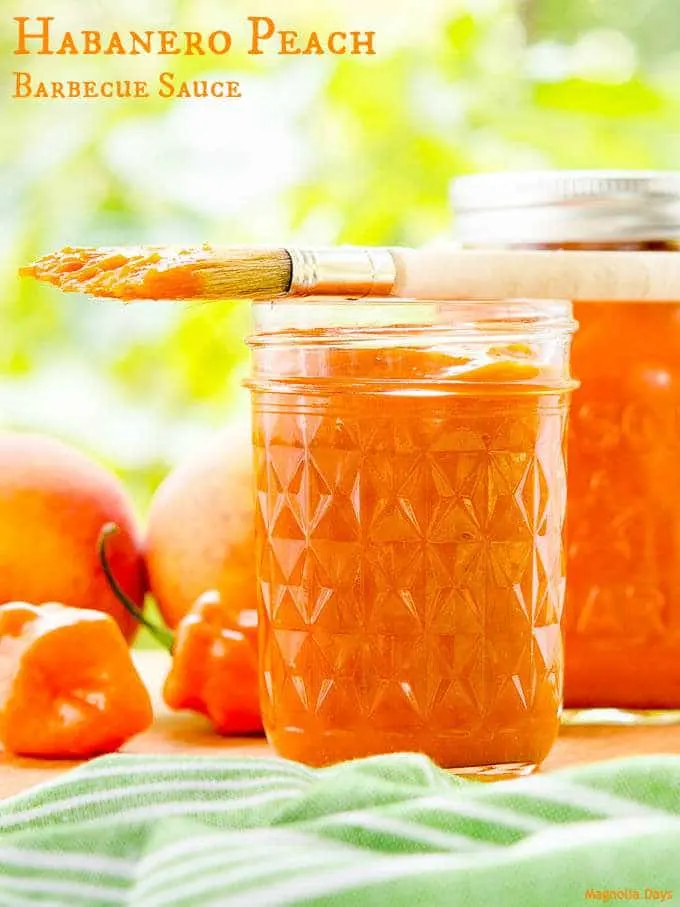 There they were on my kitchen counter. It was a little pop of orange against a black background. The question was what I was going to do with them. I bought them to use in another recipe. Yet I decided otherwise. So I pondered. Then it struck me to combine them with a couple of other cravings. That's how Habanero Peach Barbecue Sauce happened.
First it started with those peppers. My original intention was to use them in Jalapeño Summer Squash Quick Bread. Actually it was to be a hot pepper squash bread with various peppers. Yet when I was going through the mix it seemed a bit much and I only used jalapeños. Now what to do with habaneros.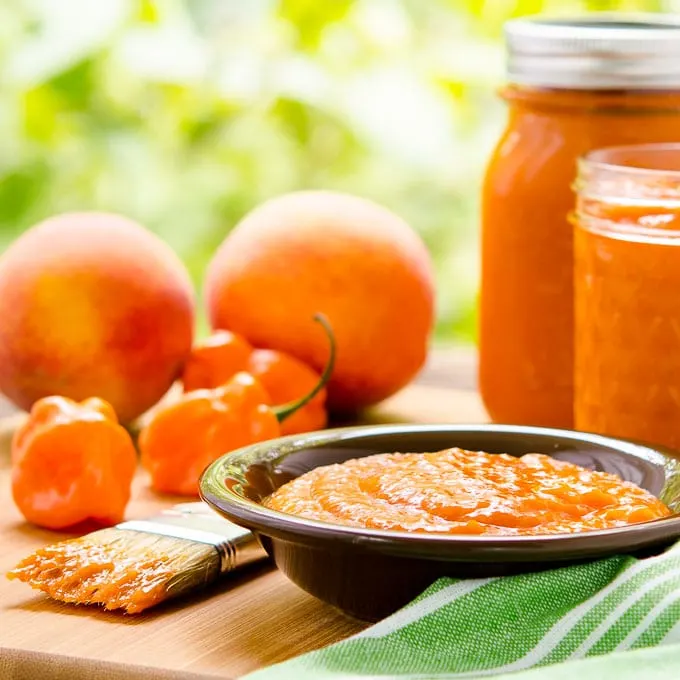 Then peaches entered in my thoughts. It's such a fantastic year for Georgia Peaches. I can't seem to get enough of them. I'll really miss them when the season is done. Making peach salsa was an option. Then salsa led my mind toward sauce. That's where my latest cravings for barbecue kicked in. Those cravings have been quite strong lately. A new sauce for grilling was the way to go.
What defines a sauce as a barbecue one? I wondered if it was a certain flavor profile or any sauce used for barbecuing. I'm going with the latter. I found so many variations I figured it was safe to classify this sauce as barbecue.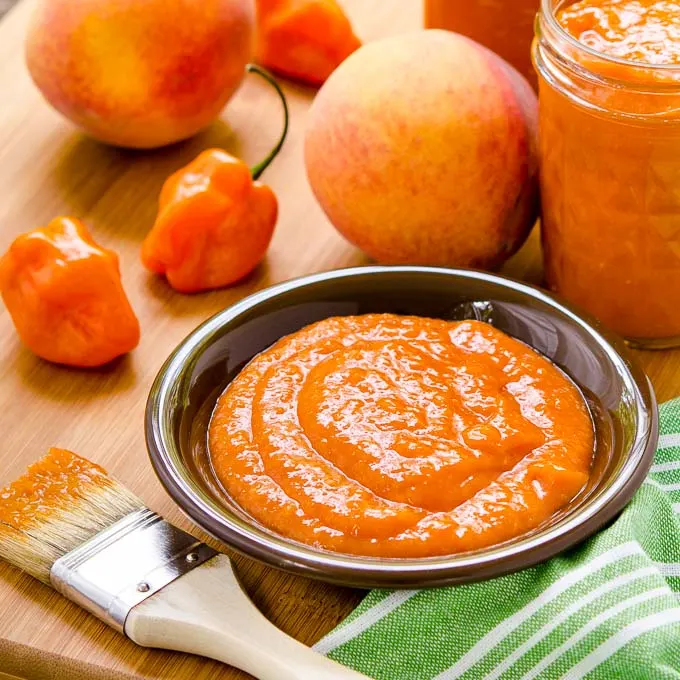 How is Habanero Peach Barbecue Sauce? It's thick, rich, fruity, sweet, and has a subtle kick of heat. I only used two peppers so it would be a mild sauce. It's easy to make it hotter by using more peppers or including the seeds in the mix. This sauce is fantastic with pork. Peaches and pork are a lovely combination (see my Pork Roast with Moscato Peach Sauce). It would also be nice for chicken and seafood.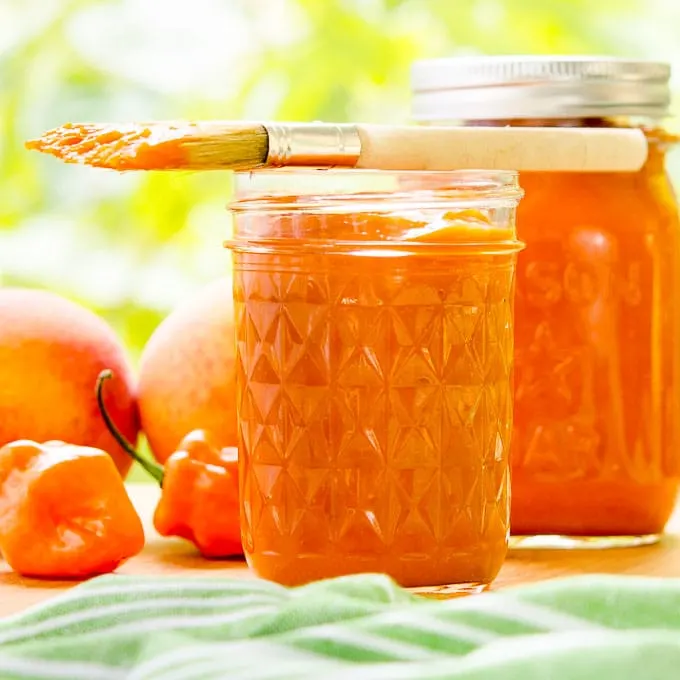 What is your favorite barbecue sauce? Have you made your own or use store-bought? This is the first homemade one for me. Technically it is semi-homemade since it is ketchup based. Next time I'll have to venture into making one completely from scratch. And so another to-do and to-make gets added to my never-ending list.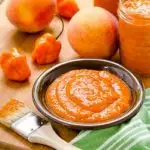 Habanero Peach Barbecue Sauce
Use this Habanero Peach Barbecue Sauce on pork, chicken, or seafood. It's thick, rich, fruity, sweet, and has a kick of heat from fresh peppers.
Total Time
1
hour
5
minutes
Ingredients
1

medium-size sweet onion

finely chopped

2

tablespoons

olive oil

1

garlic clove

minced

1

tablespoon

ginger paste

2

habanero peppers

seeded and finely chopped*

1 1/2

cups

ketchup

2

large peaches

peeled and chopped

1/2

cup

peach preserves

2

tablespoons

apple cider vinegar
Instructions
Cook onion with oil in a medium saucepan over medium heat until onion is softened and translucent, about 5 minutes.

Add garlic, ginger, and peppers. Cook 1 minute, stirring constantly, or until fragrant.

Add ketchup, peaches, and preserves. Bring to a boil then reduce heat to low. Simmer for 45 minutes, stirring occasionally.

Remove from heat and stir in vinegar.

Puree sauce in a blender (in 2 batches if needed. Be careful not to fill a blender full with hot liquids when blending or it may expand out the top of the blender).
Recipe Notes
Two habanero peppers makes a mild sauce. Use more peppers if a hotter sauce is desired. Use your judgement on how many additional peppers to use for your desired heat level.
Recipe adapted from Southern Living Fresh Garden Recipes 2013 special edition magazine.