Today's post is by my sweet friend Nancy. If you look up true and honest in the dictionary you may see her smiling face right by the definition. What I admire most about her is that she is fearless. She puts it all out there for the world to read. Her heartfelt posts have made me laugh, want to give her a hug, and caused my mouth to water over her divine recipes. Take a look at A Cake Smash and you will see her honesty. One glimpse at her Chocolate Nutella Cheesecake Cake had me dreaming about it for days. I finally got to meet her in person earlier this year and it was simply fantastic to spend time with such a wonderful person.
Howdy, y'all! I'm Nancy of gotta get baked and I'm beyond honoured to be guest posting today for my dear friend, Renee, while she's enjoying a much deserved vacation in Germany. I've known this lovely lady for the past two years. We met in our Sunday Supper group and since I was a novice blogger at the time, who didn't know a dang thing about this crazy world of blogging, she took me under her wing and became my Sunday Supper mentor.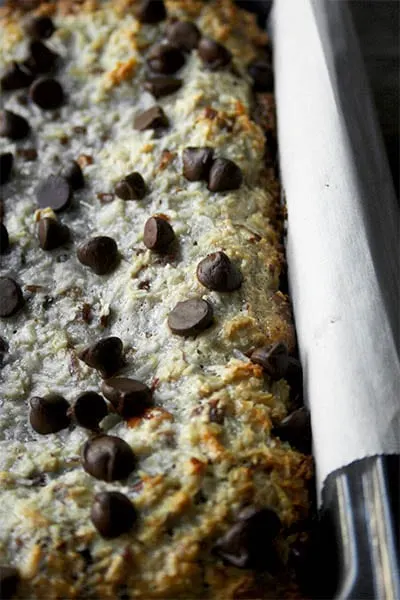 You know how people always say "there's no such thing as a dumb question?" Well, I beg to differ and I'm sure a lot of the questions I was peppering Renee with made her roll her eyes but she never, ever made me feel like the fool that I was. Renee is sweet, gracious, incredibly smart and sharp as a whip. And the woman can really get down and groove – I had the pleasure of meeting Renee this summer at the Food and Wine Conference in Orlando, Florida. She didn't need much arm-twisting to get up onto a table and boogie down in front of a giant crowd! That moment really solidified how incredibly awesome Renee is.
I'm in my early-but-quickly-creeping-toward-mid-30s and I doubt I have a quarter of the energy that Renee does. I've been telling the Husband for months now that I'm going to join a gym for my mental and physical health. In September, I swore that on October 1st, I'd go and get my membership. Well…let's just say I've made many valiant attempts (in my mind) but I still haven't made it. Something keeps coming up, whether it's long laborious hours at work or last minute plans with friends or, let's be real, I just don't wannaaaaaaaaaaa. Since I ate most of what I made for Renee, I'd better get my butt moving fast!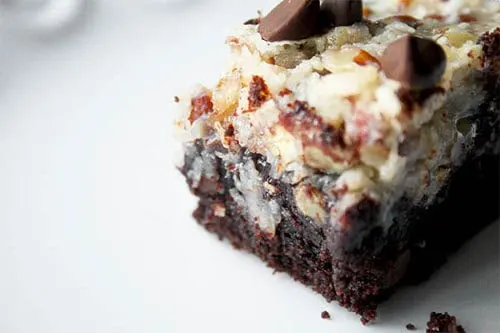 I went the super obvious, totally unoriginal route and made cookie bars inspired by German chocolate cake while Renee's in Germany. Not that it was a bad choice – these bars are rich, chocolatey and ooey gooey good!
Renee, thank you so much for having me over! I hope you're enjoying every moment of your holiday and eating your fill of delicious German food!
German Chocolate Cookie Bars
A recipe for German Chocolate Cookie Bars - a dessert that has a cake-like chocolate cookie base topped with caramel, coconut, and chocolate chips.
Cook Time
2
hours
15
minutes
Total Time
2
hours
15
minutes
Ingredients
For the Double Chocolate Chip Cookie Base:
2 1/4

cup

all-purpose flour

1/2

tsp

salt

1

tsp

baking soda

1/2

tsp

cinnamon

2

tsp

instant espresso powder

1

cup

butter

1/4

cup

granulated sugar

1

cup

brown sugar

packed

2

large eggs

room temp

1

tbsp

vanilla

1/2

cup

cocoa powder

1

cup

chocolate chips
For the Topping:
1

can of sweetened condensed milk

14 ounce

1

tsp

vanilla

1

large egg

1 1/4

cup

chopped pecans

1 1/4

cup

unsweetened shredded coconut

3/4

cup

chocolate chips
Instructions
For the Double Chocolate Chip Cookie Base
Line an 8X8 square baking pan with parchment paper.

In a large bowl, mix together the flour, salt, baking soda, cinnamon and espresso powder.

In the bowl of your stand mixer or in a large bowl with an electric hand mixer, cream together the butter and sugars. Add in the eggs and vanilla. Mix until fully combined, scraping down the sides of the bowl as needed. Add the cocoa powder and mix until fully combined.

Slowly add the flour and mix until combined. Add the chocolate chips. Press the dough into the baking pan and chill in the fridge for an hour.

Preheat the oven to 350 degrees F while you make the topping.
For the Topping:
Mix all the ingredients together in bowl. Spread evenly over top of the chilled cookie dough.

Bake for 20-24 minutes or until the edges begin to brown. You don't want to over-bake the cookie or it'll be dry. It'll continue baking after you remove the pan from the oven. Allow to fully cool before removing from the pan and slicing.

The less you bake this, the fudgier 'n gooier it'll be, which is perfect in my book. You can store the bars at room temperature in an airtight container for up to three days. Afterwards (if they last that long) keep them in the fridge.
Recipe Notes
A recipe for German Chocolate Cookie Bars - a dessert that has a cake-like chocolate cookie base topped with caramel, coconut, and chocolate chips.