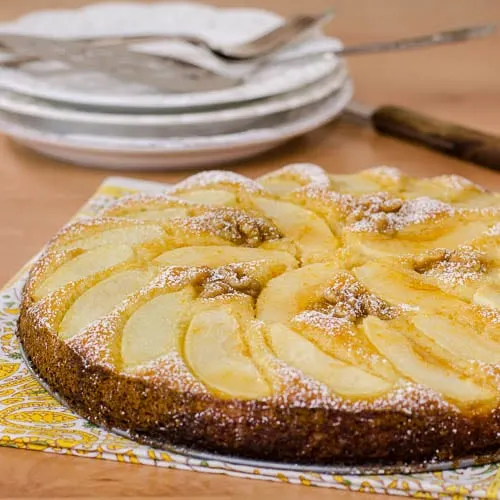 Translating and converting recipes from other languages is not an easy task. Even something as simple as cake has many variables. The challenges are measurements, methods, and ingredients. I discovered this when I decided to tackle making German Apple Cake. It's been on the to-do list for a couple of years. It got on the to-do list the last time my mom and I went to Germany to visit family.
We spent one day with my mom's cousin (my first cousin once removed?). Plans included lunch, shopping in the family shoe store, and the absolutely cannot be missed afternoon cake and coffee. Yes, it's a German daily tradition and my mom will not miss out on it when we are in Germany. Lunch was at a restaurant down the street from our cousin's home and store. After lunch, mom bought some shoes for herself and a pair of boots for me.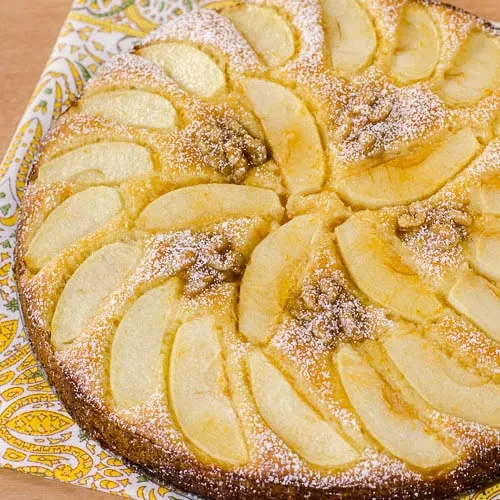 Our cousin served wine and cookies after shopping. We sipped and nibbled while catching up on family and events. Then the magic hour struck and it was time for cake. The table was set with this gorgeous cake in the center. I asked for the recipe and our cousin brought out this very old cookbook. The covers were gone and pages tattered. I took a photo of the recipe so I could have the original one.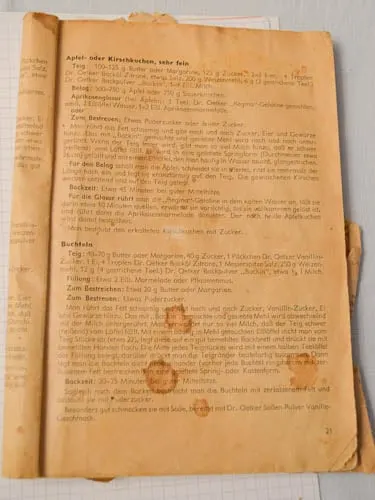 My mom helped with translating the recipe. We went over each detail and I took plenty of notes. Converting measurements was interesting. I went to several conversion calculators and got different results. All I could do is go with my gut instinct. German flour is different than American flour. Hours of research concluded to try bleached all-purpose. The first attempt didn't turn out as I wanted. I adjusted the quantity of the baking powder and used unbleached cake flour for the second attempt. I was pleased with the second one and ready to share the recipe.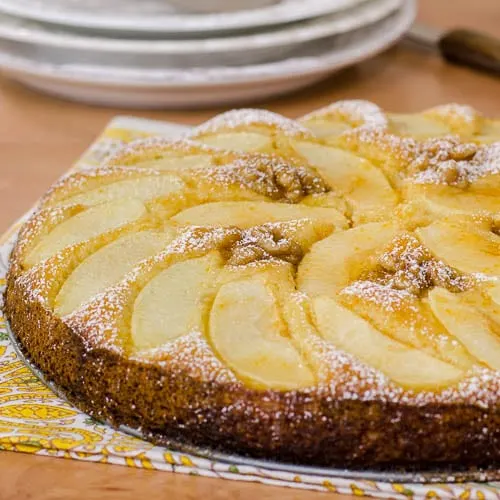 How is the German Apple Cake? It is a buttery cake topped with apples and an apricot glaze. The airy texture makes it a lighter feeling dessert. I can't wait to bake this for my mom on Mother's Day. Hopefully she will enjoy it as much as she did the one in Germany.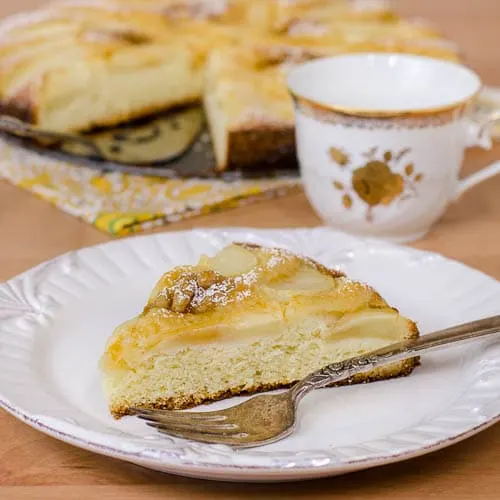 Do you make something special for Mother's Day? I do and there are some talented bloggers who do also. Scroll down to find a list of the recipes with links to each of them. Take a look at Chocolate Pecan Torte (my mom's favorite) and Strawberry Cake too.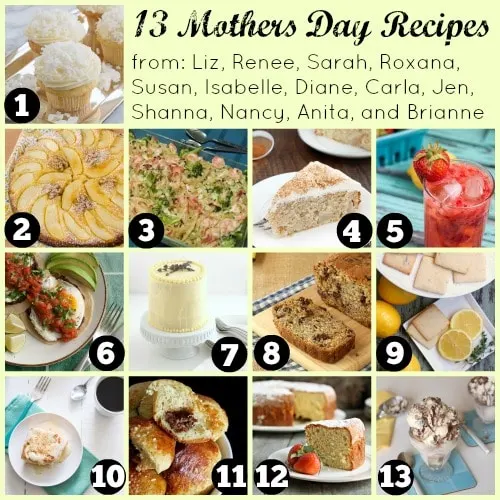 German Apple Cake
A recipe for German Apple Cake made with fresh tart baking apples. The recipe is translated and adapted from an old German cookbook.
Ingredients
For the cake:
1 1/2

cups

unbleached cake flour*

1 1/2

teaspoons

baking powder

1/8

teaspoon

salt

1/2

cup

unsalted butter

at room temperature

2/3

cup

granulated sugar

2

large eggs

at room temperature

1/4

teaspoon

lemon extract

1 1/2

tablespoons

milk

2

baking apples; peeled

cored, and sliced

4

to 6 walnut halves

optional
For the glaze:
3

heaping tablespoons apricot preserves

1

teaspoon

unflavored gelatin

2

tablespoons

cold water
For the garnish:
1

tablespoon

confectioners sugar
Instructions
For the cake:
Preheat oven to 350 degrees F. Lightly grease a 10-inch springform pan.

Whisk together flour, baking powder, and salt in a bowl.

Beat butter and sugar in a large bowl until light and fluffy.

Add eggs, one at a time, beating well after each addition.

Add lemon extract and beat to combine.

Add flour mixture and milk and beat on low speed until just combined. Batter will be thick.

Spread batter evenly in prepared pan.

Arrange apple slices and walnuts on top of batter.

Bake for 30 to 35 minutes, until lightly browned and a toothpick or cake tester inserted into the middle comes out clean.

In the last 10 to 15 minutes of baking, make the glaze.
For the glaze:
Push preserves through a fine mesh sieve into a small saucepan. Remember to scrape the strained preserves from the underside of the sieve as it will be thick and cling to the sieve. Discard pieces of apricot flesh inside the sieve or use them for another purpose. You should have 2 to 3 tablespoons of strained preserves.

Combine gelatin and cold water in a small bowl. Allow to bloom for 10 minutes.

Add bloomed gelatin to the preserves and stir over medium-low heat until combined and dissolved.
To finish the cake:
Carefully brush glaze over warm cake.

Cool cake for 10 minutes then remove the sides of the pan. Cool cake completely on a wire rack.

Dust cake with confectioners sugar before serving.
Recipe Notes
*If you cannot find unbleached cake flour (King Arthur brand is most widely available) substitute bleached all-purpose flour or cake flour. Those flours will give the cake a slightly different crumb and texture.
Are you looking for Mother's Day recipes? I've teamed up with some wonderful blogger friends for another Holiday Food Party to share ones you can make for all the moms in your life. It is a fabulous lineup of sweets and savories: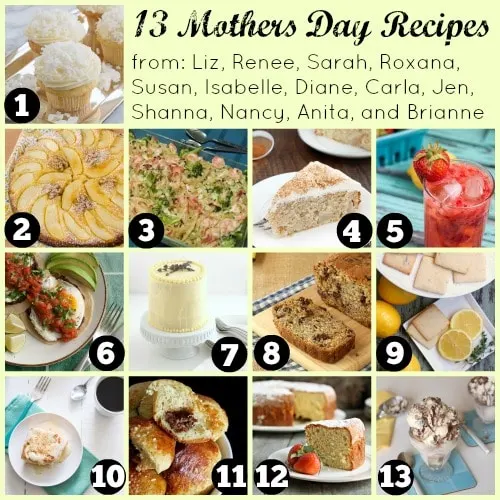 Special thanks to Jen at Jen's Favorite Cookies our host and the one who does so much to make these Holiday Food Parties happen.