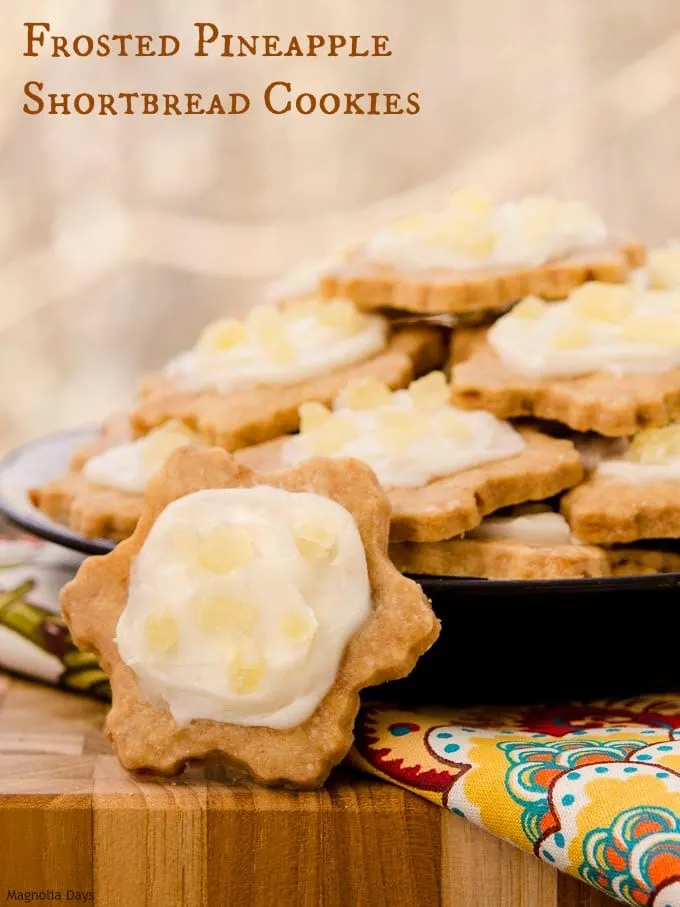 The tropics are calling your name. It's cold and wind seems to go right through to the bones. You are doing what you can to keep warm. A big pot of soup is on the stove. Layers upon layers of clothes aren't helping. Then you step outside and curse Old Man Winter. It's time for a tropical cookie to take you away. Yep, and these Frosted Pineapple Shortbread Cookies are the answer.
Okay, maybe cookies don't help the cold outside. Yet a little tropical treat is enough of a distraction. Who cares if it is freezing when you make homemade cookies? The warmth of the oven has to count for something. I'm sure it does. Absolutely.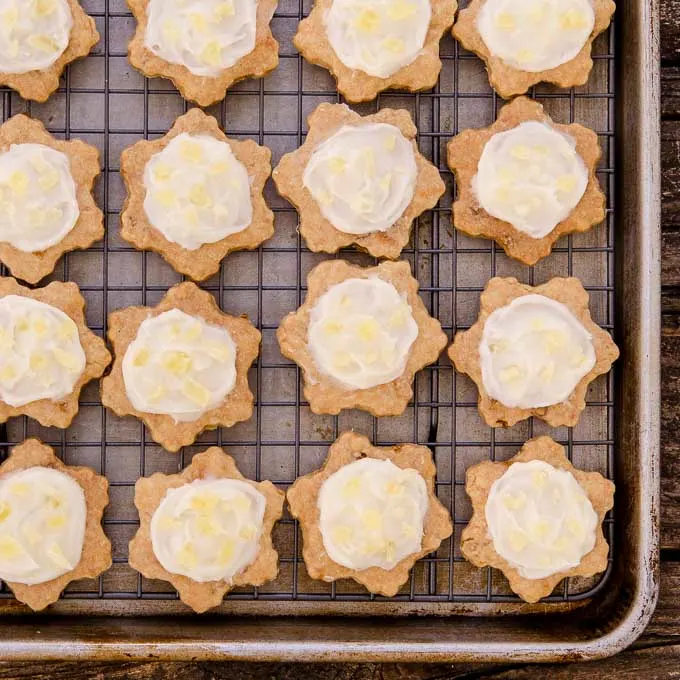 It's Creative Cookie Exchange time again. It seems only a day or two has gone by since the last one. This month's theme is "Tropical Cookie Take Me Away". I was stumped on what cookie to bake. My mind was a complete blank. Luckily, I had some time to catch up on reading magazines. I found my answer in the January 2015 Southern Living one.
Frosted Pineapple Shortbread Cookies are an adaptation. The headline for the cookies in the magazine is "Sunny Delights". Those cookies are ginger and lemon. Now ginger could be considered tropical however it didn't seem right. I thought of sunny Hawaii and its delights and switched it up to pineapple.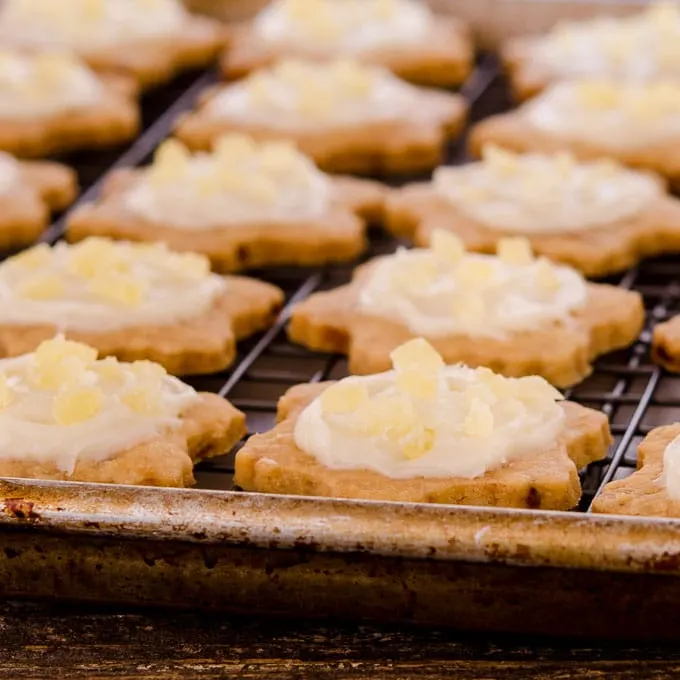 Dried pineapple is used in the cookies. The flavor is light and a nice contrast to buttery shortbread and cream cheese frosting. Oh yea, heavenly cream cheese frosting. I think I'd eat just about any cookie with it on top. You have no idea how much I wanted to have a dollop for a cookie and a dollop for my mouth. Restraint was in full gear.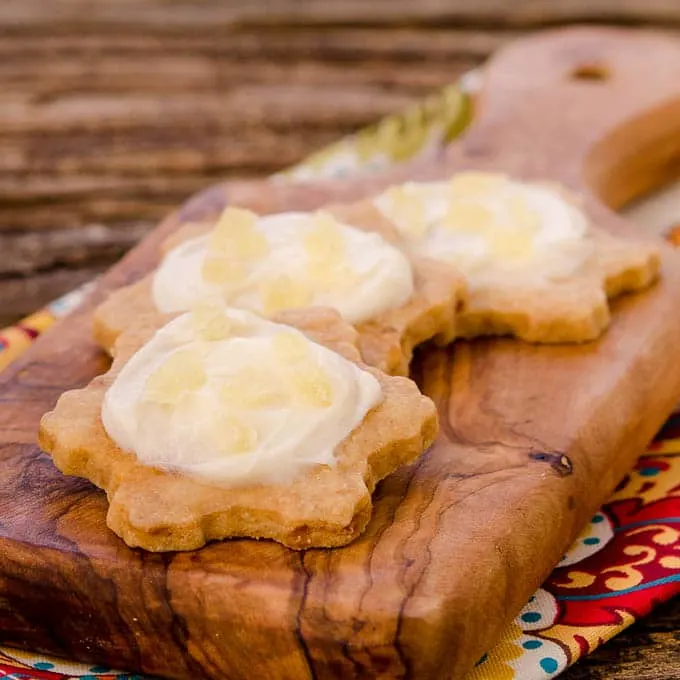 A note about the dough. The original recipe specifies to roll it out after mixing. That did not work for me because it was too crumbly. I had to press and shape it into disks then chill it. Only issue was the amount of butter in the dough made it hard. So then I had to let it set out on the counter for about 30 minutes to make it soft enough again for rolling.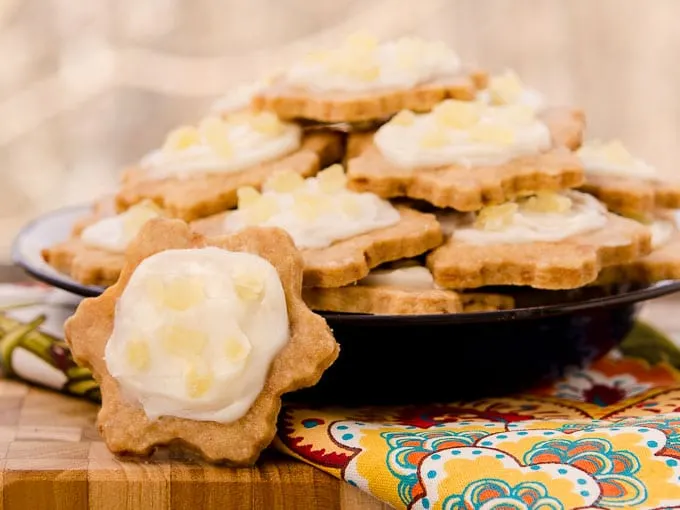 Do you want to take a virtual cookie trip to the tropics? Scroll down to see recipes by Creative Cookie Exchange bakers. Each one is a click away. Also take a look at Pineapple Pound Cake, Creamy Pineapple Tartlets, and Blood Orange Pineapple Rum Cocktail for more of my pineapple recipes.
Frosted Pineapple Shortbread Cookies
Enjoy a taste of the tropics with Frosted Pineapple Shortbread Cookies. They are crunchy and topped with cream cheese frosting.
Cook Time
2
hours
40
minutes
Total Time
3
hours
10
minutes
Ingredients
For the cookies:
1

cup

unsalted butter

at room temperature

1/2

cup

granulated sugar

1/4

teaspoon

vanilla extract

2 1/4

cups

all-purpose flour

3

tablespoons

minced dried pineapple

1/8

teaspoon

table salt
For the frosting:
4

ounces

cream cheese

at room temperature

1/4

cup

unsalted butter

at room temperature

2

cups

confectioners sugar

sifted

1

tablespoon

half-and-half or milk

3

tablespoons

minced dried pineapple
Instructions
For the cookies:
Beat butter in a large bowl until creamy. Gradually add sugar and vanilla, beating well.

Whisk together flour, pineapple, and salt. Gradually add to butter mixture, beating at low speed until combined. Mixture will be crumbly.

Divide dough in half. Press together each half and form into disks. Wrap disks in plastic wrap and chill at least 1 hour.

Allow dough to come to room temperature about 30 minutes prior to rolling (for easier rolling as dough becomes quite hard when chilled).

Heat oven to 275°F. Line baking sheets with parchment paper or non-stick liner.

Roll out dough on a lightly floured surface to 1/4-inch thick.

Cut with 2-inch cutter. Place cookies on baking sheet at least 1-inch apart. Gather and re-roll scraps for more cookies (only once is best).

Refrigerate cut cookies while baking each batch.

Bake for 38 to 40 minutes, until lightly browned on bottom. Transfer cookies to a wire rack and cool completely. Frost cookies and garnish with pineapple.
For the frosting and garnish:
Beat cream cheese and butter until smooth and combined. Add confectioners sugar and half-and-half. Beat until combined and smooth.

Spread a thin layer of frosting on top of each cookie. Sprinkle top of cookies with pineapple.

Best to sprinkle pineapple on each cookie immediately after spreading frosting before it sets.

Keep cookies chilled when not serving.
Recipe Notes
Time stated does not include time for chilling dough and allowing it to come to room temperature prior to rolling.
Recipe adapted from one in the Southern Living Magazine January 2016 edition.
It's that time of year again when many of us want to daydream about being somewhere else. A tropical treat is just the ticket! The Creative Cookie Exchange is going all tropical this February, and it could mean anything from fruit to spices to cut-out cookies. We've got you covered!
You can also use us as a great resource for cookie recipes. Be sure to check out our Pinterest Board and our monthly posts (you can find all of them here at The Spiced Life). You will be able to find them the first Tuesday after the 15th of each month! Also, if you are looking for inspiration to get in the kitchen and start baking, check out what all of the hosting bloggers have made: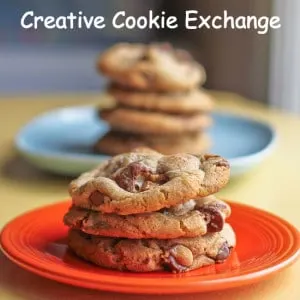 If you are a blogger and want to join in the fun, contact Laura via email (thespicedlife AT gmail DOT com) and she will get you added to our Facebook group where discuss our cookies and share links.