Today's post is by my friend Tara of Noshing With The Nolands. Our friendship began when she joined in Sunday Supper and has grown over the years. I've enjoyed so many of the recipes and posts featured on her blog and many other sites. She is definitely a successful hard working blogger and I am in awe of all she does. Her Black Forest Cake recipe is one I've had on my to-make list ever since I saw it. Now take a look at what Tara is sharing here:
I am so happy to be guest posting here today, right before Halloween!! I am Tara Noland from Noshing With The Nolands. I am a huge fan of Renee's blog and I adore all her mouth watering creations! Renee is a professional thru and thru but she also has a fun side to her which she shows in posts like her recent Chocolate Potato Skull Cake. After I saw that post I knew she would love my ghoulish Eyeball Truffles.
This is a great recipe that I saw in a magazine years ago. I have made them many times for Halloween, to squeals of delight. The ingredients will kind of bowl you over, they are so easy and so delicious. You went and looked at the ingredients didn't you? Yup Oreos and cream cheese. Oh heavens they are creamy and divine!! Okay maybe not the healthiest but who looks for healthy in an Eyeball Truffle???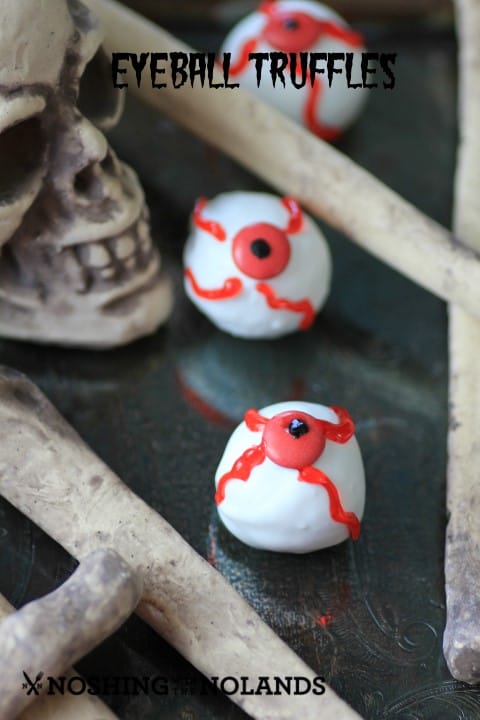 I am a bit of a Halloween freak, I love this holiday so much. It can be so much fun!! You can go all out or do nothing at all, there is no pressure!! Last year I couldn't swing much as we had just moved and went right into a renovation. This year I am back but not as crazed as some years when we have had parties for 100 or more. For those parties I have always made these Eyeball Truffles and they have been one of the first to disappear.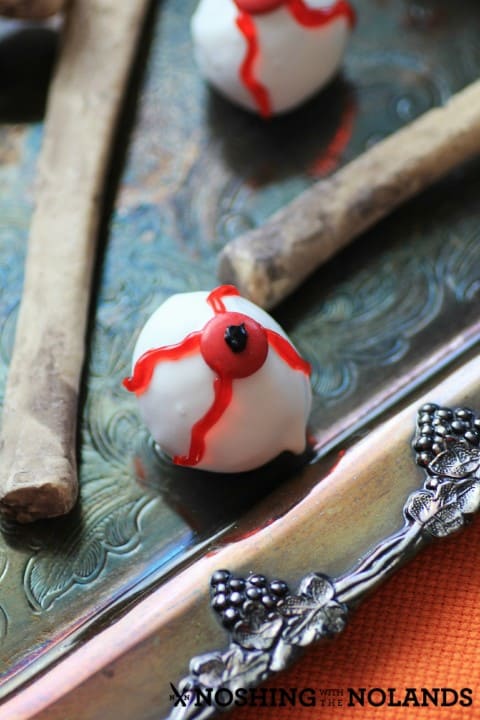 Get your ghoul on this year and try these scary but scrumptious treats!!
Eyeball Truffles
Eyeball Truffles are an easy, fun, and delicious treat to make for Halloween.
Prep Time
4
hours
55
minutes
Ingredients
12

oz

. bag of Oreo Cookies

340 gm.

2/3

cup

cream cheese

light or regular

30

red Smarties

Small tube decorating gel

red

Black icing for pupils

12

oz

. bag Bright White Candy Melts

340 gm.

30

long wood skewers
Instructions
Mix the Oreo cookies into fine crumbs in a food processor. Add cream cheese and mix until the cream cheese is no longer visible. Refrigerate for 30 min. to 2 hours. Roll the mixture into walnut sized balls and place on a parchment or wax paper lined cookie sheet. Freeze for 2 hours or over night.

When ready to decorate, melt the candy melts in a microwave safe dish on high for 30 second intervals to be sure not to burn. Stir and heat until completely melted.

Remove truffles from the freezer and place one at a time on a skewer and dip in the melted candy melts. Bang the skewer on the edge of the bowl lightly to remove excess chocolate. Immediately place a red Smartie in the center of the ball. Stand up in a tall glass to dry. Once dry add the pupil with black icing. Squeeze on the red gel for the blood shot eyes. Refrigerate until ready to serve.
Recipe Notes
A recipe for Eyeball Truffles, a delicious and easy treat to make for Halloween. Crushed cookies mixed with cream cheese is coated and decorated as eyeballs.
If you like seasonal confections, check out this Irish Potato Candy!
Recipe adapted from Canadian Living.