Epidendrum radicans, also known as reed-stem epidendrum or fire star orchid, is a beautiful, easy care orchid suitable for the ground or in a pot.
This post contains affiliate shopping links that help support this site.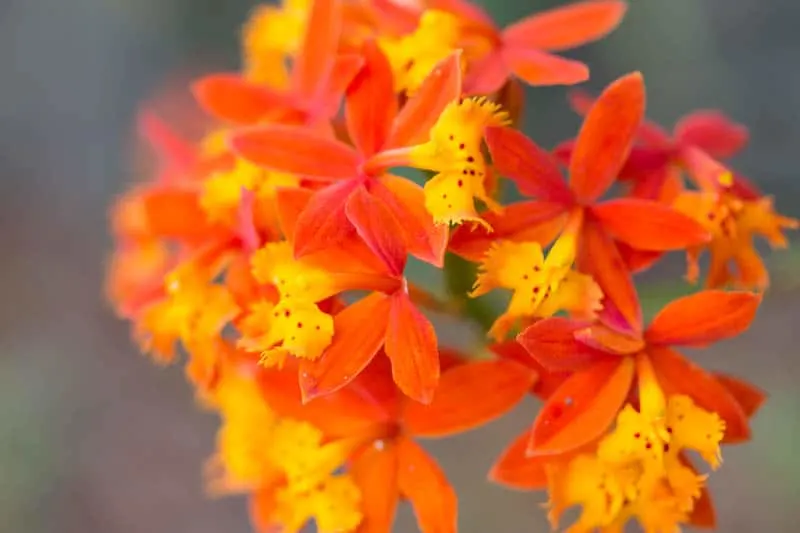 Epidendrum Radicans: The Easiest Orchid You've Never Heard Of
When Mom brought over this epidendrum radicans, I fell in love, but figured that it would an unrequited love. Orchids are known to be fussy and high maintenance, and as I may have mentioned in my introduction, I am not good with plants. I have to take a highly specialized approach to growing them. I call it, "Ask Mom." My mom has more green thumbs than a Jolly Green Giant family reunion.
When she arrived on my doorstep one day with a new plant and a hopeful look, I couldn't help but shiver with fear. Would my utter incompetence be the doom of yet another horticultural gift? I would be able to handle it just fine, if only there were no watering, weeding, trimming, or fertilizing required.
I jest. Sort of. After I read up on the details of epidendrum radicans, I realized that this plant and I might actually have a future together. It's a "vigorous growth" orchid with a "forgiving nature" (Orchids Magazine, September 1998) that grows well on the ground or in a pot.
Known Aliases
Epidendrum radicans is also known by several other names.
Fire star orchid
Reed-stem epidendrum
Ground-rooting epidendrum
Rainbow orchid
Crucifix orchid
Temperature
Epidendrum radicans can handle a wide range of temperatures, even down to near-freezing. Believe it or not, it is actually considered a weed in certain parts of the world!
According to Andy Phillips of Andy's Orchids, daytime temperatures should range between 60 and 90 F, while nighttime should range between 30 to 70 F. Bring the plant indoors if there's a danger of frost, and return it to the outside in the springtime, being careful not to burn the leaves by exposing immediately to direct sun.
Care and Feeding
Epidendrum radicans needs plenty of light, so choose a brightly lit or full sun location. Keep the roots moist (without letting it sit in water) and fertilize regularly with any balanced fertilizer.
I haven't watered or fertilized my outdoor epidendrum radicans in over a year, but your mileage may vary. You will probably want to give yours a little more TLC. If you do, you'll be rewarded with more frequent and dense blooms, plus thicker and greener foliage.
Get more gardening tips, and please comment below with your suggestions for easy-to-grow plants! I may feature them in an upcoming article. I also enjoyed reading Orchids for Dummies as research for this article. You might enjoy it, too.