Contents may test willpower. That is what should be on a container of dulce de leche. The thick, sweet caramel with a glossy deep brown color is irresistible. Spoons want to jump in, scoop up a big dollop, and bounce back into my mouth. Strength is mustered and a lid seals it up. It gets pushed to the back of the fridge in hopes of quieting it's calls. Besides, there is dulce de leche bundt cake to eat. Goodbye spoons and hello forks.
Making dulce de leche can be very easy. Yes, there is a long, old-fashioned, from-scratch method using milk and sugar. The super easy way is with a can of sweetened condensed milk slowly heated in a crock pot filled with water. I did a less than super easy method for the topping on my Torticas de Moron (Cuban Sugar Cookies) which I would not do again. The slow cooker one is the best. You can also buy dulce de leche. Look for it by canned milk products or in a Hispanic food section.
Caramel is the theme for July's Bundt-A-Month. The fun of the monthly challenge is figuring out what cake to bake. Each one has its own variations. Seeing all the different cakes is quite exciting. I decided to go with two types of caramel; dulce de leche and toffee. The toffee chips give a subtle extra texture and flavor to the moist cake. They add a slight crunch which is reminiscent of nuts.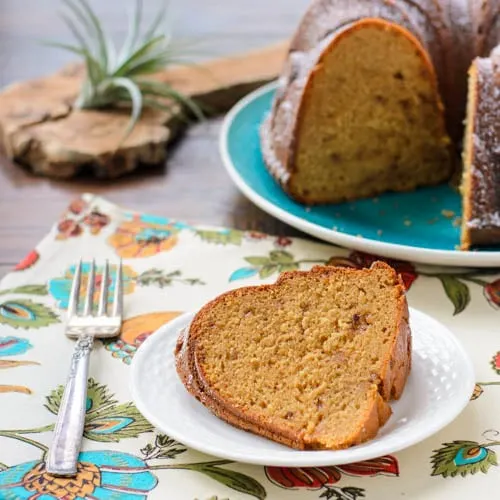 What is your favorite type of caramel? Do you like chewy pieces, crunchy toffee, thick sauce, or creamy frosting? Salted or not? There are so many choices and lots of them are used in the cakes baked for July's Bundt-A-Month. Scroll down to see the list and join me in visiting each one to read all about the caramel goodness.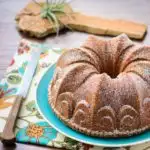 Dulce de Leche Bundt Cake
A moist cake with a deep caramel flavor and speckled throughout with toffee chips.
Total Time
1
hour
30
minutes
Ingredients
3

cups

all-purpose flour

2

teaspoons

baking powder

1/2

teaspoon

baking soda

1/2

teaspoon

salt

1

cup

unsalted butter

at room temperature

1

cup

firmly packed dark brown sugar

1

cup

dulce de leche

4

large eggs

at room temperature

2

teaspoons

vanilla extract

1

cup

buttermilk

at room temperature

1

cup

toffee chips
Instructions
Preheat oven to 350 degrees F. Grease and flour a 10- or 12-cup bundt pan.

Whisk together the flour, baking powder, baking soda, and salt in a bowl.

Cream butter and brown sugar in a large bowl using an electric hand mixer on high speed.

Add the dulce de leche and beat until combined.

Add the eggs one at a time, beating well after each addition.

Add the vanilla and beat to combine.

Add the flour mixture in three additions, alternatively with the buttermilk in two additions, mixing on low speed until just combined. Do not over mix.

Stir in the toffee chips.

Pour batter into prepared bundt pan and spread batter evenly in the pan. If using a smaller 10-cup bundt pan, only fill pan about 3/4 full. You can use the extra batter to make cupcakes.

Bake for 50 to 55 minutes or until a cake tester or toothpick when inserted into the center comes out clean.

Cool cake in the pan for 15 minutes. Turn out cake on to a wire rack. Cool completely.

Dust cake with confectioners sugar. Transfer cake to a serving plate. Slice, serve, and enjoy!
Recipe Notes
A recipe for a bundt cake made with dulce de leche, brown sugar, buttermilk, and toffee chips. It is moist and has the consistency of a pound cake.
Recipe adapted from one on the My Opera website.
Ready for more bundts? These 13 gorgeous cakes with caramel in every form will be inspiration enough for you to bake with us this month:
Here's how you can be a part of Bundt-a-Month:
Simple rule: Bake us a bundt using caramel
Post it before July 31, 2013
Use the #BundtaMonth hashtag in your title. (For ex: title could read – #BundtaMonth: Caramel Swirl Bundt)
Add your entry to the Linky tool below
Link back to our announcement posts
Even more bundt fun! Follow Bundt-a-Month on Facebook where we feature all our gorgeous bundt cakes. Or head over to our Pinterest board for inspiration and choose from hundreds of Bundt cake recipes.
Happy Baking!