May is a magical month. Even northern areas are saying goodbye to snow and welcoming in beautiful spring weather. There are two very special days in the month. The first one is Moscato Day celebrating wonderful sweet wine that magically puts a smile on millions of faces as soon as they take their first sip. The other is Mother's Day celebrating the magical gift of motherhood. It is with both of those days in mind that I baked a German Donauwelle Kuchen (translates to Danube Wave Cake in English).
Moscato Day is May 9th. It was established by Gallo Family Vineyards to celebrate a wine varietal enjoyed by so many. I certainly know many who enjoy it including my mom, three sister-in-laws, niece, and a whole bunch of friends. I could not imagine having my annual Mother's Day feast without bottles of Gallo's white, pink, and red Moscato for our family. The great thing about Moscato Day followed by Mother's Day is all the moments filled with cheer, fun times, and the people we love around the family table. So stock up on Moscato and get ready for it all. Make Pork Roast with Peach Moscato Sauce with it too.
Donauwelle Kuchen is a sheet cake with layers of goodness. Vanilla cake is on the bottom, then topped with chocolate cake, cherries, German buttercream, and chocolate ganache. The cake part is very lightly sweetened as with most German cakes. Tart cherries pressed into the batter make a wave pattern as it is baking. Then rich, seriously buttery buttercream is spread on top of the cooled cake. After some time in the fridge to chill, the final decadence of chocolate ganache is poured over and a decorative wave pattern is made with a pastry comb.
Some notes on the cake: The original recipe inspiration came from a cookbook my cousin in Germany sent to me. Unfortunately it is a book by a manufacturer of German baking products and their ingredients are not available in my area. So I had to use it as a guide and work from there. The cake batter is very thick and is supposed to be spread out in a 12- X 16-inch pan. I couldn't get the batter spread out in that size pan to save my life. I put it in a 10- X 13-inch pan so my cake is a little thicker than usual.
Critical information for the buttercream: It is imperative the butter and pudding mixture are both at room temperature and the same temperature before you combine them. Use an instant-read thermometer to check. You do not want hot pudding melting the butter. Cold butter will cause lumps and won't mix in smooth. Go ahead and make the pudding part of it either before mixing the cake or as soon as you put the cake in the oven. It needs time to slowly cool (don't try to cool it down fast in the fridge either). Set the butter out when you begin making the pudding too. Once it is done you will see and taste the most buttery, creamy, dreamy, buttercream layer ever.
Which Moscato to pair with the cake? Any of the three Gallo Family Vineyards ones will do nicely. White Moscato has honey, peach and citrus flavors that naturally complement desserts. Pink Moscato has the added loveliness of berry and orange flavors pairing wonderfully with chocolate. The bright red berry flavor of Red Moscato makes it the boldest of the three and also balances rich and creamy desserts. Take a fun Moscatofy Yourself Quiz to find out which one may suit your taste. Check out Gallo's Moscato Day blog post for more ways to celebrate with pairings and recipes.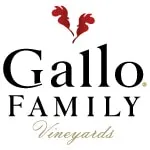 More on Gallo Family Vineyards: Follow them on social media to keep up the latest on the company, vineyards, and their wines. Here are quick links to GFV's profiles: Facebook, Twitter, Instagram, and YouTube. Their website has lots of information on Gallo Family Vineyards wines plus wine pairing notes and a handy store locator.
Donauwelle Kuchen (Danube Wave Cake)
Donauwelle Kuchen (Danube Wave Cake) is an incredible dessert with layers of vanilla and chocolate cake, cherries, German buttercream, and ganache.
Total Time
1
hour
35
minutes
Servings
12
to 16 servings
Ingredients
For the cake:
2

cans red tart cherries in water

14.5 ounces each, drained

1 1/4

cups

unsalted butter

at room temperature

1

cup

granulated sugar

4

large eggs

at room temperature

1

teaspoon

vanilla extract

3 3/4

cups

all-purpose flour

3

teaspoons

baking powder

3 1/2

tablespoons

cocoa powder

sifted

1

tablespoon

whole milk
For the buttercream layer:
1/4

cup

cornstarch

1/2

cup

granulated sugar

4

egg yolks

1/4

teaspoon

salt

2 1/4

cups

whole milk

divided

1

vanilla bean

split lengthwise in half

1

cup

unsalted butter
For the chocolate ganache topping:
8

ounces

bittersweet chocolate

8

ounces

heavy cream
Instructions
For the cake:
Preheat oven to 350°F. Grease a 10- X 13- X 2-inch baking pan.

Spread drained cherries out on 3 layers of paper towels to absorb more liquid.

Beat butter in a large bowl using an electric mixer until smooth.

Gradually add sugar and beat until light and fluffy.

Add eggs and vanilla, one at a time, beating well after each addition.

Whisk together flour and baking powder. Add to butter mixture in two additions, beating on medium speed, until just combined.

Spread 2/3 of the batter into prepared pan.

Add cocoa powder and milk to remaining 1/3 of the batter. Mix until just combined.

Spread evenly over light-colored batter in the pan.

Spread cherries over batter. Press cherries lightly into batter with a spoon or spatula.

Bake in the bottom third of oven for about 35 minutes, or until a toothpick or cake tester inserted in the center comes out clean.

Cool cake completely in the pan on a wire rack.
For the buttercream layer:
Whisk together cornstarch, sugar, egg yolks, salt and 1/4 cup milk in a medium bowl.

Bring remaining 2 cups milk and vanilla bean to a low boil in a medium saucepan. Remove from heat. Scrap seeds from vanilla bean and add back to heated milk. Discard vanilla bean pod.

Add 1/2 of the heated milk slowly to egg yolk mixture, on ladle at time, and whisking while adding (to temper the mixture and not cook the egg yolks).

Add tempered egg mixture slowly back to the saucepan, whisking while adding.

Bring mixture to a slow boil over medium heat, stirring constantly.

When mixture begins to thicken, switch to whisking until mixture comes to a simmer. It will be very thick.

Transfer mixture to a bowl and place plastic wrap directly on the surface to prevent a skin from forming on top. This is similar to a thick pudding at this point.

Cool pudding to room temperature. Use an instant-read thermometer to check temperature and do not proceed to the next step until it is at room temperature. If pudding is too warm it will melt the butter in the next step.

Beat butter until smooth. Add cooled pudding, about 2 tablespoons at a time, to butter and mixing well after each addition.

Spread on top of cooled cake. Place plastic wrap directly on top. Chill cake for at least 1 hour or overnight.

For the chocolate ganache topping:

Use a large knife to chop chocolate into very small pieces. The thinner the pieces (almost like shaving) the better. Place chocolate in a medium bowl.

Bring cream just to a low boil over medium-high heat. Pour heated cream over chocolate.

Let sit for 5 minutes. Gently stir until combined. You do not want to incorporate air or bubbles into the mixture so stir gently and slowly.

Remove plastic wrap from top of cake. Pour ganache over cake. Allow to cool for a few minutes.

Drag a pastry comb in small back and forth motion over ganache to make a wave pattern.

Keep cake covered and chilled when not serving.
Recipe Notes
Prep or cook time does not include hands-off time of cooling or chilling any of the components of the cake. Allow a minimum of 5 hours for cooling and chilling.
Are you ready to celebrate Moscato Day? I am! And so are my fellow Sunday Supper tastemakers. Take a look at these wonderful recipes to pair with Gallo Family Vineyards Moscato wines:
Cheerful Beverages:
Tempting Appetizers:
Marvelous Mains:
Delectable Desserts:
Celebrating Moscato Day on the Sunday Supper Movement Website
Join the #SundaySupper conversation on twitter on Sunday! We tweet throughout the day and share recipes from all over the world. Our weekly chat starts at 7:00 pm ET. Follow the #SundaySupper hashtag and remember to include it in your tweets to join in the chat. To get more great Sunday Supper Recipes, visit our website or check out our Pinterest board.
Would you like to join the Sunday Supper Movement? It's easy. You can sign up by clicking here: Sunday Supper Movement.
Disclosure: Compensation was provided by Gallo Family Vineyards via Sunday Supper, LLC. The opinions expressed herein are those of the author, and are not indicative of the opinions or positions of Gallo Family Vineyards.