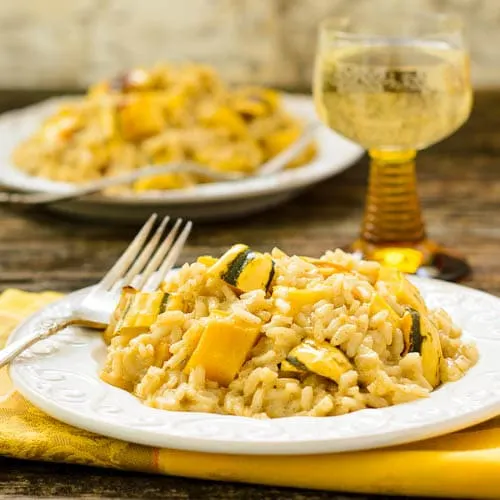 Fall is kicking in some serious comfort food cravings. It only takes one cool morning and visions of soups and stews fill my head. There are several turkey carcasses in my freezer that will soon be used to make stock. They will in a pot bubbling away with onion, celery, carrot, garlic, thyme, and spices. That glorious stock will be what gives a special "oomph" to many dishes throughout the season. Until then I'm using store-bought broth for cooking comforting recipes such as Delicata Squash Risotto.
Authentic risotto takes time and attention to make. Every minute, every stir, every step is worth it when you take one bite of it. Yes, you can find lots of shortcuts and I strongly advise not to take any of them. Just do the old-fashioned method and you will notice the difference. One warning though, once you have the "real" stuff you won't want any of those cheater versions. I can't tell you how many times I've been disappointed with ones I've had at restaurants.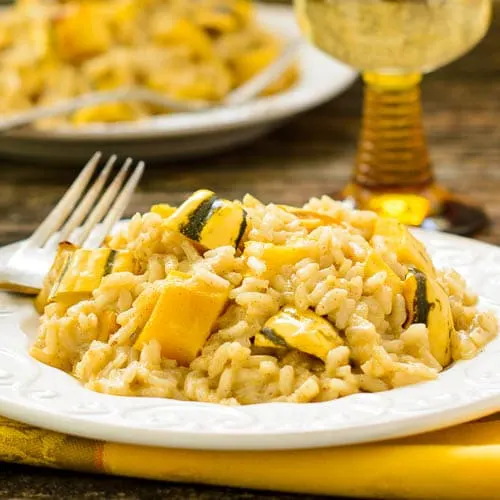 Delicata squash has become a new favorite of mine. It is in the running for the lead against acorn squash. It's edging over butternut too. Delicata is so easy to deal with. You don't have to peel it. You don't need a mallet to pound a knife through it like you almost need to with butternut. How does it taste? Delicata has a similar flavor to sweet potatoes and a hint of buttery sweet corn flavor too. You can use it as you do with most winter squashes. Special thanks to the nice folks at Frieda's for sending some to me. You should be able find delicata squash at your local grocery store or farmer's market.
Delicata squash risotto is creamy and comforting. The sweetness of the squash adds contrast to savory allspice seasoning. As soon as the spice hits the pan you know something good is about to happen. The air is already filled with scents of garlic and onion. Then that earthy spice fragrance comes in at the same time as the sweet smell of squash roasting is emanating from the oven. The great part is you get to stand by the stove taking it all in as you tend to the tasks of stirring and adding wine and broth to the risotto.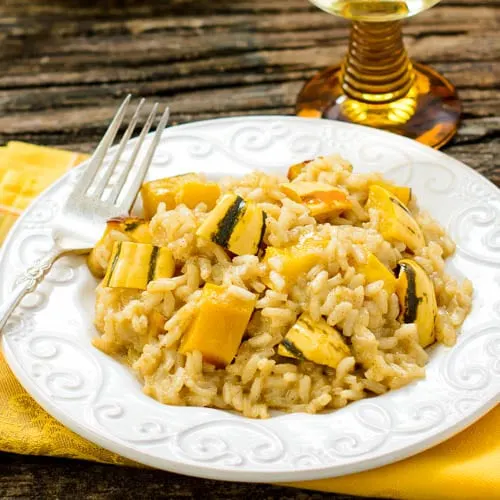 Are you in fall comfort food mode yet? If so, what are you craving? Let me know in the comments because I always like to see what recipes you may be looking for or to give me inspiration for future posts. And, as always, stay tuned to see what is coming next…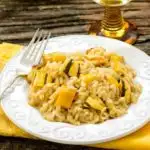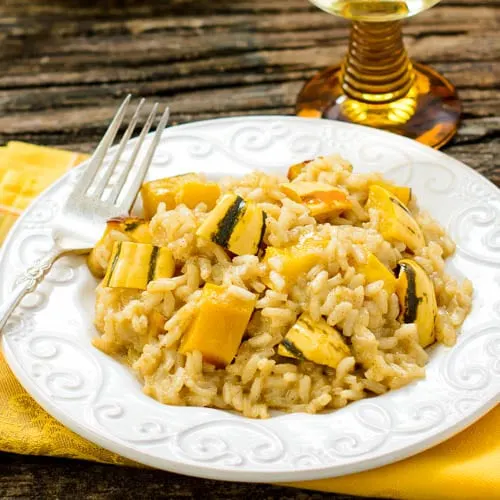 Delicata Squash Risotto
A recipe for Delicata Squash Risotto made the old-fashioned way. It is a creamy, comforting dish loaded with roasted delicata squash and parmesan cheese.
Ingredients
1

medium delicata squash

2

tablespoons

olive oil

divided

3

tablespoons

unsalted butter

divided

3/4

cup

chopped onion

2

garlic cloves

minced

1/2

teaspoon

ground allspice

1

cup

uncooked arborio or carnaroli rice

1/2

cup

dry white wine

4

cups

low-sodium vegetable broth

warm before starting risotto, simmering

3/4

cup

grated parmesan cheese
Instructions
Preheat oven to 400 degrees F.

Cut squash in half and scrape out seeds. Discard seeds or roast them separately as you would with pumpkin seeds.

Slice squash into 1-inch strips. Drizzle 1 tablespoon olive oil over the squash and toss to coat. Place the squash strips on a baking sheet and roast until tender, about 30 minutes.

While the squash is roasting, heat remaining 1 tablespoon olive oil and 1 tablespoon butter in a heavy bottom saucepan over medium heat.

Add onion and cook until softened and opaque, stirring occasionally. Add garlic and allspice, stir, and cook until fragrant (about 1 minute).

Add rice and stir to combine. Continue stirring and cooking until the edges of the rice are translucent and the center is still opaque, about 2 minutes.

Add wine and stir to combine. Cook until the rice absorbs the wine, stirring occasionally.

Add warm broth, a ladle at a time, stirring after each addition and occasionally stirring while cooking. Wait to add each ladle of broth until the rice has almost soaked up the last addition.

Test the rice after you have added about 3 cups of broth to see if it is done. It should be al dente, with just a bit of chew to it and not completely soft or mushy.

Note the risotto will not taste fully seasoned at this point. It will get saltiness from the parmesan cheese.

The risotto is ready when it is similar to a thick porridge and have a creamy consistency.

Add one more ladle of broth, remaining 2 tablespoons butter, and parmesan cheese. Stir to combine.

Cut the roasted squash into bite-sized chunks and gently stir into the risotto. Serve immediately.
Recipe Notes
A recipe for Delicata Squash Risotto made the old-fashioned way. It is a creamy, comforting dish loaded with roasted delicata squash and parmesan cheese.
Disclosure: I received a package of assorted product from Frieda's at no charge. I was under no obligation to post a review. All opinions are my own unless otherwise stated or contained within a guest post.