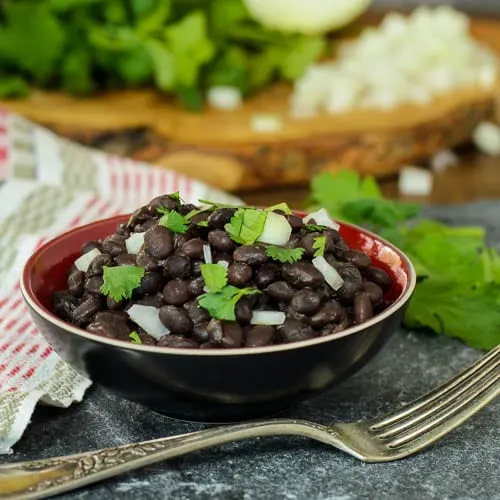 Those are Cuban black beans in an Asian rice bowl. Yes, I had to put that out there at the beginning. The intention wasn't to mix cultures. The beans do not have an Asian twist in any way. Color is the reason behind it. Red came to mind when I was determining the scheme of the photo. I went through the cabinet and found a red bowl. Perfect. Off I went taking photos. It was in the post-processing that I realized a bowl could cause confusion, or not. Would you have noticed if I didn't mention it?
It is nearly impossible to un-see something. All you can do is move forward and try to ignore the distraction. So I'm moving on to tell more about the beans. They have been on my to-cook list for ages. I admit that all I've done before is open a can. While canned black beans are fine, homemade is off the charts better. Why? It's all the added flavors infused in the cooking process.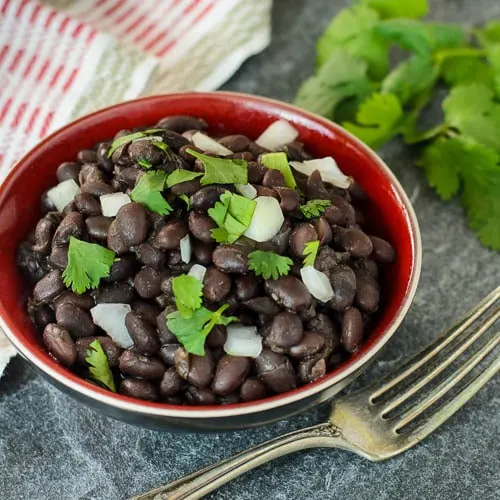 Cuban black beans are slow-simmered with aromatics. First dried beans are soaked overnight. They are then cooked for a bit in only water. Onion, bell pepper, and garlic are sautéed and added in along with spices, wine, and vinegar. A little while later you have a pot of tasty beans ready to eat. I made them to go along with slow-cooker Cuban pork and yellow rice. Some people serve them over white rice. Perhaps some even serve them in an Asian rice bowl *ahem* *cough* *cough*.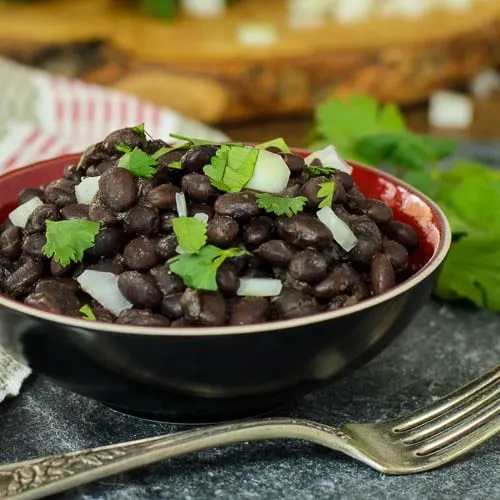 Does the style of a bowl affect how and when you use it? Or do you use it because it has the right size, color, or shape? Not counting for photography, I generally use whichever one works. It's casual here in Magnolialand. If only those bowls and dishes would wash themselves. However that is a whole different subject I'll save for another time.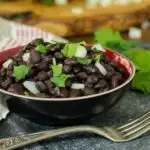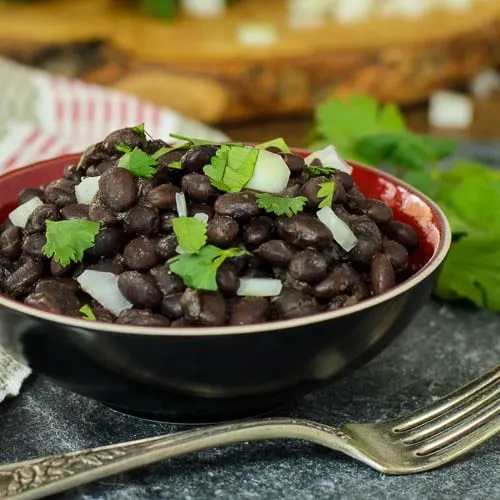 Cuban Black Beans
A recipe for Cuban Black Beans. Dried black beans are soaked then cooked with onion, bell pepper, garlic, wine, and spices for a flavorful side dish.
Ingredients
1

pound

dried black beans

2

tablespoons

olive oil

1

cup

chopped onion

1

green bell pepper

chopped

3

cloves

garlic

minced

2

teaspoons

salt

1/2

teaspoon

pepper

1

teaspoon

dried oregano

1

teaspoon

ground cumin

1

bay leaf

3/4

cup

dry white wine

3

tablespoons

red wine vinegar

Optional chopped onion for serving

Optional chopped fresh cilantro for serving
Instructions
Cover the dried beans with 2 inches of water and soak overnight. Drain discard water.

Cover the beans with 1 inch of water and bring to a boil. Reduce heat to low, cover loosely, and simmer for 1 hour.

Check water level while cooking to make sure it covers the beans and add a little more if needed.

Heat olive oil in a large skillet. Add onion and bell pepper and sauté over medium heat until peppers are soft and onions are translucent, about 5 minutes.

Add garlic and cook until fragrant, about 1 minute. Add cooked vegetables to beans.

Stir in salt, pepper, oregano, cumin, bay leaf, wine, and vinegar.

Cover loosely and cook until beans are tender, about 1 1/2 hours.

Discard bay leaf and serve with chopped onion or chopped fresh cilantro if desired.
Recipe Notes
A recipe for Cuban Black Beans. Dried black beans are soaked then cooked with onion, bell pepper, garlic, wine, and spices for a flavorful side dish.
Recipe adapted from Three Guys From Miami – Black Beans