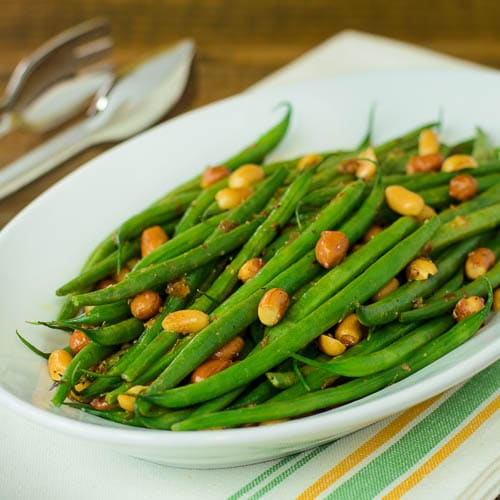 It only took six years. Those years swept by so quickly. Over those years a mental note of a to-do has popped up from time to time. It was always pushed back for one reason or another. The reasons were all trivial and yet they got in the way. Why? There is no definitive answer. Perhaps it was only waiting for the opportune time. And that time was cemented with the arrival of a package. The to-do was crossed off when I made Creole Green Beans with Peanuts. It is my version of a side dish I enjoyed at a restaurant while celebrating my 25 year wedding anniversary.
What package arrived to cement the time? It contained a sample of New Orleans Original Firehouse Flashover Creole Seasoning. The seasoning was developed by Robert Medina, a retired New Orleans firefighter and author of If You Can't Stand the Heat
…A New Orleans Firefighters Cookbook. My friend Danielle sent the sample to me because she knows how much I enjoy spicy food and big flavors. I couldn't wait to give the seasoning a try. The instant I saw it I knew it was the right spice for green beans and peanuts.
What made it the right spice? It's because it is lower in sodium than most Creole seasonings. Too much salt would be a factor when using salted peanuts in a recipe. I'd rather have more flavor and spice accented with salt instead of the other way around.
Some notes on the Creole Green Beans with Peanuts. The original dish was simply sautéed green beans with peanuts. It was the first time I ever had peanuts with green beans. It was wonderful however I thought it could use some tweaking. I decided to use haricot verts (French green beans), steam them to crisp-tender, and then toss with peanuts in a simple Creole butter sauce. The sauce gives a buttery spice kick which can be adjusted to your level of spice preference. All you have to do is add more or use less as desired.
Do you have to-do's that go on for years? It feels good to finally get those old ones crossed off the list. Last year I cooked Spicy Thai Beef Salad and Indian Moong Beans which both were a long time coming. Now it's time to decide what others to tackle. Stay tuned!
Creole Green Beans with Peanuts
8 ounces haricot verts (French green beans)
2 tablespoons unsalted butter
3/4 teaspoon Creole seasoning
1 garlic clove, finely minced or crushed
1/4 cup redskin peanuts
Salt and pepper to taste
Steam the green beans until crisp-tender, about 3 minutes.
Melt the butter in a skillet over medium heat. Add Creole seasoning and garlic. Stir and cook until garlic is fragrant, about 1 minute.
Add steamed beans and peanuts. Toss to coat with butter sauce. Taste and adjust seasoning with salt and pepper. Serve immediately.
https://magnoliadays.com/creole-green-beans-with-peanuts/
Copyright Magnolia Days - http://magnoliadays.com/
Disclosures: I received a sample of Flashover Creole Seasoning at no charge and was under no obligation to post a review. All opinions are my own unless otherwise stated or contained within a guest post. This post contains an affiliate link to Amazon for the cookbook.