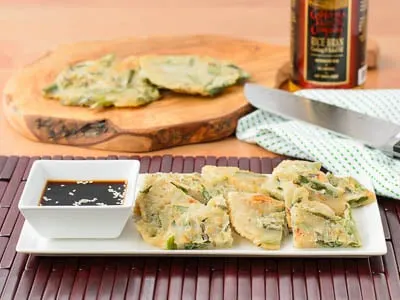 Every had a recipe you have so much to say about? It is my situation with these Crab Scallion Pancakes. The story goes back for months. Forgive me if I am a little wordy in this post. There are a lot of parts to go with this simple recipe. I suppose the best place to start is from the beginning.
First there is my history with scallions. I could not stand them for most of my life. I would not eat them for anything. Then my tastes changed right about the time I was approaching 40. I started liking things I never liked before. Scallions became okay and then more okay and now I think I could eat one all by itself. Pile on the scallions please!
Then came a Sunday Supper event. It was back in September and featured recipes with 5 or less ingredients. Amy from Kimchi Mom shared her recipe for Pa Jun or Korean Scallion Pancakes. I had never seen or tasted a savory pancake before. Where have I been? I certainly have been missing out. Her post went into the back of my mind where it sat for a while, not forgotten, just on hold.
A bottle of rice bran oil arrived at my door. The nice folks at California Rice Oil Company had sent it to me to try. It was another oil I had not cooked with or used before. It was also during the holiday season. I was baking up a storm, entertaining, decorating and didn't have time to play with a new product. So it also sat for a while, not forgotten, just on hold.
A few weeks ago I discovered a new food store. My friend Terry asked me to go with her to check it out. The store has a big focus on Asian cuisine. It also has incredible fresh produce and seafood. We were browsing through and being amazed at what all was there. I saw this lady cooking scallion pancakes. She had samples so of course I had to give it a try. They were mixed seafood scallion pancakes and off the charts good. That is when I knew I had to make them.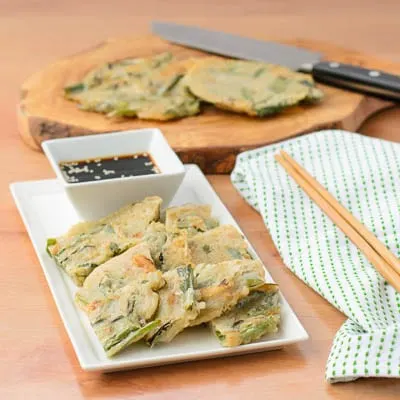 I had a discussion about oils with friends. One is quite a foodie who cooks and eats about anything. The other has a very strict diet and does not like spice or flavor. He also only eats egg whites. They were talking about him cooking scrambled egg whites. He would take a teaspoon of oil and wipe it on the stainless steel pan and then cook the egg whites. They said if he used olive oil they would have to soak the pan for hours to get them off. However, when he used rice bran oil the egg whites did not stick. So I thought if Mr. Strict Diet uses rice bran oil then I need to give it a try and soon.
Which brings me to finally cooking crab scallion pancakes. It was an adventure. I went by Amy's recipe and discovered I cannot flip one big pancake. I tried twice and failed miserably. I decided to make them smaller like regular pancakes. I can flip those with no problem. I added the scallions and crab to the batter and then ladled the batter into the pan. It worked like a charm. I used the rice bran oil and I'm glad I did. I felt it was the right oil to cook Asian-style pancakes. The flavor of these pancakes is exactly what I wanted. The crab and scallions pair up nicely. The dipping sauce makes them even better.
I know I will use the rice bran oil often. I like that is has a high smoke point and I think it would work well for pan searing and frying. It is very mild and would not interfere with the flavors of food. You can check California Rice Oil Company's store locator to find out where to get it in your area.
Have you ever had a long story for a small thing? I hope you have enjoyed all the details for my crab scallion pancakes. I may have left a few out too. Who knows, they might show up in a future post. Stay tuned…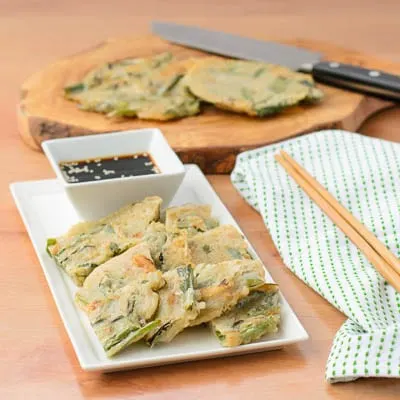 Crab Scallion Pancakes
A recipe for Korean-style scallion pancakes made with the addition of crab. These are savory pancakes and are served with a dipping sauce or soy sauce.
Ingredients
For the pancakes:
1

bunch green onions

about 8

1

cup

bleached all-purpose flour

1

teaspoon

salt

Few grinds fresh black pepper

1

teaspoon

garlic powder

1

cup

ice water

less or more as needed

4

ounces

claw crab meat
For the dipping sauce:
1/3

cup

soy sauce

1/3

cup

rice wine vinegar

1

tablespoon

sesame oil

1

teaspoon

to 1 tablespoon sriracha

1

teaspoon

crushed garlic

Toasted sesame seeds
Instructions
Cut off the white end of the green onions and save for another recipe. Slice the green part thinly on a diagonal.

In a medium bowl, add the flour, salt, pepper, and garlic powder. Whisk to combine. Whisk in the ice water until the batter is similar to traditional pancake batter. (Not too thick and not too thin). Stir in the scallions and crab.

Add a thin layer of cooking oil to the bottom of a large (12-inch) non-stick saute pan. Heat the oil over medium-high heat until it is hot and shimmery. Ladle the batter to the pan for the pancakes (about 3 or so 4-inch pancakes per batch). Cook for about 3 or 4 minutes until the edges look dried and bottom has browned. Flip pancakes and cook for another 3 or 4 minutes or until browned. Add more cooking oil as needed.

Transfer the cooked pancakes to a cutting board. Repeat cooking with the remaining batter.

Cut the pancakes into bite-sized pieces. Serve at room temperature with dipping sauce.
For the dipping sauce:
Place all ingredients except toasted sesame seeds in a jar with a lid. Shake to combine. Pour into dipping bowl. Sprinkle toasted sesame seeds on top.
Recipe Notes
A recipe for Korean-style scallion pancakes made with the addition of crab. These are savory pancakes and are served with a dipping sauce or soy sauce.
Dipping sauce recipe adapted from one on About.com website.
Disclosure: I received one bottle of California Rice Oil Company Rice Bran Oil at no charge. I was under no obligation to give a positive review. All opinions are my own unless otherwise stated or contained within a guest post.